Easy Satay Fried Noodles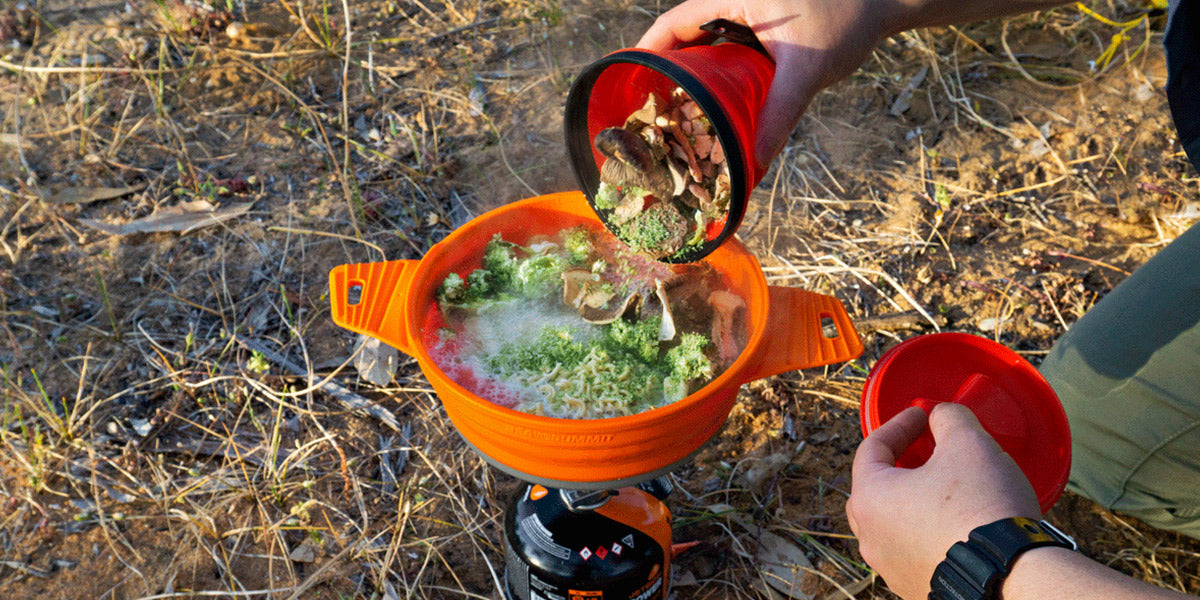 This easy, delicious camping recipe will curb even the biggest post-hiking hunger. And it can be made with a minimalist camp kitchen setup.
One thing we always take with us when camp cooking is our beloved Mi Goreng instant fried noodles. They're an easy, quick, delicious meal that's full of the calories your body craves. With a little recipe-tweaking, they can also be a reasonably balanced hiking meal.
This easy one-pot camping recipe requires little effort and—with flavors of coconut, lime, soy and peanuts—packs a powerful punch!
For this recipe we used our trusty X-Pot 1.4L—a super lightweight and compact camping pot that collapses down flat when not in use, and comes with handy features like an in-built strainer (made for the noodle life).
SERVES: 1, COOK TIME AROUND 15MIN
Mi Goreng Packet (or experiment with your favorite instant noodle and see what happens!)

1 tsp peanut butter

2 tsp soy sauce

½ tsp coconut powder

½ cup dehydrated or freeze-dried vegetables (or a mix of both)

Handful peanuts

1 Lime
1. In a pot of boiling water, add noodles, dehydrated mushrooms and freeze-dried broccoli, and cook until al dente (don't be shy about leaving a little water so the noodles don't dry out).
2. To make the satay sauce, mix together the included sauce sachets and seasoning that come with the Mi Goreng (add or leave out the chilli sauce) with peanut butter, soy sauce, coconut powder and the juice of half a lime (we sometimes pre-mix these ingredients together beforehand and store them in our X-Seal & Go).
3. Drain excess water from pot using the strainer in the lid of the X-Pot.
4. Add satay sauce to noodles and stir through. Cook for 1-2 minutes, until noodles have soaked in all the good bits.
5. Top with peanuts and serve with lime wedge.
Brandi and Vanessa are the dynamic duo behind The Camp Stove Chef. Brandi has 20+ years in the outdoor industry, leading groups across North America, Europe and Australia. Vanessa is a chef who loves taking the kitchen outdoors to create scrumptious camping recipes.