Banging Beef Taco Recipe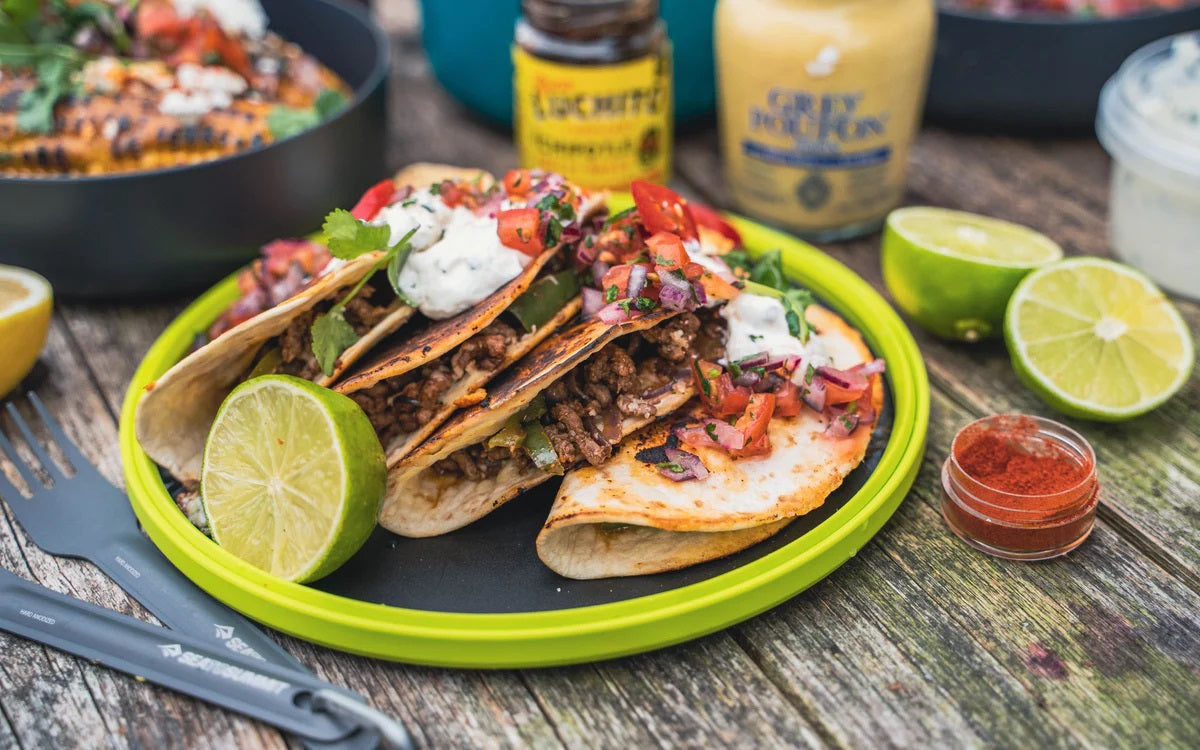 This authentic taco recipe delivers camping food at its finest. It's a great dish for group camping trips as you can make big batches of the filling and hand out the tacos for everyone to fill up.
The dish was created to be an easy taco recipe that captures the incredible flavors of traditional Mexican food while keeping it simple so it can be cooked on a camp stove.
Check out the full recipe below:
Ingredients
1 cup | 200g ground beef

1 onion

2 bell peppers

Taco spice mix

Small tortilla wraps (corn (GF) or wheat)

Pico de gallo salsa

2.5 oz | 70g sour cream

Fresh coriander

2.6 oz | 75g grated cheese
For homemade spice mix
1 tsp | 5ml cumin

1 tsp | 5ml paprika

1 tsp | 5ml oregano

1 tsp | 5ml white pepper

1 tsp | 5ml salt
For homemade pico de gallo salsa
1 red onion (finely diced)

4 tomatoes (deseeded and finely diced)

Chopped fresh coriander

1 lime

Salt and pepper
Directions
Homemade salsa (optional)
Finely dice all of the ingredients for the salsa and add to a bowl. 

Combine the ingredients by mixing together and finish with a squeeze of lime.

Continue adding more lime juice and seasoning to taste.
Beef tacos
Slice the onion into strips (or dice if preferred), and deseed two peppers before slicing into strips.

Heat a frying pan on the stove and add a tablespoon of vegetable oil. Once the pan is hot, add the onions and peppers and cook until soft.

Add the ground beef to the pan and break it up with a spatula.

Sprinkle ½ tbsp of the taco spice mix into the pan, stir and continue to cook until the beef is cooked through. Remove the mixture from the pan and set it aside.

Place a wrap in the center of the pan and spoon in some of the beef before topping with grated cheese.

After a few minutes, fold the wrap in half, press down and flip. (The taco should be browned with a crisp exterior and the cheese should have melted.)

Repeat steps five and six until you have the desired amount of tacos.

Top the tacos with salsa, sprinkle with fresh coriander and serve with sour cream.
OUR PARTNER CHEF
Harrison Ward, otherwise known as Fell Foodie, is an inspirational camp stove cook and all-around outdoorsman.
Following a drastic life change in 2016, he found a passion for hiking, which he soon combined with his lifetime love of cooking.
Not only does he utilize his platforms for sharing delicious outdoor recipes, Harrison regularly voices his struggles with mental health, sharing his story to help others.
Together, we've created 10 versatile camping recipes that bring fresh ingredients and bold flavors to outdoor cooking – all using our minimalist, space-saving equipment.