Quilts
Add versatility and cross-season performance to your sleep system with down and synthetic camping quilts and blankets.
CAMPING BLANKETS & QUILTS
Sea to Summit's range of technical camping quilts and blankets offer incredible versatility and comfort for sleeping outdoors. Feature-rich and high performing, our synthetic and down camping quilts and blankets have been designed with soft, technical, and durable fabrics. They are lightweight, packable, and luxuriously warm, meeting the ever-changing and diverse needs of every adventure.
Whether you're looking to lighten the load on your next summer hiking trip, boost the warmth of your sleeping bag in winter or add extra comfort to your car camping adventures, Sea to Summit's ultralight quilts and camping blankets bring all the comfort of home, outdoors. Camping quilts and outdoor blankets also offer freedom of movement, so if you're a side sleeper or someone who likes a little extra wiggle room while you sleep, you'll love the versatility they offer.
Our quilts and camping blankets can be used on their own or integrated with your existing Sea to Summit sleeping bag using our QuiltLock system. Simply attach your camping quilt to your sleeping bag using the snap locks to add thermal performance and versatility to your sleep system. Your integrated quilt now works for ultralight summer adventures and turns your three-season bag into a four-season sleep system.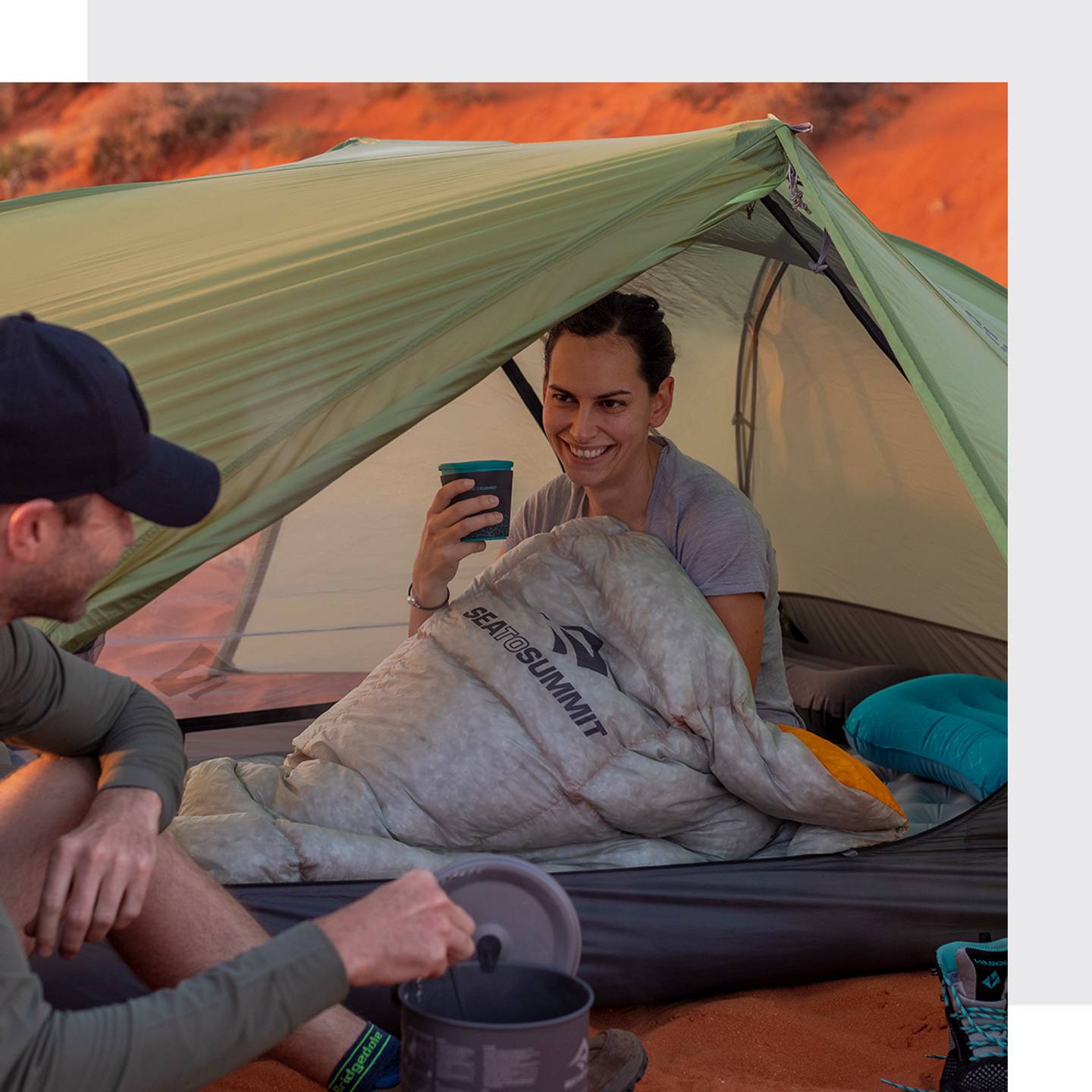 Explore our range of
QUILTS, CAMPING COMFORTERS & BLANKETS
Available in one person or two person designs, explore our range of synthetic and down camping quilts and blankets, including our Tanami down camping comforter. The traditional queen-sized camping quilt is a luxurious addition to life on the road and ideal for warm weather adventures. Our Ember down quilts are incredibly light and versatile, available in both single and double sizes; the high-lofting down and functional design make them the preferred choice of thru-hikers, bikepackers and ultralight hikers looking for maximum warmth and minimum packed size.
If you're looking for an easy-care synthetic camping quilt that excels in wet conditions but remains light and packable, our Glow quilt is a great choice. Our Cinder down quilt is ideal for fast-and-light adventures, combing packability, minimal weight and warmth.
Discover the remarkable functionality and adaptability of our camping blankets and quilts by browsing the range above. Have questions? Contact our friendly team.