Thrashing gear around the world: Q&A with Patriot Campers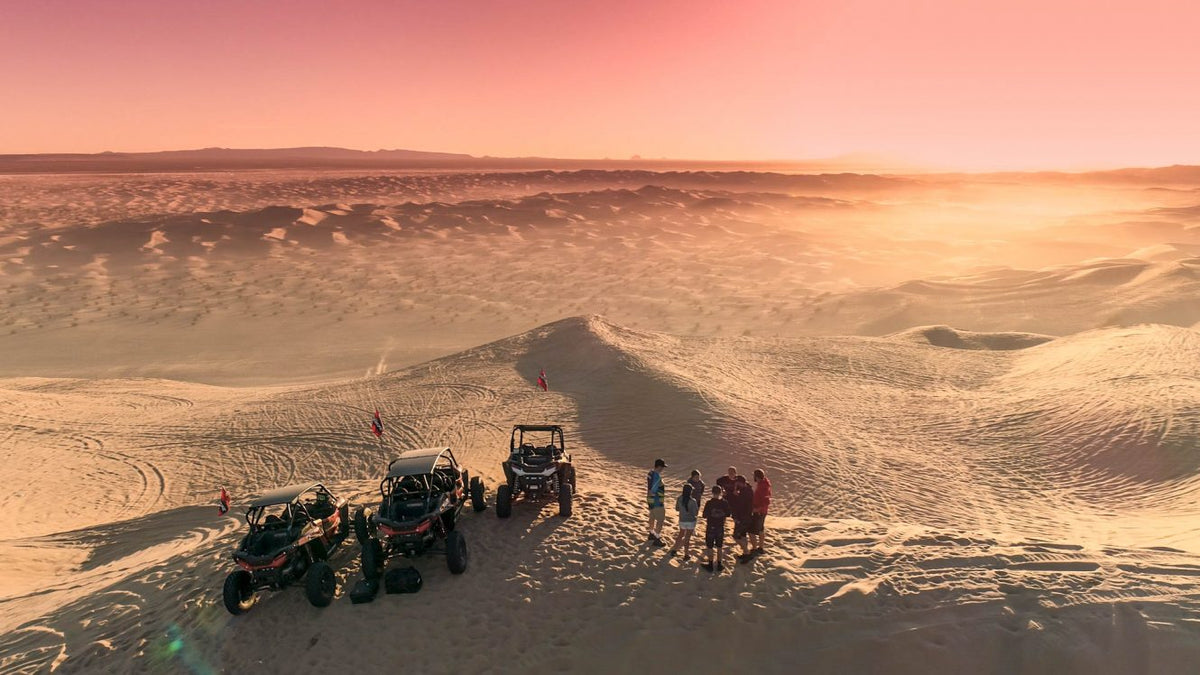 What started as a way to put their indestructible off-road camper trailers to the test turned into three seasons of wild adventures around the globe—with the whole gear-happy family in tow.
We asked the heads of the Patriot Campers overlanding tribe, Justin and Sarah Montesalvo, about life off-road and their new season of super-charged fun.
What can viewers expect from Patriot Games Season 3?
Justin: Season 3 is our biggest season so far, for sure. We tackled a lot of events and we'll be able to introduce the audience to a lot of cool places—like the Simpson Desert, Finke, Glamis and Mongolia.
Sarah: Yeah, especially Mongolia, it was the trip of a lifetime. I also got my own SUPERTOURER this year as my daily driver, so you can watch the team build that.
Where did the idea for this TV series come from?
Justin: We didn't set out to start a show, that's for sure. It all started as a research and development trip to test our camper trailers. We went to Cape York where we ended up capturing some epic content and our videographer at the time was adamant that this was more than a product shoot. From there, it grew to what it is today.
What made you want to open up shop in Mongolia?
Sarah: We've known the dealership owner for a few years now, since he purchased a camper trailer and Supertourer from us in 2016. Since then, he decided that he'd like to import them and sell them from Mongolia, so we agreed.
Justin: Mongolia has a lot to offer offroaders. The terrain there changes all the time because the country is so large, and you can see sights from the Khangai to the Gobi Desert.
What's the 4WDing and overlanding scene like in Mongolia?
Justin: It was completely different to anything we have ever experienced, there is a huge 4WDing community over there with a large variety of vehicles. Probably larger than I realised, to be honest.
Sarah: Camping in Mongolia is also so different, in a good way. Your camping spot choices are almost endless, there's little to no camping grounds but you can just pick a spot and set-up.
What gear were you testing out?
Justin: We put everything to the test. That's why it's so important to have the right gear on these trips and why we team up with the best brands we know and trust. The changes in terrain and temperature throughout the trip tested our camping gear, our wearables, our vehicles, camper trailers and even us, too.
What Sea to Summit Gear did you put through its paces? How did it fare?
Sarah: We used Sea to Summit sleeping bags, sleeping mats, camp kitchen gear, Watercells, dry bags, tarps and Duffle Bags. Everything was well used by the end of the trip, but it all stood up to the test.
I especially enjoyed sleeping under the stars on our trip to Mongolia. Surprisingly, after all the camping trips we have been on, it was the first time I had done that. The Sea to Summit gear made it easy and comfortable—it's something I definitely want to do again.
How did you set your course in Mongolia? Do you know the area well?
Justin: We used a GPS to find our way with some assistance from Tamir.
You go on these expeditions to test your gear out. Have the results ever changed the design of one of your products?
Justin: Our offroad adventures constantly improve our products. We've got the offroading element of our trailers pretty much nailed, but it's little usability things that you don't consider until you're using the trailer and you think to yourself 'I wish that was different'.
For example, when we were crossing the Simpson Desert last year with XOverland I kept getting really annoyed about the fact that I needed to pull the whole kitchen out just to wash my hands, so when we got back to HQ, we designed a tap on the drawbar so you can have instant access to your water whenever you need it.
Testing Sea to Summit gear out in the field is an integral part of our design process. How critical is this to developing your gear?
Justin: Testing our camper trailers like this is incredibly important, we say we test like no one else and we mean it. Our gear—and gear from the brands we work with—is put to the test in some of the toughest terrains we can find so that we are confident these products will make it through no matter where you go.
Did you get into any sticky situations on this trip? If so, how did you get out of it?
Sarah: We did get into a few sticky situations on this trip, for sure, but you'll need to watch Season 3 of Patriot Games on YouTube to find out!
Where do you get your ideas for the next thing you want to manufacture?
Sarah: It's a mix of listening to our customers on the owner's forum, and using our own products as our own camping style changes and evolves.
Is it always as much fun as it looks on Patriot Games? Are there ever hard times?
Sarah: There are definitely some hard times! Filming can mean some long days on the road or stuck in the mud which are both physically and mentally draining. In the end it's always worth it though.
What's the best way to keep morale up on these kinds of trips?
Justin: Sleep is key on a big overlanding trip! Make sure you get to bed as early as you can while you are on the road. A big night or two is fine, but too many and it really starts to take its toll. That's why we didn't mess around when it came to choosing the right sleeping gear.