Our most awarded gear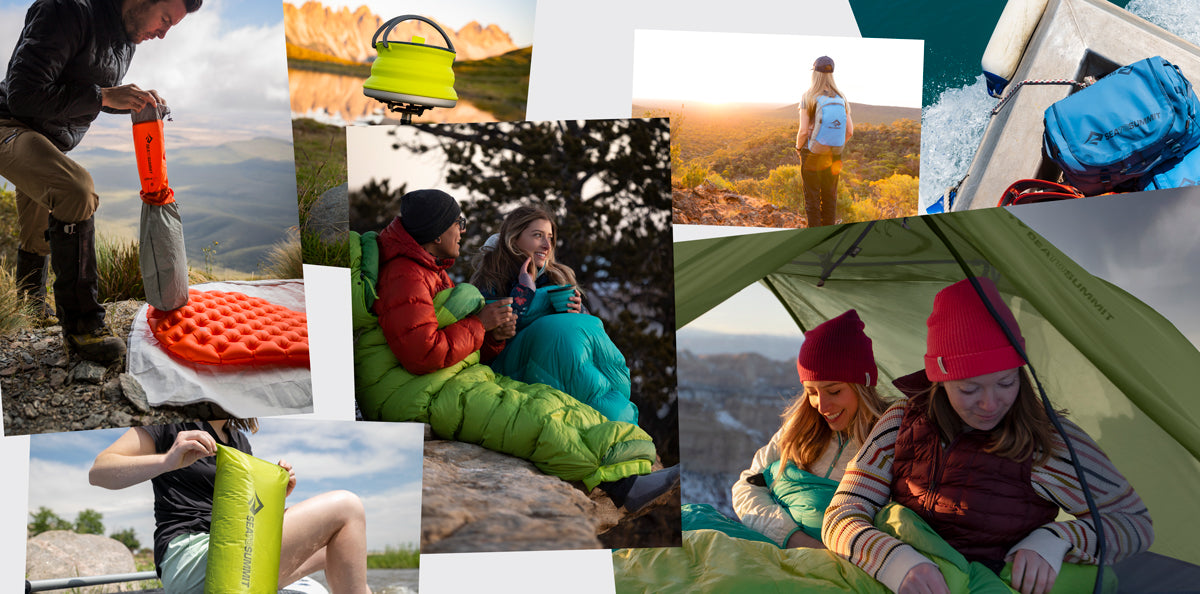 We'd like to think that we love all our outdoor gear equally, but some have brought home the gold more than others.
Off the back of our latest accolades for our Telos TR2 Ultralight Backpacking Tent —we thought we'd dust off the old trophy case so you can peruse some of our most award-winning gear.
Here's a round-up of the gear that's favoured by industry experts and reviewers—the dry bags, sleeping mats, hammocks, packs and more that have been put to the test and have come out on top.
TENTS
Telos TR2 Ultralight Backpacking Tent
'Despite manufacturers' best efforts, these pint-size shelters can get stuffy fast. Sea to Summit found another way in the Telos by rethinking traditional tent architecture.' — Popular Mechanics
'A rookie rarely wins Gear of the Year, but our favourite tent this season impressed us with fresh ideas … There are lighter and roomier tents in this category, but none that improve the camp experience like the TR2.'— Outside
'Thanks to its innovative design, the new Telos TR2 (1.8 kilos) sets standards in this class in terms of space utilization. With the new design of the ridge pole, Sea to Summit solves three weak points in many lightweight tents.' — Outdoor Magazin (Germany)
'The Telos TR2 is the sort of tent we've been dreaming about, which makes its arrival feel like an answered prayer.' — Backpacker
'If the devil is in the details, then this is the most unholy tent we've ever occupied.'— Backpacker
SLEEPING BAGS
'I think the Ascent is one of those products with near-universal appeal. Its mix of many features, great packability and a huge temperature range made it an easy choice for a Gear of the Year award.'— Outside
'The Sea to Summit Spark SpI is the lightest and smallest-packing bag we've ever tested by far. It's so light and tiny when stuffed into the provided stuff sack that it's our Top Pick for Insane Packability.'— OutdoorGearLab
Dry Sacks + Pack Liners
Ultra-Sil Dry Sack
'Keep your gear dry with these superlight dry sacks. We beat the crap out of these bags—and drew no blood. Rain rolled right off the Cordura nylon fabric, which is treated with both silicone and polyurethane water repellents. Sandstone and granite failed to mar the exterior. The double-stitched seams held up to all of our yanking and stuffing.'— Backpacker
Ultra-Sil Pack liner
eVent Compression Dry Sack
'These featherweight dry bags make pack liners and covers obsolete. This could happen to you—it did to us. You're 2 days into a 4-day trip. It's drizzling and1°C / 35°F, and your hydration bladder leaks inside your backpack, flooding your gear with 30 ounces of purified streamwater. Abandon trip? Nope.'— Backpacker
'This lightweight dry bag is designed with all the classic features of a stuff sack plus the bonus of being waterproof. It also sports a clever venting feature that allows air to escape for easing stuffing but prevents water from seeping back in.'— OutdoorGearLab
Air Sprung Cell Sleep Mats
Comfort Plus Insulated Air Mat
'We tested this mattress from the lowest valley in the United States to the highest peaks in Nepal, and the feedback always came back the same: This is the most comfortable night's sleep we've had on a pad this packable.'— Backpacker
'How did Sea to Summit's Ultralight air mattress get to be so comfortable? By being tricky, very tricky. The Ultralight has what it calls "air spring cells," … when you shift your weight, this isolates the compression of the pad, in much the same way a coil bed mattress works, and allows it to conform to your body far more naturally.'— National Geographic Adventure
'Our top spot for long-term gear goes to Sea to Summit's latest inflatable mattress. Not only has it proven itself far tougher than we'd expect for its weight, it's also one of the most comfortable and easy to inflate sleeping pads on the market, which we're especially grateful for after an extended day's ride.'— Bikepacking.com
Ether Light XT Insulated Air Mat
'If you're looking for a sleeping pad that's supportive yet still light enough to carry—for backpacking trips in the spring, summer, and fall—the 4-inch-thick Sea to Summit Ether Light XT Insulated Air Sleeping Mat is a solid choice.'— Wirecutter Pick
EtherLight XT Insulated Women's Air Mat
'We were excited to see that Sea to Summit has rolled out a comprehensive line of high-quality, women's specific sleeping mats. We were especially intrigued to discover the Ether Light XT, which seemed exceptionally light and warm for such a thick and comfortable looking product. We were not disappointed, and the Ether has become our favorite new backpacking product.'— OutdoorGearLab
SELF-INFLATING SLEEP MATS
Comfort Plus Insulated Sleep Mat
'This air mattress not only is comfortable but also has a compact pack size, weighs little, crackles hardly at all and has a structure that largely eliminates cold spots and better insulates the upper body. So it ticks all boxes.'— OutDoor Industry Award
'The Sea to Summit Comfort Plus Insulated is an incredibly comfortable, warm, and functional sleeping pad that sacrifices weight for durability and air chamber redundancy. It was so comfortable, in fact, it earned our Top Pick award for Comfort once again.'— OutdoorGearLab
SLEEPING BAG LINERS
'The Sea to Summit silk liner wicks moisture, doesn't retain smells, packs down to the size of an apple, and even weighs less than one. It makes scratchy motel and hostel linens a lot more bearable.'— Wirecutter Pick
COLLAPSIBLE CAMP COOKING
X-Pot
'How's this for a magic trick? Turn a 1-inch-tall disk into a 2.8-liter pot with the flick of your wrist. It's easy with the X-Pot, which has silicone walls that fold in on themselves, shrinking the pot down from 4.5 inches tall … But shrinking isn't the X-Pot's only talent.'— Backpacker
'Pots and pans have never played nicely within the confined and limited space of a backpack, until now. The X-Pot from Sea to Summit is a collapsible, silicone-sided pasta/soup/dinner cooker that measures just an inch and a half high when flattened.'— National Geographic Adventure
X-Pot Kettle
'Collapsible cookware saves lots of space in a backpack, but one thing that's never been collapsible is one of the largest—a cooking pot. The Sea to Summit X-Pot is a collapsible silicone pot mated to an aluminum base that serves as the cooking surface.'— Gear Institute
X-Set 32
'The Sea to Summit X Set 32 features a collapsible silicon sidewall construction with an anodized aluminum base, earning our Top Pick for Packability. This collapsible architecture makes it easy to put into a backpack while saving space.'— OutdoorGearLab
HAMMOCKS
Ultralight Hammock
Pro Hammock
'The Pro Double is our Top Pick for Ultralight Versatility because it keeps the weight low without losing too much comfort.'— OutdoorGearLab
PILLOWS
Aeros Premium Air Pillow
'The Sea to Summit Aeros could easily become one of your favorite pieces in your backpacking setup. It's small and lightweight enough to hide away almost unnoticed in your pack, but its presence is appreciated when laying down to rest.'— OutdoorGearLab
DAYPACKS + DUFFLES
Duffle Bag
'I thought it would be difficult to pick a single best duffle. For the most part, that wasn't true … in this test of 21 duffles, the Sea to Summit 65-litre duffle was clearly the best, getting top marks in all but one category I looked at. It's the duffle I think people should buy.'— Outside
'We are confident that the Sea to Summit Duffle is the best on the market. We will continue scouring, and eagerly anticipate the day when a bag displaces the Sea to Summit, but we are also content to use and abuse this excellent product for years to come. It displaces the first winner of our Editors' Choice award, breaking seven years of precedent.'— OutdoorGearLab
'Toss this lightweight, phone-sized packable bag into your luggage or coat pocket, and you'll never get caught without a spare bag again.'— Wirecutter Pick
'It squishes down to the size of an egg but can carry 20 litres—which is why we haven't gone on a trip without one in years. Tough Cordura fabric can handle brushes against tree branches and granite, and wide, flat shoulder straps keep 10-pound loads comfortably secure on your back. We loved leaving our big packs at camp and tagging summits with the Ultra-Sil.'— Backpacker
TOILETRY BAGS & TRAVEL ACCESSORIES
'This lightweight, well-organized bag fits a week's worth of travel-size toiletries into a compact package. It's meant to be hung, which makes it good for tight spaces.'— Wirecutter Pick
'These six TSA-friendly bottles are sturdy and smartly designed, dispensing liquids more precisely than any of the other bottles we tested.'— Wirecutter Pick
ACCESSORIES 
Pack Rack
'Much to the chagrin of the big rack names like Thule, Yakima and Rhino, not everybody needs racks on their vehicles all of the time … Sea to Summit has developed just the product for folks who want to graduate from the foam blocks but don't need to invest in a full rack system. Because they're inflatable, they'll store away nicely in the vehicle until needed.'— Gear Institute
Pocket Shower
'This lightweight shower unfurls into a good-sized, easy-to-use shower that makes it a no-brainer to bring with you pretty much anywhere. This combination of ease of use, portability, and downright usefulness makes it our Top Pick for Backpacking.'— OutdoorGearLab
Pin for later