Staff picks: Our camp kitchen set-ups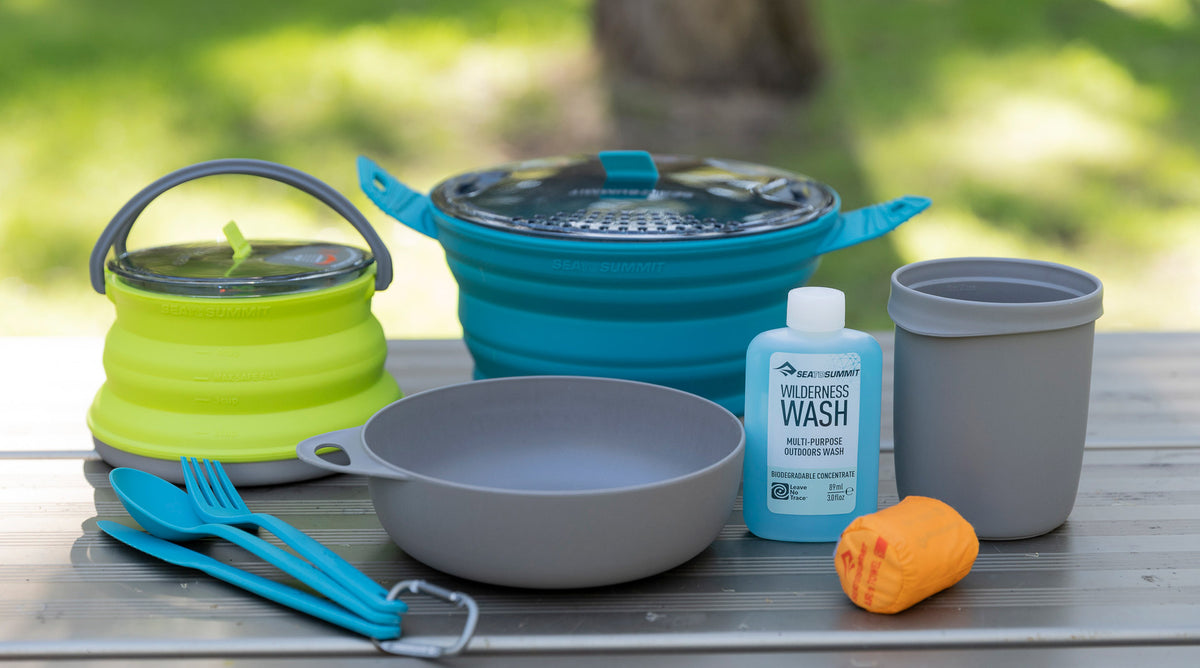 It seemed like a simple ask—'what's your go-to camp kitchen set-up?'
Not at Sea to Summit.
This seemingly innocent question resulted in weeks of inter-office debating (the ups-and-downs of sporks, collapsible vs. stainless steel pots), and just good old fashioned gear shaming (well, I suppose if you're happy to carry that much extra weight…).
It was an unapologetic fantasy draft for gear nerds—with everyone constantly one-upping each other in a bid to show off their camp kitchen dream-team.
So, yeah, it was pretty good fun. Now check out these sweet set-ups!
Ryan M's gourmet escape set-up for four
This is what I take on a winter 4×4 trip up to Ningaloo reef—for beach camping, SUPing, snorkelling, fishing and cooking. This set-up has all the bells and whistles and yet the whole thing fits into the space of a 10" pan with a 3.7L pot in it. You have all your dinnerware included and the cutlery set means a clean spoon is ready to go when dessert comes.
For car camping and 4WD trips, I reach for the Sigma. The extra weight (though it's not much more) is worth it for the added durability—and having a pan and two large pots means you can make almost anything on the fly.
Makes short work of paella and shakshuka, fresh fish (if I'm lucky) or just a good old fashioned fry-up.
Bowls are great but you don't want to eat your dry-aged, campfire-cooked steak from a bowl. They make good chip containers and cheese boards as well (if I'm feeling fancy).
Big enough for a one-pot-wonder for four people.
A nice backup that can boil water for tea or washing up when the other pot is dirty. The extra flexibility enables more elaborate meals. As it nests inside the 3.7L, it's a no-brainer to pack.
Four bowls and four mugs for four people, and it all fits in the 2.7L pot. Enough said.
Super durable and cheaper than the titanium sets. The spoon's radius fits perfectly with the internal radius of our bowls, which makes it easy to get all the food out (making washing up duties easier—win, win!).
I use these on their own for stirring said one-pot-wonders and together as makeshift tongs/salad serving spoons.
Louise's section hiking set-up for two
This is what we took on a seven-day hut-to-hut hike on the Pyrenees Haute Route recently. We mostly ate in the catered alpine refuges but we wanted to have the flexibility to boil water for coffee, a miso soup or an emergency freeze-dried meal.
Lightweight and compact stove with igniter + gas
We weren't using it for every meal so as small and light as possible was key—for longer thru-hikes where gas can become too heavy/bulky an option, a liquid fuel stove combo will win out for packed size and weight.
We weren't cooking meals (although we could have done in the kettle), so it was all about weight, packed size and fast boil. This set weighs just over 300g, flatpacks smaller than a frisbee and boils water faster than my kettle at home. We could also make a quick oatmeal breakfast in the mugs for those pre-dawn starts when the hut hosts were still tucked up in their bunks.
No coffee—no hike.
On these hut-to-hut trips, a freeze-dried meal is more of a back-up in an emergency than an everyday necessity, so my partner and I are likely to share one spoon and eat directly from a double serve pack, which also saves on packaging waste. If we're on a longer trip eating from separate packs, we'll take two spoons and prevent the 'who gets the last bite' argument.
Sharp knife or multi-tool with knife
For cheese direct from the farmer (one of the true luxuries of hiking in this part of Europe), locally cured jambon and apples straight from the orchard—not to mention the more practical uses like mending gear.
Watercell X (available 2020)
Water storage (compatible with most quick-connect hydration hoses), dispenser and shower—all rolled into one compact, flexible unit. The 4L fits in the hydration pocket of my pack, quick-releases from my hydration hose for filling the kettle and doubles as a shower. Not all huts are equal and there's really nothing quite like a shower at the end of a sweaty hiking day, even if it's glacial cold.
For me, the dishes and for washing any gear that's come into contact with dirt/natural water sources at the end of the trip so I don't get detained and fumigated on my return to Australia.
To pack out all personal rubbish—there's nothing worse than seeing used toilet paper littering pristine wilderness areas. Many of the remote alpine huts along this route also ask you to pack out communal rubbish to save on transporting it by air at the end of the season.
Bill's motorcycle touring set-up
I carried these products in the Pacific Northwest in North America (USA and Canada) for several years. When I'm motorcycling, weight is not the biggest issue—size is more critical—and so everything here was chosen because it's compact.
On a longer ride I like to cook (I can only live on freeze-dried for a few days), so I bring the X-Pot and Kettle and DeltaLight Bowl and Mug. To save space, you really can't go past the X-Series for camp cooking but I prefer a hard bowl and mug to eat and drink out of. I also like the harder mug because I can store the my little stove in the cup to keep it safe. Note: I don't drink coffee, but I know a lot of other motorists that use the X-Brew.
I use the 2.8L pot for cooking pasta and food and the 1.3L X-Kettle for water only.
I prefer more traditional style cutlery.
…but I only bring one bowl and the mug. I like the mug a little better than the X-Mug to hold. I also use the bowl as a wash bin for clean-up.
For clean-up.
Ryan A's solo bikepacking kitchen set-up
This is what I'd bring on a solo bikepacking trip to New Zealand's South Island, top to bottom—or a US Pacific coast ride. It's always worked well for trips where I'm always a couple of days riding between civilisation (towns with supermarkets). A lot of my friends who do backpacking tend to use a similar set-up.
Midsize gas canister
I've always gone for gas canisters over liquid fuel. A midsize can will last one person for at least a dozen cook-ups, which could be a week's worth of meals. So unless you are super remote for over a week, I like propane/isobutane. It's lighter, pretty damage-proof and there's no potential to leak or spill.
Stove with built in igniter
I'd still carry a lighter but the igniter is a great backup when needed. The last thing you want is having to detour to a petrol station just to buy a lighter.
These are the lightest and strongest around so it's a no-brainer for me—especially after snapping so many weaker cutlery sets digging out semi-frozen peanut butter.
This is for a single-portion serving size. I cook in it and eat from it—less dishes!
For hot drinks, cuppa soup and wine.
Chris' weekend climbing set-up
Like me, most climbers I know are lazy and hungry. They'd rather not do dishes and are happy to eat out of the same thing they cooked in. Clean-up usually involves licking the spoon or fork so there is no food residue on it. Maybe a pant-wipe after.
When I'm old and car camping, I'm sure I'll be going for the glamping style set-up. For now, less time cooking and cleaning means more time climbing and exploring.
Step 1—hot water.
Freeze dried meals or instant noodles and veggies
Step 2—pour hot water on food.
Step 3—eat.
Pants
Step 4—wipe spoon.
PJ's motorcycle trip across India
This is the set I'll be bringing on my upcoming motorbike adventure across India. The main criteria for my camp kitchen gear will be compact size and versatility.
Lightweight gas stove burner with gasoline
It's easier to access fuel without having to carry in and carry out multiple canisters on a long trip. We also made sure to choose a stove that will work well in the high altitudes.
For boiling as well as cooking. It's light, easy to clean and very tough and durable for the road. It has a secure handle and the lid can lock for packing so it can also be used as a container to carry other kitchen items and save on packing space.
Folds flat and opens out to a great volume.
For brewing the morning tea. It packs small and can carry my X-Mug inside.
The AlphaLight Spork is long enough for eating straight out of freeze-dried food packets and thus saves from using a bowl when it's not required. And a good knife is always handy too.
Lightweight, durable and easy-to-use water storage and dispensing. It can also be stowed away almost anywhere.
It's really lightweight and compact, and conserves and confines warm soapy water for proper disposal in fragile areas—a great convenience when washing a few dishes.
Nathalie's weekend surf trip set-up for two
Our camp kitchen set-up is pretty much always in our van. We usually don't decide to go on weekend trips up the coast until Friday afternoon (depending on the forecast) and then everything has to happen real quick.
This set-up works mostly for us because it's so space efficient. It all goes in one box into the van so there's no loose pots floating around, hitting surfboards or getting all sandy. We can also leave it in the van during the week and it doesn't bother us. It's all about packing and leaving as quickly as we can when the forecast is good, but also making sure we're comfy and have everything to enjoy the weekend away so we don't return with no energy for the work week ahead.
Most of the time we'll cook a pasta dish and add vegetables and maybe meat or fish of some sort – it's the perfect filler after a long day of surfing!
In the mornings we use the pan to fry eggs and toast bread. But first—coffee! The kettle boils a good amount of water for two people who drove five hours and surfed all day before they went to bed. It's basically survival gear!
The InsulMugs keep the coffee nice and hot while you discuss with the entire campsite which surfboard will be best for that day. Get two different colours if your partner tends to 'accidentally' mix up mugs as soon as theirs is empty. The InsulMugs have a nice feel for wine in the evening too, and keep its temperature consistent.
The Kitchen Sink and Wilderness Wash come on every trip. We just wash our dishes with sea water usually and then rinse them with tap water when we're back home.
Watercell X (available 2020)
All your water storage and dispensing needs covered. It's easy to fill, drain (one handed use!) and then packs away to almost nothing. Its shower attachment is also a lifesaver for salty skin.
Seth's set-up for a 4WD trip with the boys
Having come from a 'lightweight' background, I started off using lightweight gear for my 4WD camping. A lot of 4WD tourers/overlanders go for heavy gear but many face the issue of overloading their vehicles. This isn't good for fuel economy on long trips and, in some instances where a car is heavily modified, it can tip the scales enough to damage the suspension and vehicle components.
My trips are typically with my two boys, who are growing bigger and eating more and more. This has changed the way in which I cook because I need to cook more stuff.
Two burner stove
I have recently introduced a two-burner stove to my mix so I can cook larger volumes of food. Also, when using larger sized pots, they are way more stable and safer around kids. Having two burners on the go at once means dinner is ready sooner—or the bacon and haloumi is done at the same time for brekkie wraps on the beach.
Pots and pans are one area where lightweight gear is great. Traditional 4WD pots and pans are awesome, and I love cast iron but it's so heavy!
I have used the hard-anodised Alpha Series for while and it's been really good. That being said, the new Sigma stainless steel gear is the way forward for me. It's super light, durable, easy-to-clean and can go on the fire (carefully, within reason—if you're careful to protect the handle).
Cooking for three hungry boys requires volume. So small pots don't cut it these days. Again, by going for a couple of lightweight 3.7L pots, you don't add too many kilos to the overall load in the vehicle.
This set has got everything you need—four bowls, four mugs. We only need three bowls and mugs but it all nests together nicely so it doesn't really worry me carrying around a spare of each. These bowls pair really nicely with the Delta Cutlery—the spoons scrape the bowl clean and reduce washing-up duties.
So much better to haul water than big plastic containers. They are actually really robust and reliable. They pack flat and take up no space when empty and are really good for weight distribution around the vehicle when packing—rather than having 20–40L all in one spot.
I haven't had a chance to use the Watercell X yet but I suspect I'll be replacing my Pack Taps with these, as they carry a lot more water for the same footprint.
PIN THIS FOR LATER