Make your swag lighter, more compact and more comfortable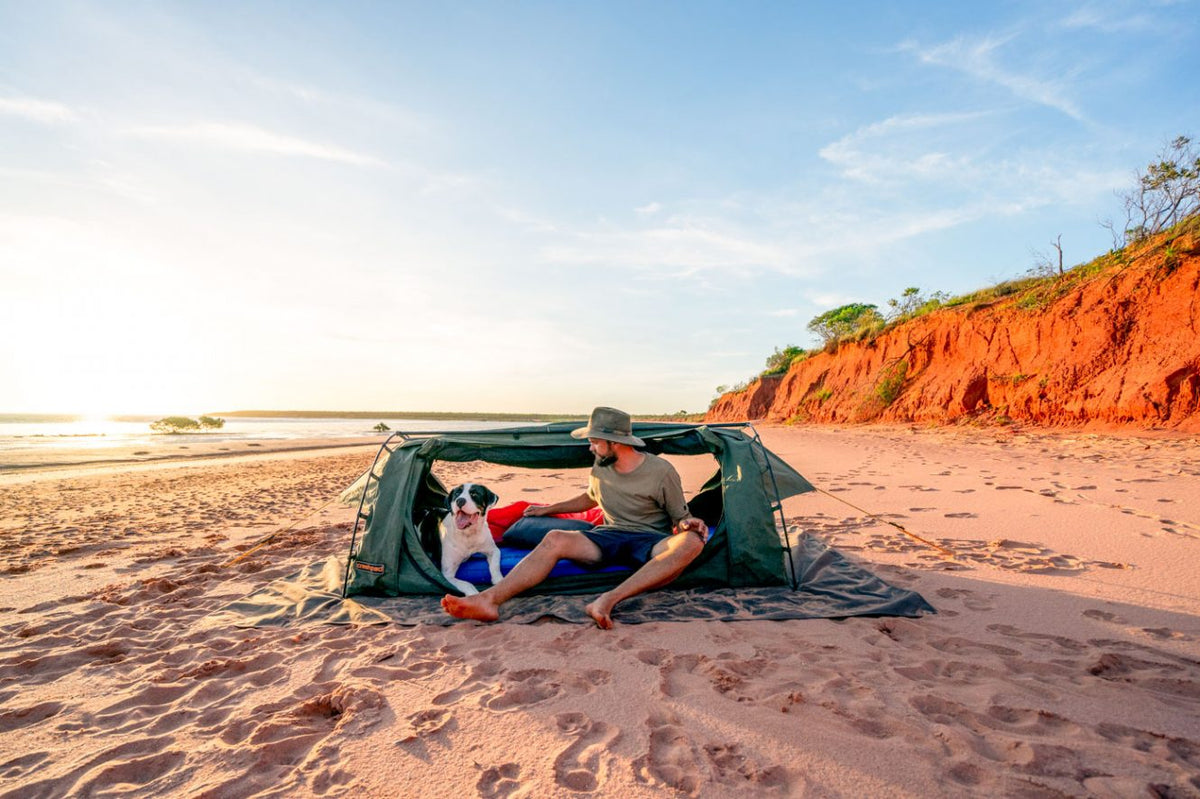 Here's how to pimp your swag set-up like a pro
The humble swag has come a long way over the last few hundred years. What started as a simple bedroll covered in leather or canvas is more like a small tent these days.
In fact, the only reason we still call them a swag is because they can still be rolled up with everything you need in there—your bedding, mattress, jocks, wallet, car keys…
They really are a brilliant all-in-one bit of kit, but anybody who has owned a swag knows they do have two drawbacks—size, weight and comfort. They're not made to travel far from the car.
Inspired by both the mentality of comfort-loving car campers (me) and mean, lean ultralight hikers, I've discovered a set-up that sits firmly between both camps.
For the kind of person who doesn't want to tow a trailer full of camping stuff just to be comfortable—or deal with eight poles and 14 guy ropes just to get a few hours of sleep—here are my hacks for making your swag infinitely lighter, more packable and more comfortable.
THE MATTRESS
The camping world is full of compromise. Do you go for the 5cm or the 7.5cm-thick option? Is the extra bulk worth the extra comfort?
Switching out the standard swag mattress with a self-inflating mat was a massive upgrade in terms of both comfort and weight. I took the plunge about six months ago when I traded in my 7.5cm foam mat for the 10cm-thick Sea to Summit Comfort Deluxe S.I.™ Sleeping Mat (I use a Large Wide size).
I can comfortably say (pun intended) that this is the best upgrade I've done to my sleep system. It's dramatically more comfortable than the original foam mat (which was one of the best I had used) and reduced the diameter of the rolled swag by nearly 50%. It also knocked a couple of kilos off.
No need to remove the Comfort Deluxe S.I. from the swag to roll it up.
Just leave the valve open at the foot end and roll up your swag as normal.
THE PILLOW
When you camp as much as me, you allow yourself a bit of a luxury every now and again. For years I brought my home pillow on the road with me. The extra bulk was definitely worth it for comfort, but it was really annoying having this big awkward thing in the back of the car. My dog would also use it as his personal pillow and get it pretty dirty. Upgrading to the FoamCore Pillow has been absolutely brilliant—it's got the feel of my home pillow at around 25% of the space (I use a Large). I've gotten a few of my mates on to these and every time we catch up they tell me how much better their sleep is for the upgrade. We're all totally sold.
BEDDING
Traditionally, I've kept an old thick cotton sleeping bag or a doona in the swag. Problem is, I'd find myself constantly unrolling and rolling up my swag at home to add or remove it to save space for different trips.
Since then, I've started using a Basecamp II sleeping bag for chilly nights and a just a fitted sheet over the mattress for warm Kimberley nights. With a better quality camping bag, I don't notice the extra bulk in the swag at all—so I just leave it in there. It saves so much time and thought.
Car campers often make the mistake of thinking that lighter camping gear has little value for them. But, in the end, gear that's lighter, more compact and more comfortable will still add a lot of value to your 4WD trips.
Since doing this upgrade, I've had countless messages from followers, friends and even family who have done the same to their swag and can't get enough of it. If you're thinking of buying a new swag, maybe hold off and look at pimping the one you've got.
Featured gear
About the author
Harry Fisher is Fire to Fork's resident campfire cook, photographer, writer, dish pig, lumberjack, mechanic, fire builder and enthusiastic (but hopeless) fisherman. For as long as he can remember, Harry has been outdoors—always choosing a million star view over a five star resort. Harry's mission has been to make food that pairs well with the stunning locations he visits, so he has spent years developing recipes and techniques that anyone can use to eat better in the bush.
Follow Harry's adventures at @firetofork