Greek chicken gyros with tzatziki recipe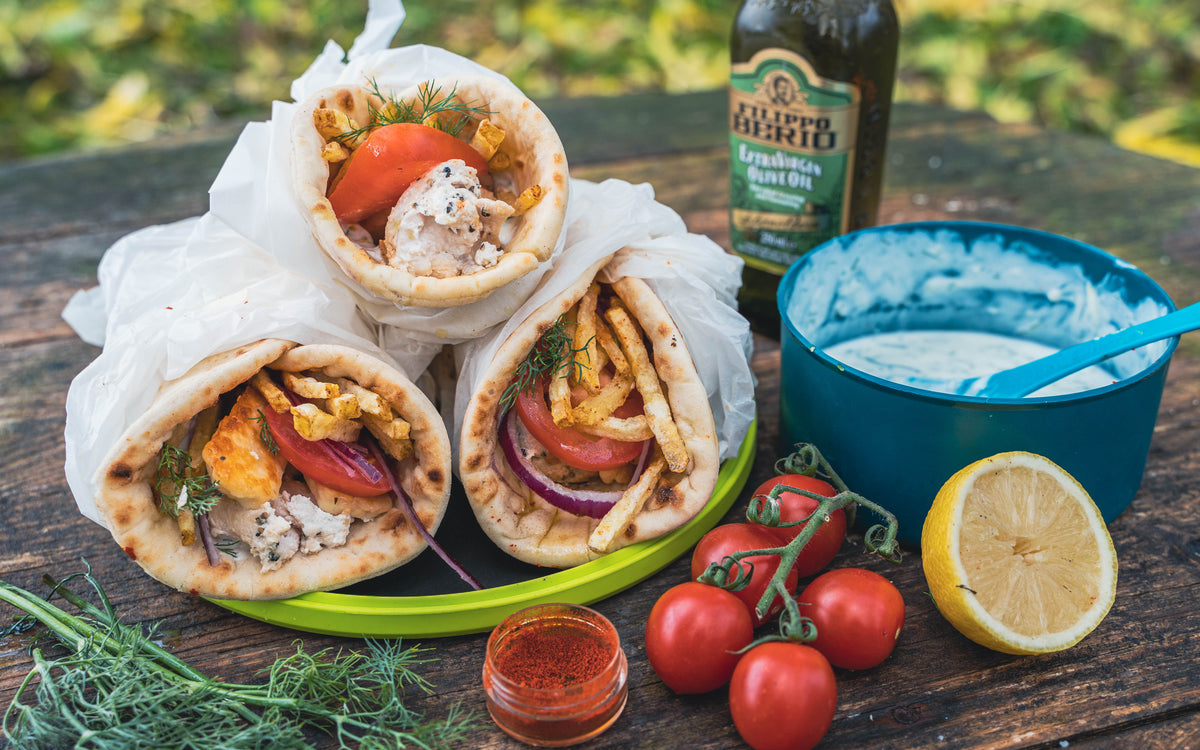 Authentic, flavoursome and delicious, these Greek-inspired Gyros are the ultimate camp sharer.
This recipe can be made from scratch at the campsite or prepped ahead of your trip for extra ease. We recommend intensifying the flavours by marinating the chicken overnight at home, but this is just as tasty done at camp!
Check out the full recipe below:
INGREDIENTS
Chicken thighs
Tzatziki
Pitta breads
2 tomatoes
1 red onion
Halloumi
2 potatoes
Olive oil
For the marinade
200ml greek yogurt

Olive oil

Crushed garlic

1 tsp cinnamon

1 tsp paprika

1 tsp coriander

1 tsp black pepper

1 tsp salt

Lemon juice
For the tzatziki
1/2 cucumber (grated)

200ml greek yogurt

2 garlic cloves (chopped)
Fresh dill
Fresh lemon juice
DIRECTIONS
Marinade
To 200ml Greek yogurt, add 1 tsp of coriander, paprika, cinnamon and black pepper
Next up, add 2-3 tsp of crushed garlic
Drizzle in your olive oil
Sprinkle in a pinch of salt
Mix well and finish with a generous squeeze of lemon juice, seasoning to taste
Tzatziki
Finely grate 1/2 a cucumber and add to 200ml of Greek Yogurt
Chop 2 cloves of garlic and some fresh dill, adding both to the mixture
Season with a final squeeze of fresh lemon juice
Fries
Add frying oil to a saucepan and set aside to heat using the camp stove
Thinly slice the potatoes lengthways, creating thin fries
Place the fries into the hot oil and fry until golden brown and crisp
Gyros
Heat a drizzle of olive oil in a frying pan
After marinating, skewer the chicken making 3-4 even portions
Place the skewers in the pan with the ends as far away from the heat as possible, helping you turn these as they cook
Once cooking, slice the halloumi and add this to the pan to fry. Flip the halloumi during cooking for an even brown colour


Slice 1 red onion and 2 tomatoes to create a salad garnish
Spread the tzatziki mixture onto each pitta bread and add the salad, halloumi and fries

Remove the chicken from the skewers and add to the wraps, using one portion per pitta
Enjoy!
OUR PARTNER CHEF

Harrison Ward, otherwise known as Fell Foodie, is an inspirational camp stove cook and all-around outdoorsman.
Following a drastic life change in 2016, he found a passion for hiking, which he soon combined with his lifetime love of cooking.
Not only does he utilise his platforms for sharing delicious outdoor recipes, Harrison regularly voices his struggles with mental health, sharing his story to help others.
Together, we've created 10 versatile camping recipes that bring fresh ingredients and bold flavours to outdoor cooking – all using our minimalist, space-saving equipment.