Camp recipe: one pot wonder chilli mussels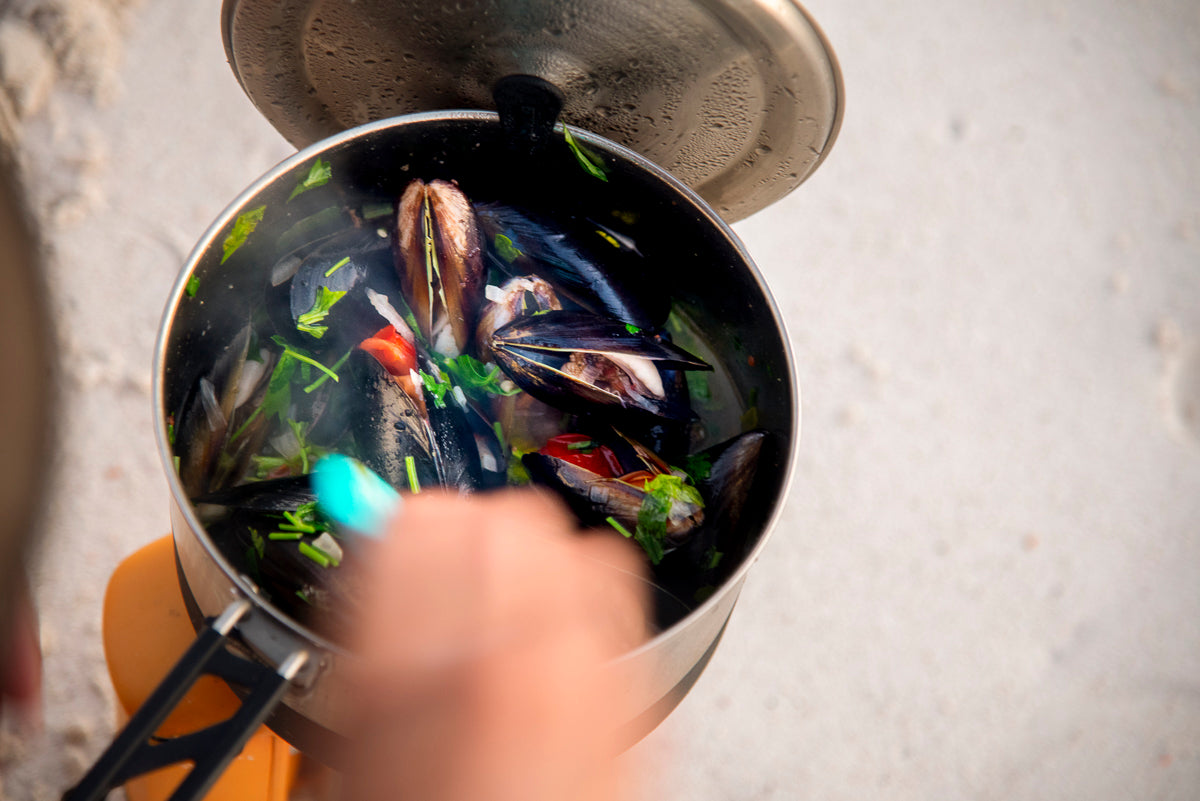 WE PARTNERED WITH HARRY FROM FIRE TO FORK TO BRING YOU THIS GOURMET CAMP KITCHEN RECIPE
---
The first time I tried this recipe was on a mate's boat and we had pulled up to an old mooring line that happened to be totally covered in mussels.
As I was pulling them off ready to tie up, I decided to drop them in a bucket and make a lunch of it. On-board we had a bit of white wine, butter, tomatoes and a few spices and what we managed to cook up has really stuck in my mind as one of the most satisfying (and basically free) lunches I've had in ages.
I decided to use my wood-fired camp stove for this one because I only need one pot and I just really enjoy cooking on it. You can of course substitute this with a charcoal pit or a simple gas cooker.
Serves 2, cook time around 15min
Ingredients
500g mussels
1 small white onion (diced)
4 cloves of garlic (diced)
2 chillies (add a few shots of tobacco if you like extra spice)
150g cherry tomatoes (halved)
50g fresh parsley (diced)
250ml white wine
50g butter
Salt & Pepper
Serve with a fresh baguette and a glass of white.
Method
Add the butter, onion, garlic and chillies to the pot and fry until the onion starts to brown.
Add the white wine, mussels and ¾ cup water.
Once the mix is steaming, add the cherry tomatoes and season generously with salt and pepper.
Once all the mussels have opened, add the parsley and serve with a sliced fresh baguette.
FEATURED PRODUCTS
ABOUT THE AUTHOR
Harry Fisher is Fire to Fork's resident campfire cook, photographer, writer, dish pig, lumberjack, mechanic, fire builder and enthusiastic (but hopeless) fisherman. For as long as he can remember, Harry has been outdoors—always choosing a million star view over a five star resort. Harry's mission has been to make food that pairs well with the stunning locations he visits, so he has spent years developing recipes and techniques that anyone can use to eat better in the bush.
Follow Harry's adventures at @firetofork