Camp Cuisine – A practical guide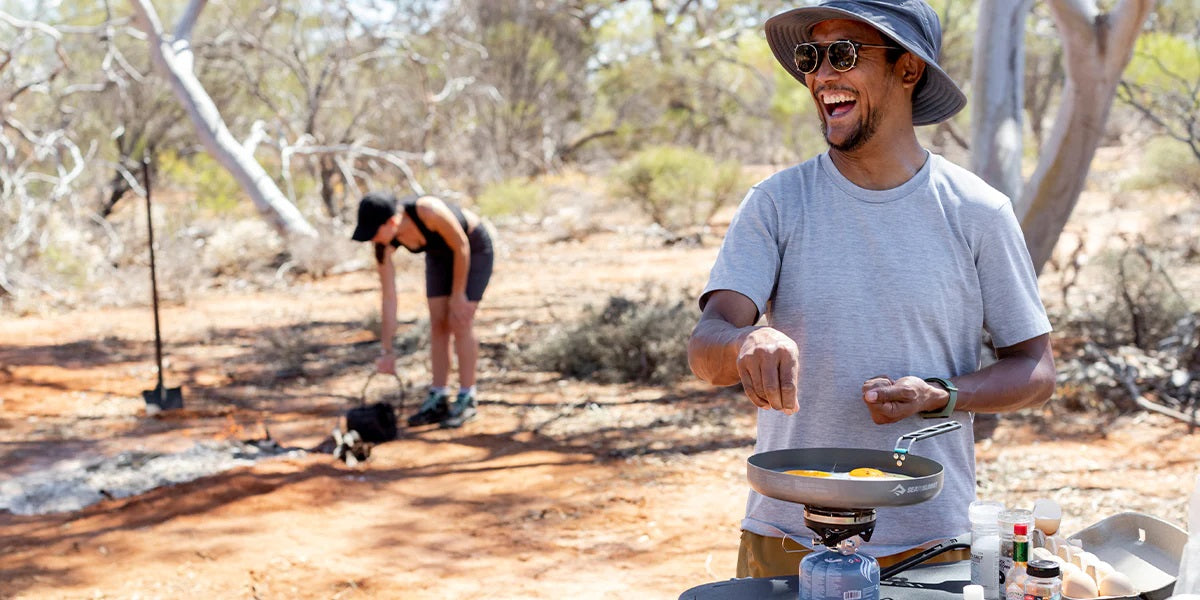 Here's a brand-new update to of a post we ran before with some more new tips and suggestions.
This article concentrates on the X-Series of Cookware and Tableware, and includes the Delta tableware. It includes suggestions for 
how to use the pots, bowls, plates, cutlery and other kitchen supplies 
that Sea to Summit has so thoughtfully manufactured for you.  And, at the end of the post, you'll find information about where to find and contribute backcountry recipes.
For now, let's look at a few backcountry food preparation hacks that can save weight in your pack while expanding your culinary horizons.
First Up, X-Products.
You've probably read that the X-Bowl, XL-Bowl, and X-Plate can be used as a cutting board, but you may not have tried it yet. Trust us – whether you're chopping up veggies to add to your pre-cooked noodles, slicing up bagels or cheese for that day's lunch, or just spreading peanut butter on bread, a cutting board is a fine thing to have with you outdoors. If you're using a sharp knife, make sure you flip the bowl/plate over first to avoid the chance of the silicone rubber getting cut.
You may also have heard that you can pinch the side of an X-Bowl to form a pouring spout – well, you can also use this trick to strain noodles or rice. Pour the noodles/rice straight from the pot into your bowl (the heat won't damage it…), form a 'spout' with one side of the bowl and squeeze a Spork into the spout. You can now strain the liquid through the tines of the spork – so, no more soggy noodles and no more rice-all-over-the-ground.
One point which has come up since we wrote that original post: many end-users have asked us whether the Delta Spork or the Delta Cutlery Set will break. The answer is that this cutlery is made of a glass-reinforced material, which is much stronger and more temperature stable than the plastics used in similar products. In normal use, you can regard them as unbreakable.
None of the above is rocket science, but it all involves getting one item to perform several functions, which is the key to staying comfortable while keeping your load light. In keeping with this, learning to cook with just a single pot is an important weight-saving skill. But – how to prepare several different ingredients, which may exceed one pot in volume if you only have one pot?
One answer is to use your plates/bowls to keep food warm while a second part of the meal cooks. Pour boiling water into a larger plate or bowl – for instance, the  Delta Plate or Bowl or XL-Bowl (it won't hurt it – the melting point of the molded material is well above the temperature of boiling water), and set a Delta Bowl inside this. Put the ingredients to be kept warm in this second bowl and cover them (this is particularly easy if you use the Delta Bowl with Lid) – they'll stay hot while you prepare the rest of the meal using your cookpot.
You will also find that the X-Pots are particularly easy to cook with. Their lightweight aluminum bases spread heat much better than titanium cookware, and the shape of the pot gives you plenty of room to simmer and stir. Having a clear lid means you can see when water is boiling without needing to lift the lid, and all X-Pots have a strain/pour facility built in.
Picture this: the end of a long backpacking day. You organize your camp kitchen and use the base of your X-Bowl to chop some mushrooms and peppers, then shave some fresh Parmesan cheese. Fire up your stove and bring water to the boil in your X-Pot/Kettle, then pour some of that boiling water into your XL-Bowl which – with the addition of the X-Bowl – will be warming some flatbread while the veggies go into the boiling water followed by some couscous. Stir, simmer, and leave for five minutes before straining off any excess water and spooning the couscous into the X-Bowl and XL-Bowl for you and your hiking partner. Add Parmesan, hot sauce to taste, then toast each other's health with a beverage of your choice poured into your X-Mugs. Less than 10 minutes from start to finish and absolutely delicious...
Of course, if you really want to keep cooking simple, you can always just use freeze-dried meals: boil some water, tear open the packet, add the water and stir. Some of these meals aren't bad – but all of them are much easier to eat if you remembered to bring along your AlphaLight Long Spoon or Spork.
Cooking requires water, and the best way to transport this and dispense it while in camp is to use a Pack Tap or Watercell X. You can hang them just about anywhere (they have multiple lash points), and the built-in spigots make dispensing water simple.
If you are using a gas cartridge stove in the colder months of the year, you will need to keep the cartridge warm so the liquefied propane/butane will turn to gas. Making a koozie out of foam and putting a chemical hand warmer into the koozie underneath the canister will help.
Cleaning Up Camp
Cleaning up after dinner is a simple matter with a Kitchen Sink and some Wilderness Wash  or Pot Scrubber – remember to put cold water in the Kitchen Sink before pouring very hot water in. Bleach shouldn't be used in the Kitchen Sink, because it will damage the coating and the nylon fabric. Make sure to follow Leave No Trace practices, and use/dispose of water 300 feet or 100 meters from a water source.
For static/car camping, you may want to check out the Camp Clean-Up Kit and Camp Kitchen Tool Kit (the latter of which has a spatula and serving spoon for more conventional outdoor culinary masterpieces)
Now you know a few tricks and shortcuts, you might want to cruise on over to our Facebook or Instagram to find some tasty recipes posted by our staff and friends. And – if you have a great recipe, maybe you'd care to share it…Let us know!