7 Awesome Camping Recipes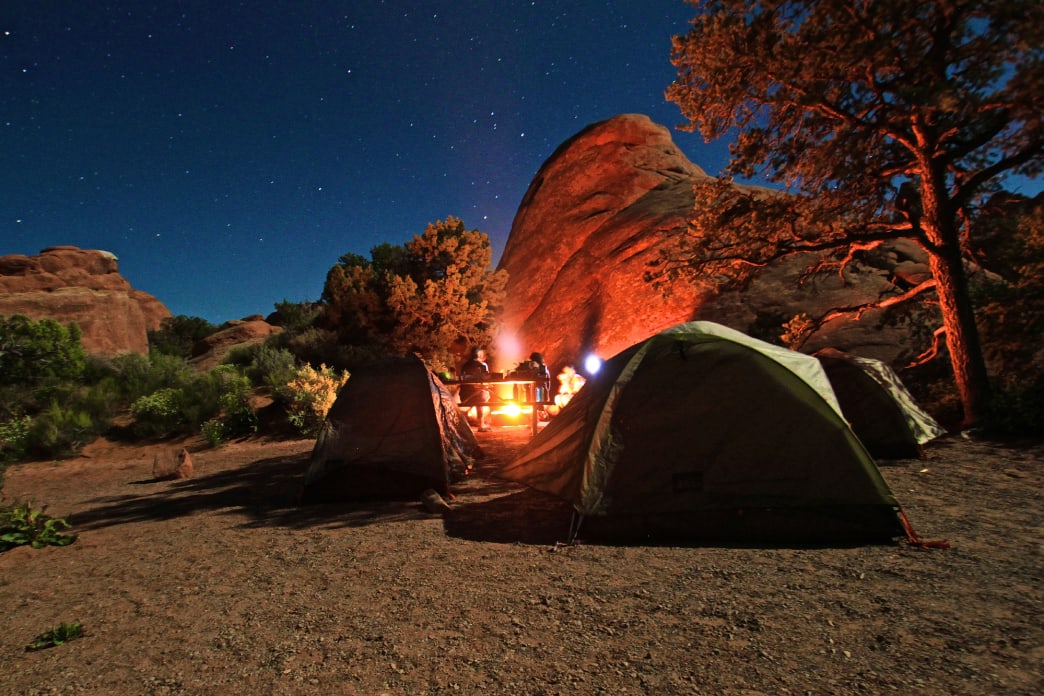 There's no disputing that summer's long days are best spent hiking and camping in America's great outdoors. But when the day wanes and the temperatures start to drop, it's time to build up the campfire and settle in for a long evening of watching fireflies and roasting marshmallows with friends and family. This summer, make this magical time of day something special with these seven inspired recipes.
1. Roasted Chipotle Corn
Sweet, slow roasted corn, brought to life with chipotle and lime, is the perfect accompaniment to just about any outdoor meal. This recipe is also great for kids to help out with: carefully peeling back the husks, removing the strands of silk, and giving the cob a good rub-down of butter, salt, and spice. If you have time, soak the corn in a bath of water for a half hour to an hour to increase the plumpness of the kernels.
Serves: 4
Tools : Tin foil, Tongs
Ingredients
4 corn on the cob with husks
½ stick of butter
Salt
Chipotle powder
1 lime, quartered
At Camp:
Peel back the husks of the corn, without tearing them from the stalk, and remove the silk

Coat the exposed corn with butter

Sprinkle with chipotle powder and salt, to taste

Squeeze lime onto the corn

Roll the husks back up to cover the corn. Wrap any exposed sections of corn in tin foil

Place on the grill, away from the hottest coals

Roast for 30 minutes, turning the cobs periodically
2. Upside-Down Campfire Nachos
Cast iron is a great outdoor cooking tool, as it distributes the concentrated heat of an open fire evenly, giving you an increased level of control. If you've never used cast iron before, nachos are a good way to increase your familiarity, while impressing your friends. Bring the fixings for this fun appetizer on your next camping adventure and get creative by adding your own toppings, such as olives, grilled chicken, or green onions.
Serves: 4
Tools: 12" seasoned cast iron skillet, Aluminum foil, Spatula
Ingredients
1 cup cheddar cheese, grated
1 cup Monterey Jack cheese, grated
½ cup tomatoes, chopped
½ cup onions, chopped
½ cup cooked black beans
1 jalapeno, chopped
3 cups tortilla chips
Salsa (optional)
Sour cream (optional)
Guacamole (optional)
At Camp:
Add half of the cheese to the bottom of the cast iron pan

Sprinkle half of the tomatoes, onions, black beans, and jalapeno on top of the cheese

Add a layer of chips

Repeat steps 1-3, adding a second layer on top of the first

Cover the cast iron pan with aluminum foil

Position the cast iron pan on top of the hot coals of your campfire

Remove after 10 minutes and let rest for 5 minutes

Invert the nachos onto a plate, using the spatula to help loosen the cheese from the bottom of the pan
3. Smoky Potato Salad
Sometimes the last thing you want to do at the end of a long day of hiking is prepare an elaborate outdoor feast. Making food in advance frees up your time to focus on what's important: building a campfire, relaxing with a cold drink, or roasting that third marshmallow. Potato salad is a tasty choice for making ahead as it will not only keep for days, but even improves with time. This recipe incorporates the aroma of a campfire with the addition of smoked salt.
Serves: 4
Tools: 1 large, airtight Tupperware container
Ingredients
2 pounds baby red potatoes, boiled until tender and diced
4 hardboiled eggs, chopped
2 celery stalks, chopped
½ red onion, chopped
1 cup mayonnaise
1 tbsp. tarragon, chopped
1 ½ tsp dijon mustard
1 tsp alderwood smoked salt
½ tsp pepper
At Home:
Mix all ingredients thoroughly in an airtight Tupperware container

Taste for salt, and add more as desired
This potato salad will improve with time so feel free to make a couple of days before you leave for your trip
At Camp:
Store in your icebox at camp until it's time to eat.
4. Fire-Roasted Salmon
If simplicity is your goal for your outdoor menu, don't resort to hot dogs or lukewarm pasta just yet. Fish fillets, such as salmon, pack a ton of flavor and come together quickly over a bed of hot coals with minimal on-site preparation. Package them up in tin foil at home for easy transport, and reap the rewards when your fish emerges from the fire moist and flaky. Adding garlic and lemon highlights the natural delicious flavor of the fish, but you can also experiment with other seasonings, such as Cajun spice, fresh oregano, or chives.
Serves: 4
Tools : Tin Foil, Tongs
Ingredients
1 pound of salmon (or substitute a different fish, such as halibut or cod, of your choice)
Butter
2 garlic cloves, chopped
Salt
Lemon
At Home:
Rub the fish with garlic, butter, lemon, and salt

Wrap in foil, label, and refrigerate
At Camp:
Place the foil-wrapped fish packet on a grill over hot coals

Flip over the fish packet after 5 minutes

After another 5 minutes, remove the fish from the coals

Open the foil, carefully, and serve immediately
5. Sangria Infusion
Is there a beverage that's more perfectly suited for the dog days of summer than sangria? Chilled wine and bubbly club soda, spiked with brandy-soaked fruit—no wonder this is the go-to drink of the Mediterranean. And infusing the fruit with the brandy in advance means that you can fit enough for the entire weekend in your cooler without losing out on the sophisticated flavor. Substitute white wine for red to create the perfect mix for any outdoor meal.
Serves: 8
Tools: 1 quart size mason jar
Ingredients
1 orange, diced
½ pineapple, diced
1 apple, diced
1 pear, diced
1 cup brandy
2 bottles red wine
Club soda
At Home:
Place the chopped fruit into the mason jar

Add 1 cup of brandy

Fill the rest of the mason jar with red wine, ensuring that all the fruit is covered, and refrigerate
At Camp:
Combine ½ cup of the fruit, brandy, and wine mixture with ½ cup of red wine

Top off with a splash of club soda
6. Teriyaki Chicken Skewers
You'll want to save space on your grill for this flavorful take on the classic barbecue skewer. Chicken strips, soaked overnight in a tangy marinade, are perfectly matched with sweet pineapple and the taste of campfire smoke. Remember when you're building your skewers to give the chicken room to breathe, ensuring that it cooks evenly and quickly. Add other vegetables, including bell peppers, onions, or summer squash, for a splash of color. To make this one a complete meal, serve over rice with additional teriyaki sauce and sriracha.
Serves: 4
Tools: Airtight Tupperware container, Bamboo skewers
Ingredients
1 1/2 pound boneless chicken, in strips
3/4 cup soy sauce
1/4 cup brown sugar
1/2 teaspoon fresh ginger, chopped
1/2 teaspoon garlic, chopped
½ pineapple, cubed
At Home:
Mix the soy sauce, brown sugar, ginger, and garlic in an airtight Tupperware container

Add the chicken strips, making sure that they are fully submerged

Seal the container, and refrigerate overnight before your trip
At Camp:
Pull the Tupperware container containing the marinated chicken out of the icebox

Thread 1 to 2 strips of chicken per skewer, with pieces of pineapple in between

Roast over hot coals for 5 to 10 minutes, or until the chicken is cooked through
7. Elvis Banana Boat
Get creative with your desserts by adding a new spin to an old standby. Toasted bananas, chocolate, and marshmallows are great for kids, but when you're ready to upgrade, try adding some peanut butter and honey to create a banana boat fit for a king. And why stop there? Mix in some caramel syrup, dried coconut, or even bacon, and make the banana boat truly unforgettable.
Serves: 4
Ingredients
4 graham cracker sheets, crumbled
4 tbsp. butter
½ cup brown sugar
1 tsp vanilla
4 bananas
Nutella
Peanut butter
Honey
At Home:
Thoroughly combine graham crackers, butter, brown sugar, and vanilla in an airtight container
At Camp:
Slit open each banana along the inside curve and set in the middle of a length of foil

Add 2 scoops of Nutella and peanut butter

Drizzle honey over the banana

Sprinkle on 2 tbsp. of the graham cracker mixture

Wrap the foil around the banana so that it is fully enclosed

Roast over the fire for 8 to 10 minutes, making sure that the crease of the foil is pointed up

Remove from the fire, peel back the foil, and enjoy
Written by Laura Lancaster for RootsRated and legally licensed through the Matcha publisher network. Please direct all licensing questions to legal@getmatcha.com.