5 No-Cook Camping Ingredients to pack during a fire ban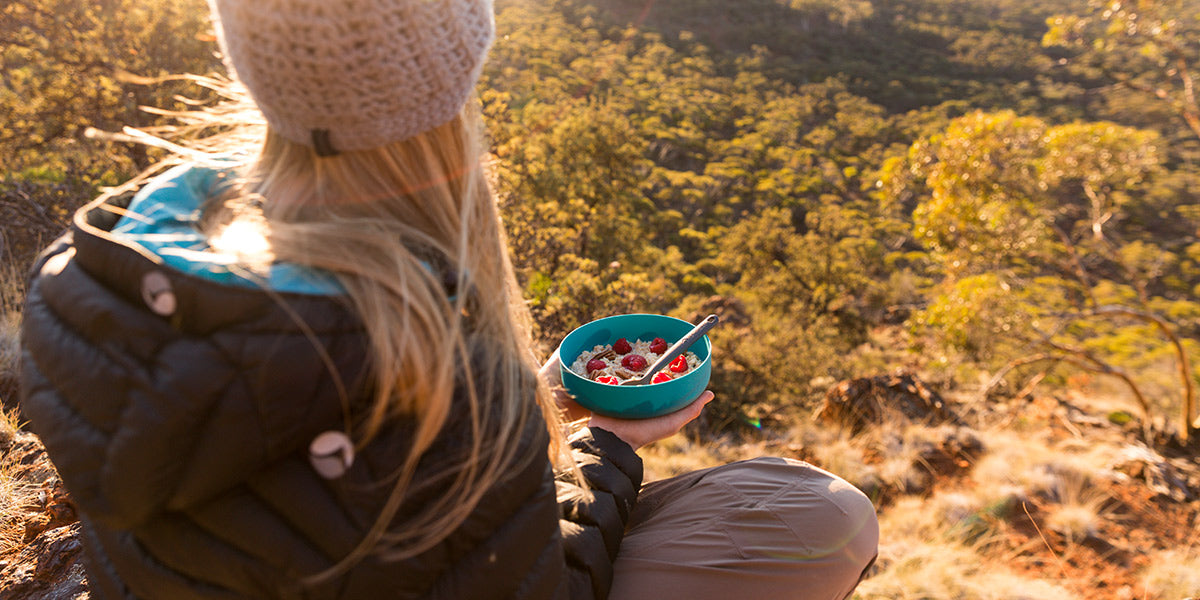 Stay well fed and ready for adventure during a Total Fire Ban.
Warm summer weather may be perfect for camping, hiking and paddling trips but it also brings with it the real risk of wildfires. Luckily, with these five handy no-cook camping ingredients, you can serve up delicious and filling camp meals without any fire.
Hot tip: for those ingredients that need to be reconstituted with water (couscous, veggies etc), transport them in an X-Seal & Go container. At your last stop before you make camp, add the appropriate amount of water (using an X-Cup or X-Mug to measure), seal the lid, put the container back in your pack and keep hiking. The ingredients will be completely reconstituted when you reach camp – particularly useful if you use dehydrated rather than freeze-dried veggies.
Add ½ cup of instant couscous to 1 cup water
Soak for approximately 15 minutes
Discard excess water
Great for hiking or bikepacking because it's so compact—great if you need to save space on the trails. It's also a good source of carbohydrates, which you'll need after a long day of trekking. Simply spoon some into a wrap or use it to substitute your usual serve of rice at dinner. Hot tip: To create the ultimate couscous salad, mix it with cucumber, tomato, bell pepper, tuna and a squeeze of lemon juice. Delish!
2. FREEZE-DRIED MIXED VEGETABLES
Add ½ cup freeze-dried vegetables to ½ cup water
Soak for approximately 10 minutes
Discard excess water
It can be tricky keeping track of nutrition on multi-day backpacking trips. Top-up your vitamins and minerals by adding some freeze-dried vegetables to cold meals like rice dishes, noodle salads and burrito wraps. Some brands even sell clever self-heating pouches! Hot tip: Mix your veggies with a serve of instant rice, dehydrated bacon, sesame oil, garlic powder, ginger powder and salt to create a flameless 'fried rice'.
Nuts and dried fruits are a great source of fats, sugars and carbs. Trail mix is also a versatile ingredient for your breakfast, lunch and dinner. Add it to your granola, cereal and oats or use it to add some crunch and flavor to your salads, desserts, rice dishes and fancy cheese boards.
Who doesn't like sticky, sweet, tasty honey?! Pour it on your pancakes for brekkie, mix it with balsamic vinegar to make a vinaigrette or create a honey soy sauce to pour over your dinner. You can even wash it all down with a lemon-honey cocktail. The possibilities are endless.
5. BEEF JERKY, TOFU + TUNA PACKETS
It's always a good idea to have some sort of protein in your pack—and there are many options to suit most dietary needs. For the meat eaters out there, jerky is a lightweight and easy way to go—just tear it up and add it to your meals. Packets of tuna and salmon are the ultimate no-cook camping ingredients, that can be eaten on their own for a quick snack or added to salads, rice or wraps. Tofu from your local supermarket is also handy—and doesn't need refrigeration (though once opened you will need to consume all).
Find more camp kitchen recipes here.
ABOUT THE AUTHORS: BRANDI AND VANESSA
Brandi and Vanessa are the dynamic duo behind The Camp Stove Chef. Brandi has 20+ years in the outdoor industry, leading groups across North America, Europe and Australia. Vanessa is a chef who loves taking the kitchen outdoors to create scrumptious camping recipes.