Our Best Gear for Bikepacking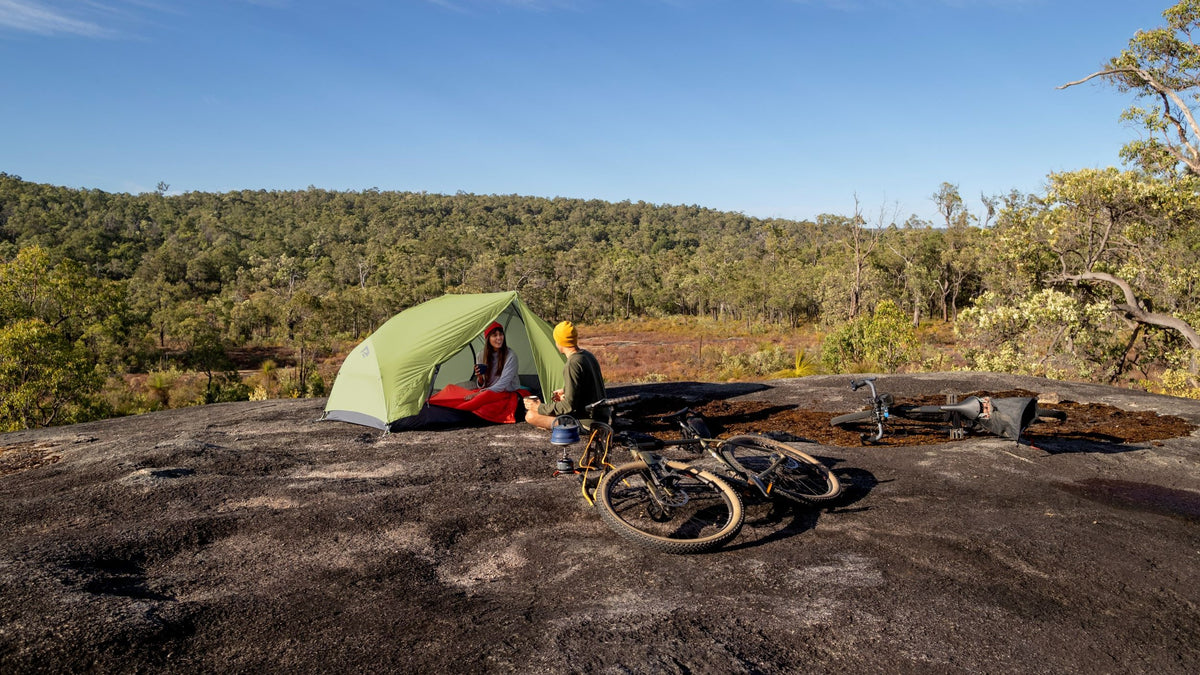 This rugged sack keeps your gear compressed and dry. The eVent fabric panel at the base is both waterproof and breathable—keeping everything nice and dry, even in the worst conditions. Simply stuff your bulky items like sleeping bags and clothes inside and roll all the air out through the eVent panel. Clip the rolled top closed and compress your gear down to a third of its original size with the evenly placed straps. These space-saving sacks add almost no extra weight, eliminates bulk and have minimal potential failure points, like plastic valves.
I use this bag up front in my handlebar roll. The bag compresses width-wise, so it can fit most drop bars, mountain or alt bars. I choose the largest size that still provides plenty of clearance between the bag and the front tire.
Yep, bikepackers and eVent are a match made in heaven. The eVac Dry Sack is a great choice for use in the seat pack. As good as compression sacks are at reducing bulk, sometimes you don't want everything scrunched together so tightly. The ovalized shape of this dry sack makes it a perfect fit for running inline and behind the seat. They remain narrow enough to stay out of the way while getting in or out of the saddle—and they don't bump the back of your thighs while pedaling.
My Spark II sleeping bag—Flame II for women—packs down to the size of a water bottle and, at 490g | 1lb 1.3oz, weighs less than a full one. As a side sleeper, I especially appreciate the roomier cut. Extra light doesn't need to be extra tight.
Besides a bag of peanut M&M's squirreled away on my bike at all times, the Etherlight XT Insulated—or women's specific Etherlight XT Insulated— is my luxury item. Using the Airstream Pumpsack, it takes less than three breaths to fill it up to a cushy 4in in thickness. Then I finetune the pressure with the multi-function valve, releasing air until I'm just off the ground. This is the way I like it for sleeping on my side—and something I can only do with a thicker mat. Major bonus points too for being stable—I don't want to feel like I'm sleeping on a bouncy castle.
ABOUT THE AUTHOR

Ryan lives a double life as our International Sales Manager and gung-ho cyclist. His love affair with two-wheeler life started in Portugal, where he began his two and a half year cycling tour—completing over 80,000kms | 31,000 miles through 25 countries.
More recently, his bike trips have moved away from panniers and racks to exploring the more remote tracks of Australia with frame bags and low pressure tires. He was lucky enough to have completed the Hunt 1000 before the recent fires devastated the Australian high country.