The Design Series: Exclusive interview with Sea to Summit GM of Product Design, Dave Thompson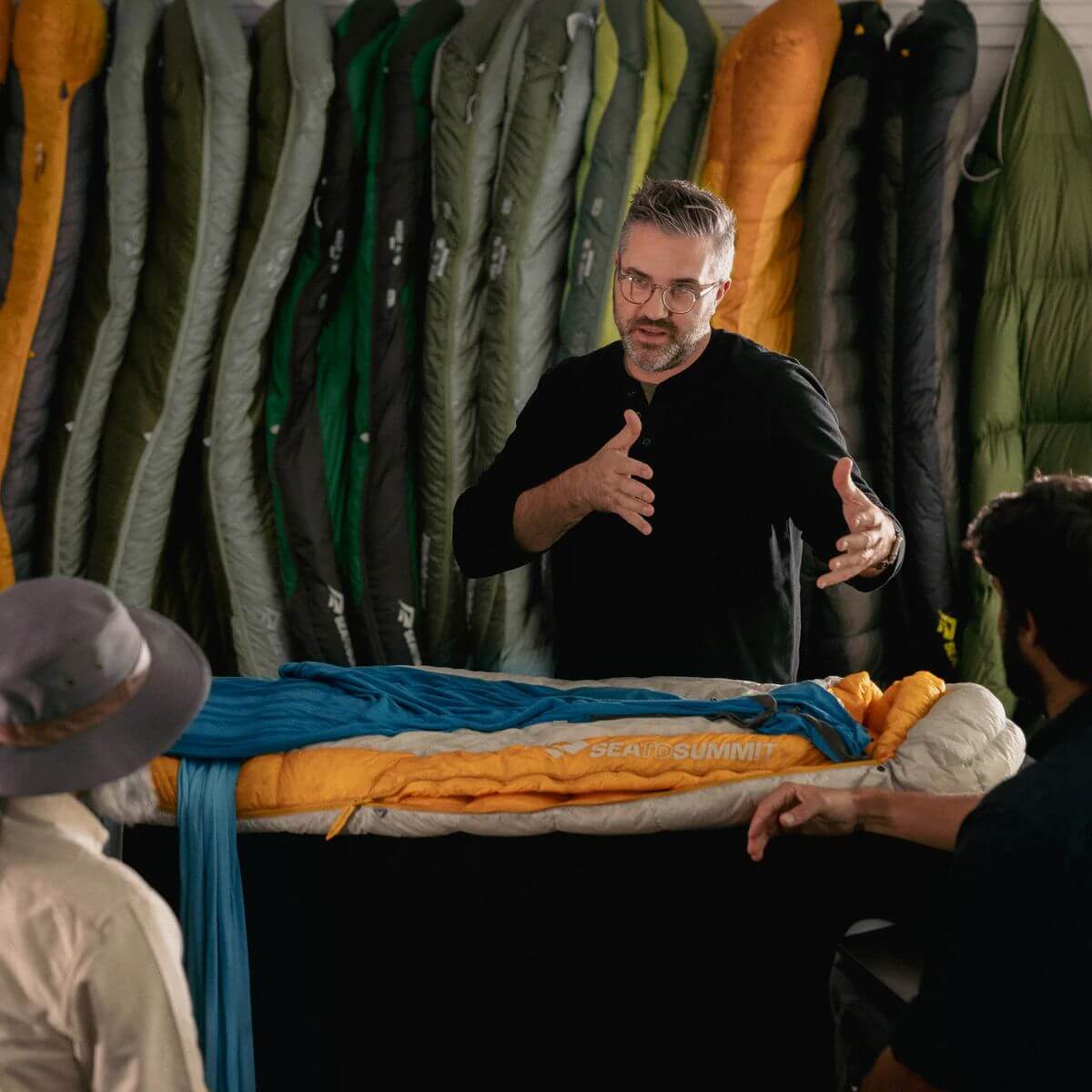 At Sea to Summit, creating meticulously engineered gear to bring you closer to the outdoors is at the heart of our brand. In our Design Series, we're taking you behind the scenes to meet the individuals who make up Sea to Summit's creative, forward-thinking, and innovative team. 
Meet Dave Thompson. In an exclusive interview with our very own General Manager of Product Design, we learn about Dave's role and what an average day looks like at Sea to Summit, what exceptional design means, what are the most exciting areas of opportunity and growth for design in the outdoor industry and so much more. 
So, without further ado, here's our Design Series Interview with Dave.
What drew you to a career in design? Was it a natural fit and something you always wanted to become, or did you find yourself in this role more coincidentally?
Thinking back to my youth, I was always building or making something random out of whatever parts I could find. However, as a teenager, I found my love of making things when I discovered Luthiery or guitar making. This was my first foray into designing and working with multiple materials to create something that was beautiful, and also very functional at the same time. My early career roles were more commercial, in buying and brand management; but there was a point where re-designing the product I was purchasing made sense to create a more exciting proposition for our customers. This, and the fact that spreadsheets weren't doing it for me, meant pursuing a design-focused career felt like a natural progression. I've found this to be far more fulfilling at a personal level, and I've loved adding that value to product at the various companies I've worked with.
As the Head of Product Design at Sea to Summit, what does the role entail? Can you walk us through some of the processes, skills and everyday tasks involved in the role?
Sea to Summit has always nurtured a broad knowledge base and skill set with our design culture, and I think that's reflected in the relatively long tenure within our team. We have more people nowadays helping to drive the new product creation process, so we're in an exciting phase where we can zoom in further to nurture innovation that we believe aligns with the brand.
With a growing product team, we need to back ourselves and support our point of view that align with the brand and resonate with the customer. Within this and aside from admin related duties, my role is to keep our design team engaged, motivated, and inspired so that our output is enhanced and not hindered. Change management is a big thing, as we're constantly navigating new processes and methods to improve our creative process. Stakeholder management is also a vital part of the role.
What does exceptional design mean to you? Can you provide some examples of product design at its best and why?
I think many designers would happily defer to Dieter Rams principles as a great checklist in their tool kit.
In my mind, exceptional design is where a product instinctively understands its user, solves problems and enhances use and function, that makes for an effortless interaction with that product. Form and function both play equally important roles in achieving that.
We see this sort of design most dramatically in technology, with innovations like Apple's Face ID, where using your fingers for a passcode is no longer a barrier to access your phone. Another example might be Geofencing; where your home alarm system disarms on approach to home based on your proximity. More subtly, examples that relate to outdoor gear include something as simple as a captive cord lock allowing single handed closure or innovation in tent pole architecture to create space and eliminate a sense of claustrophobia in a tent.
What is your relationship to nature, adventure, and the world of camping?
I think it's a simple reverence and awe of nature, that has a way of stripping back the superfluous in an increasingly busy life. It's an important source of peace. I have a young family, so I get great satisfaction from seeing my kids connect with nature like I did. It's confidence building and helps to inspire a keen sense of adventure and knowledge about the natural world. We have a lot competing for our attention these days: social pressures, work, school etc, so it's important to me that my kids have the mechanism to focus on what matters, and learn how to be intentional in pursuing those things that bring a balance.  
In what ways do you think product design in the outdoor industry influences the lives of its consumers?
I've been fortunate to have worked across a few industries in my career, including consumer tech, audio, hearing health and the outdoor industry. What I love about the outdoor customer is that they're always insanely passionate about their outdoor pursuits; everyone's got a journey and a vision for an adventure! It's fun to have conversations with passionate people because the level of investment in an idea or piece of gear is hugely insightful.
At Sea to Summit, we deeply believe that our gear is our customer's relentless ally. Sometimes we'll hear a story of how our drybags that have kept critical gear safe when things went wrong or simply that someone cooked a better meal. That idea of being a relentless ally runs deep and creates quite a sense of purpose when we're designing. There's nothing better than making product for people that helps them feel supported in what they're passionate about.  
Dave with Stevie Wonder in his audio industry days.
What do you see as the most exciting areas of opportunity and growth for the outdoor industry, and why?
I've always thought that materials development in the outdoor industry is just as advanced as the technology industry, and I don't see that slowing down. With a heightened collective desire in the outdoor industry to steward the environment, the advancement in materials is in overdrive everywhere you turn, from packaging to polymers to technical fabrics. I think the real opportunity for brands lies in how they interpret new technologies so they can connect with consumers in a compelling and authentic way.
Considering your role entails not only product design but also people management, how do you strike the right balance between effective leadership and giving designers space for creativity and free thinking?
Great question! I think creating healthy boundaries within the team is critical to finding that balance. As a design team, we're a good mix of personalities. We know each other's strengths and limits and don't take ourselves too seriously, which helps create a fun, creative culture. As a team, we give ourselves permission, and it's our mandate to pursue those outlandish and recklessly unreasonable ideas. Still, we must also consider our responsibility to our colleagues, the brand, and customers to bring those ideas back to earth and deliver something great.
What does Sea to Summit product design mean to you, and what sets it apart from competitors?
I'm a big believer that it's both brand & product that go hand in hand to form a promise that engages people.
The genesis of Sea to Summit was the technical gear that facilitated a historic summit of Mount Everest. We intrinsically feel that the products we make hark back to that core motivation of being a relentless ally in one's epic pursuit.
The nature of having competitors or peers in the same market is that we run the risk of all sharing the same motivation, which is often true, but Sea to Summit has a unique fingerprint. That might be due to our Australian roots or quirky design, but somehow, it's created a culture that our customers want to be part of. 
Dave on a web call in the old office headquarters with the factory at the time circa 2008.
If you had to pick the product you're most proud of, what would that be and why?
I'm very excited about the products we've delivered for the 2023 and our upcoming 24 season. The products are fresh and I've seen our team lift in a very positive way.
Looking back however, I'm probably most proud of our sleeping bag range. We launched the category back in 2010 at a time when we were primarily an accessory brand. It was a defining point for Sea to Summit, where we broke into something bigger and changed the course of the brand. 'Sleep' as a category, is now a cornerstone of what we do.
In what ways has your professional role as a product designer influenced your personal life?
Broadly speaking, my career path has been incredibly rewarding from a creative satisfaction point of view.
But more personally, I've found that design requires a level of empathy to drive awareness of the user's core needs. Breaking down an idea in the creative process and rebuilding it through that empathetic lens brings a deeper understanding of the other party, the person on the receiving end of the design, and their potential interactions with the product.
I'm a big believer that this concept of empathy is an essential building block in relationships and influences how we grow and resolve conflict with others in both personal and professional interactions.