Exclusive Interview with explorer Andrew King: A Sea to Summit Ambassador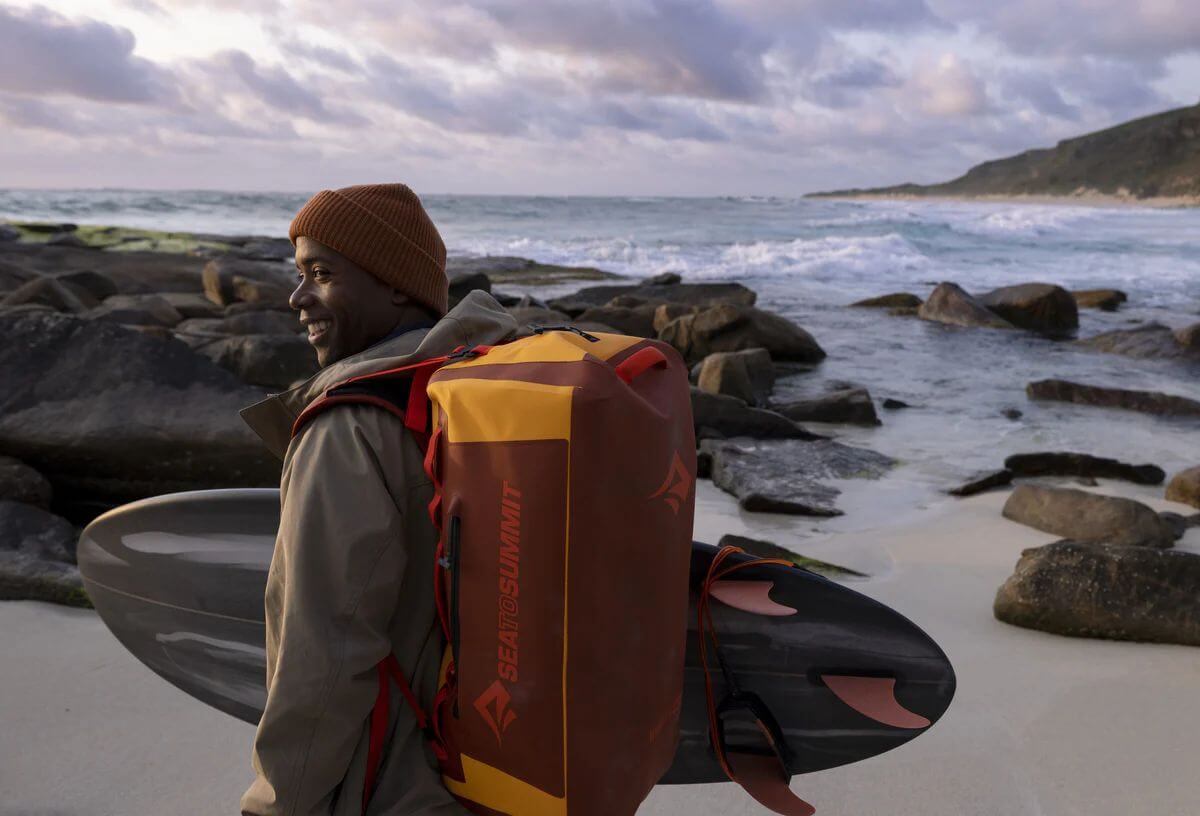 Sea to Summit has been fortunate enough to work with the inspiring and empowering, Andrew King who is our brand ambassador. King has a shared love of the outdoors and a passion for adventures.
In 2022, King was named by the Outside Business Journal as one of the 20 Most Influential People. From surfing to climbing and social work supporting non-profit and charities, King is also the founder of The Between World's Project that provides "…help and digital media exposure to individuals, non-profits, and developing communities battling sexism, racism, climate change, and other economic barriers along his nature expeditions."
King uses his talent and love of the outdoors to empower, support and enact positive change across a multitude of sectors in society. King is a wonderful example of what is possible in both a personal and professional sense when it comes to achieving meaningful and positive goals in the outdoor industry.
In an exclusive interview with King, our team had the opportunity to ask him about his life, his thoughts on our changing climate, how he balances outdoor adventures with full time work and so much more.
Q: Andrew, can you tell us a little about your childhood and how your upbringing influenced your love of the outdoors? Did nature operate as a sort of equaliser?  
A: Nature was a word that was rarely used in Detroit. I would describe Detroit as a concrete jungle in a sense, more dangerous than beautiful, but there were pockets where I found light and hope.
I didn't know what nature truly was until we got to Hawaii. It was there that I understood what it means to experience the true beauty of nature and that it is given as a gift each day. 
The outlet that nature provided me was one of peace to sit and listen to the beats of life on the inside. It meant nature could act as an equaliser and allow me to freely experience the vibrations of life from the colours I witnessed when climbing a summit to the sensations I felt when diving deep into the ocean.  
Q: What does it mean for you to be an ambassador for Sea to Summit?
A: It means that I'm not only an athlete, explorer, adventurer, friend, colleague, and partner, but also someone learning what it means to be a human and answering that question from the perspective of my outdoor adventures. From the depths of the ocean to the summits of mountains tops, the journey is endless. 
Using Sea to Summit products gives me the opportunity to go as far as I can to see this world for what it is as well as how it should be preserved and protected for future generations to come.

Q: How do you manage financial stability with your love of the outdoors and adventure?
I work a full-time job from 9 to 5 which pays for 80% of my outdoor expeditions, charity, and non-profit work as well as training, coaching and physical therapy. The partnerships I have with brands helps with offsetting some overhead costs. It also helps to ensure non-profits and future athletes are given the spotlight and help they need to follow the same path that I have taken if that's their goal.


Q: What advice would you give to anyone looking to follow a similar career path to you?
A: The world is a beautiful place, and so are you. Understand why you want to explore it and what you want to leave for others to see. Find inspiration from the people and places that you meet and experience along the way.  
Do it for the right reasons but know that before you build anything externally, build your core values that will keep you clear and driven on the journey ahead.
Q: How has your work with charity influenced your life both personally and professionally?
A: Growing up in a place that was dangerous and not the best for many, I wanted to make sure the people I came across on my journey had a choice, and not a predetermined fate.
Charity work puts into perspective what matters most beyond just the material items that we so often get caught up chasing in our lives. I've realised it doesn't take much to make someone feel seen and great about themselves.
Q: Has your role in the outdoor industry offered a vehicle for you to enact social change?
A: This is a good question. I have always been driven by social change from equal rights for humanity to wildlife. I feel that the focus now is to slow down, pause and simply learn from others. I also want to support and empower people to achieve their goals. Social work is a fundamental part and without it, I would feel out of balance.
Q: What does 'The Between Worlds' Project mean to you?
It means a place to showcase how humanity is beautiful when we connect, collaborate, and have compassion for one another. When we do not build walls to compare and conquer one another. It means hope and a place I want to give others the ability and opportunity to see more beauty in this world, rather than just with my own eyes.
Q: What role do you see yourself play in turning the tide on the current lack of diversity in mountaineering?
A: Being present and open to collaboration provides more doors for others to step into. From being on an expedition to creating impactful content as well as advocating for people to be compensated for their creative work, these are just some of the ways I can make a difference. 
Q: How has your connection with the outdoors influenced your views on climate change? Can you talk to me about the state of the natural environment and if you have hope for the future of our climate?
A: It has been extremely influenced by climate change. With the current issues that are affecting our planet, I cannot help but see how the climate is changing.  
Sadly, I visited the Alps and saw first-hand how beautiful peaks are crumbling, there is a lack of permafrost and many glaciers have almost disappeared entirely. I have also seen flooded cities and communities that are not prepared for the current levels of unseasonal and excessive rainfall.
I hope people really consider other avenues that they can explore in their daily lives to help combat the acceleration of climate change and the impact it has on both people and the planet.
Once a week, I walk or ride my bike to complete errands and am attempting to reduce my plastic consumption.
I hope people can be creative in finding ways to implement sustainable practices in their lives that are good for the planet but also achievable.
Q: What is the biggest driver in your life? What gets you out of bed each morning and makes you excited about the future?
A: Hope and my love for people. I know that this journey sadly will end at some point, so I try to make the best of it while I can by exploring new places, seeing new faces and learning how to sustain the beauty it offers me along the way. I know we are trying to be better each day with what we have in the here and now.  

Q: What has been the biggest challenge in your life and how have you gone about navigating those challenge/s? 
A: Being overlooked and often silenced. I have learned that in tough moments, I continue to persevere and rely on the heartbeat inside of me. When you're left with just your own voice and perspective in dark times, it can be tough but that's why I meditate to make sure my intentions are solid and positive.
Q: Do you have a role model that has inspired and encouraged you? If so, can you tell me a little bit about their influence on your life?
A: Everyone that I have met is a source of inspiration. We are all evolving into the best version of ourselves with the time we are given, and that takes putting ourselves out there. But, if I had to pick, I would say my Grandparents, Mom, Brother, Uncle, and Great Grandmother have all been big influences on how much I love life.
Q: Your life has been influenced by the natural world and issues of social justice. How do you relate to humanity and nature? Do you have very different relationships between the two or do you find them complimentary?
A: They are all connected and are not binary by any means. Nature accepts you but it does not tolerate you. Humanity is complex when it comes to navigating issues on many topics. If there is one topic we need to unite on, it's the safety and sustainability of our planet and how we treat each other in the space we occupy here. We only have one planet, and the same principle is true for each individual life on Earth. We are all unique from our DNA to our perspective on life, and preserving the right and space for people to speak openly is just as important as issues of sustainability.
We hope you've learned as much as we have about Andrew King, his inspiration, his role in the outdoor industry and what drives him forward in life.
To learn more about Andrew's partnership with Sea to Summit and his role as an ambassador for the new Hydraulic Pro Dry Pack, watch our video below: