Why Bikepackers will love loading up with Stretch-Loc Straps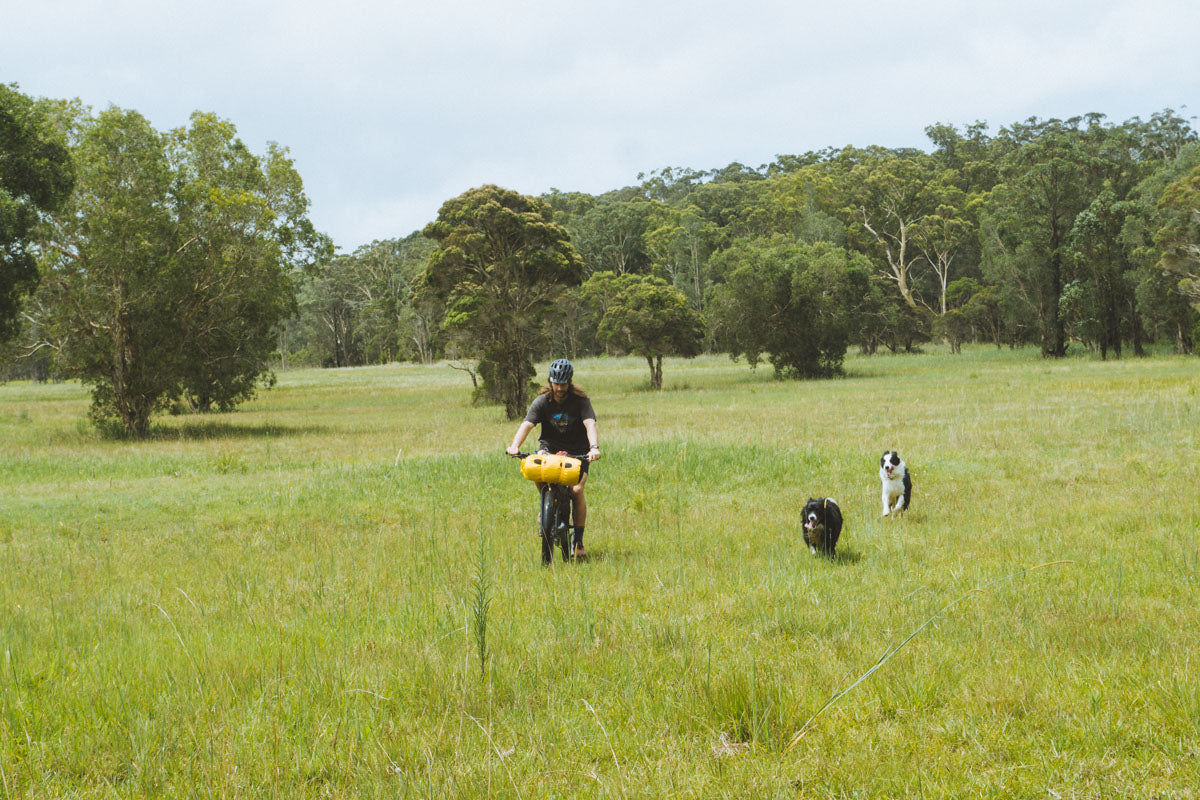 Sea to Summit have redesigned bikepacking straps. Who thought something so simple could make such a difference?
Arguably, one of the biggest developments from conventional touring to bikepacking was the application of tie down straps. As the pounds started to fall from the bike, the inaccessible became accessible. Gear could be dispersed evenly, technical trails ridden and hike-a-bikes completed more comfortably—all for longer periods of time, without losing important bits of gear along the way.
My own personal journey with bikepacking straps has been a wild one. I've thrown almost everything at them. They've followed me through my own transition from panniers to off-road touring. They've given me a lot of confidence to ride more technical trails fully loaded. Looking back, it's amazing to think that something so simple and economical has facilitated a big part of my bikepacking pursuits.
Setting up your rig with bikepacking straps
The use of bikepacking straps reduces the need for complex mounting hardware, which comes at a weight cost. It also takes care of moving parts that often rattle or require repairs. I'm a big fan of gear without moving parts. It drastically reduces the chances of gear failure. My standard for any gear is: if I can throw it off a cliff and it still works, it's good enough for me.
During my travels, I've found bikepacking tie down straps invaluable for strapping extra gear to the bike frame, forks and wherever needed to free up bag space. At one stage I was travelling with a friend and we were forecasting 18 days between resupplies. We were soaking lentils and carrying olive oil in bottles mounted on our down tubes for extra nutritional goodness. Getting this kind of gear out of my bikepacking bags and onto my frame increased my total carrying capacity when I needed it, allowing for longer stretches off-road in remote areas.
WHAT CAN YOU USE BIKEPACKING STRAPS FOR?
I've used bikepacking straps for just about everything from hanging my bike to a tree for bike repairs to holding together a broken wheel, closing refugio doors during snowstorms in Patagonia and mounting watermelons. However, the wildest and most unforeseen use of these straps was to splint the legs of our injured friend as an ambulance transported him down a rough Peruvian road.
The new Sea to Summit Stretch-Loc straps
Sea to Summit have taken a new approach to the humble bikepacking strap.
What makes Stretch-Loc straps unique is their handy Keeper Strap, which does a few things. It ensures your straps stay in position when adding and removing objects from your frame. This is pretty handy when moving bikepacking gear around your frame one-handed. The Keeper Strap also provides an extra layer of padding that prevents damage to bike frames from friction. Lastly, it provides extra grip that allows you to lash together objects that were previously impossible to lash together—like securing a water bottle straight onto your frame (though I'd still use a cage for this).
Stretch-Loc straps are strong and secure, featuring a non-slip POM (Polyoxymethylene) buckle, that allows for easy and fast tensioning to lock your bikepacking gear into place. The stretchy TPU material is strong and grippy. It prevents items from slipping around on your frame, even when wet.
Available in a large range of sizes and widths, there's a strap for every use I've encountered when bikepacking overnight. I even replicated my long-distance set-up for the Andes Traverse with these.
Putting Stretch-Loc bikepacking straps to the test
I've been testing the new Stretch-Loc Straps from Sea to Summit for the last three months in coastal NSW Australia, riding 620 miles of mixed gravel double track and a lot of single track—which I'm lucky enough to have right off the back doorstep of my humble home.
Testing needed to cover the worst of the stuff that bikepackers predominantly ride. This would give me the perfect opportunity to assess the unique design, features and functionality.
In my tests over the past months, and discussions with the Sea to Summit design team, I've gotten a good feel for how these straps compare to others I have used in terms of durability, design, material, value and weight.
In short, they do the job exceedingly well—they hold things firmly in place with ease. Simply lock them up and they won't come undone till you physically undo them. I tested the smaller 12mm straps for light duties (mounting a pump, spare tube etc.) and the 20mm straps, in varying lengths, under prolonged, heavy-duty use. All have held up exceptionally well. I even took my experimentation as far as mounting everything I needed for my South America traverse—including a laptop, chargers and all my gear for four seasons.
I used these bikepacking straps to secure the following items to my bike frame:
Pump
Top tube bag
Front roll drink bottles
Fork Bags
Spare tire
At camp, I used the straps to:
Hang a gravity water filter system
Complete bike repairs by hanging my bike from a tree

Organize gear

Hold bikes together when camping

I left a few Stretch-loc straps in the car and, when going on a road trip recently, I found myself constantly pulling them out to help organise gear, secure bikes, wheelsets and fishing rods. I tied down toolboxes and even my 12v fridge! In dire situations, they'd probably be one of my first solutions for bush mechanic work. Got something that moves and shouldn't? Stretch-Loc will probably fix it.
Sea to Summit Stretch-Locs set a high standard for durability, which is something that has really impressed me whilst testing them. They're fit for purpose which, for me, is holding gear onto my bike. They do that really well—and also resist the scratches and slicings from rocks, branches and scree. All part of the job description when you're moving quickly through technical trails.
To take matters to a whole new level, I tried my hardest to break the 20mm wide straps using one hand at each end and wasn't successful. You would have to be exerting some ridiculous unnatural force to destroy them.
HOW STRETCH-LOC TPU STRAPS WORK
A couple of things immediately stand out with the design of the Stretch-Loc straps—they use a sturdy and non-slip thermoplastic POM buckle that locks the strap on and tucks the end neatly away. They have a Keeper Strap that keeps the strap secured to your bike, which helps when you're mounting gear that you want to quickly remove, again and again.
The Keeper Strap is unique in that it locks the straps in place without the need of tension. Consequently, this also adds a layer of protection between the frame and bags that stops them from rubbing against each other. I found this particularly handy when carrying my bike pump. With the Keeper Strap, I was able to mount directly to the frame, without worrying about attaching the straps all over again. The straps stay in position, as you need them. This takes care of number one cause of death for bikepacking straps—losing them!
The strong TPU material maintains a great memory. If you use them enough for specific purposes, it becomes easier to mount gear over time—without losing tension. The material is also grippy when wet and provides a firm resistance when stretching, ensuring your gear doesn't move around when on the trail in a rainstorm.
Like most Sea to Summit gear, Stretch-Locs are very competitive when it comes to weight. By extending the 20mm straps to 750mm, bikepackers can save 1 oz of weight per strap, unlike the wider versions from other brands. I found these straps really useful for securing a suspended front roll—and didn't notice any compromise in strength whilst riding.
The price point of the Stretch-Locs is very attractive too—almost half of the price of competitor straps. They sell in pairs, which is nifty, and the 20mm width is also available in packs of four mixed lengths to suit various needs.
WHAT SIZE TO USE ON YOUR BIKE
It's easy to get confused what size you need, so here is a nice overview of what sizes suit what. Strap sizes that I would recommend for specific bikepacking jobs:
Frame mounting tube bags/pump/tool roll/spare tube: 12mm x 300mm
More secure frame mounting for bulkier stuff: 20mm x 375mm
Mounting a 500ml standard drink bottle to a fork: 20mm x 375mm
Securing 2L wide mouth drink bottle to a frame (using a cage): 20mm x500mm
Mounting dry bags to fork (using cage): 20mm x 625mm
Roll harness for 20L Big River Dry Bag: 20mm x 750mm
HOW TO LOAD UP WITH STRETCH-LOC BIKEPACKING STRAPS
Stretch-Loc Straps are designed to carry a water bottle without a bottle cage—something that can be done thanks to the Keeper Strap, which provides padding and grip between the bottle and the bike frame. This works well for daily commutes and rides on predictable surfaces where you don't want to be carrying all your bags. However, when going off-road, I always recommend having a cargo cage to support gear and water bottles. In this case, I'd place the strap around the fork or frame to prevent the cage rattling out.
I think other bikepackers and outdoor people will really enjoy the versatility of Stretch-Locs.
They make it incredibly easy to secure gear anywhere on my bike. What's more, they're durable, and come at an attractive price point. The uses are truly limitless—think of a problem and a Stretch-Loc will probably fix it.
There's really no job that they can't do. During some of my experimentation, I even created a handlebar harness using three straps. It weighed in at a quarter of the weight of my old harness.
HOW TO USE STRETCH-LOC STRAPS ON THE TRAILS
Make sure there is very minimal movement. Throw your bike around and if anything moves, tension the Stretch-Loc strap. I don't risk any movement of gear around the wheels. Blowing a wheel out sucks.
Utilize the Keeper Strap when lashing items to the down tube and handlebars—they keep the strap in place for easy gear removal and re-attachment.
Always strap around the frame if using a cage. This prevents the bolts rattling out and eyelets exploding out of the frame.
Add some cloth tape to your frame to protect it and your bags. Make sure any bolts are removed from your frame to save your bags.
Cut straps to length to stop them flapping around (though this will probably void your warranty). Comes with a minor weight advantage too. I like to keep my straps sized for specific tasks.
Don't expect the 12mm straps to do the job of the 20mm straps, they are for light duties.
In faraway continents, bikepackers use straps as a source of community currency between themselves! Always have a couple spare for foreign travel as you don't ever know the next place you'll find one.
Opt for a brighter color if you're known for losing your gear.
Sea to Summit has solved yet another problem–and made a unique product bikepackers and outdoor enthusiasts are going to love—those who want a quality and dependable product. Obviously these straps will be popular with bikepackers, but Stretch-Locs also lend themselves to so many more practical uses. I see the uses of the Stretch-Locs going well beyond bikepacking and other outdoor pursuits.