Watercells™ are a one-and-done camping water storage system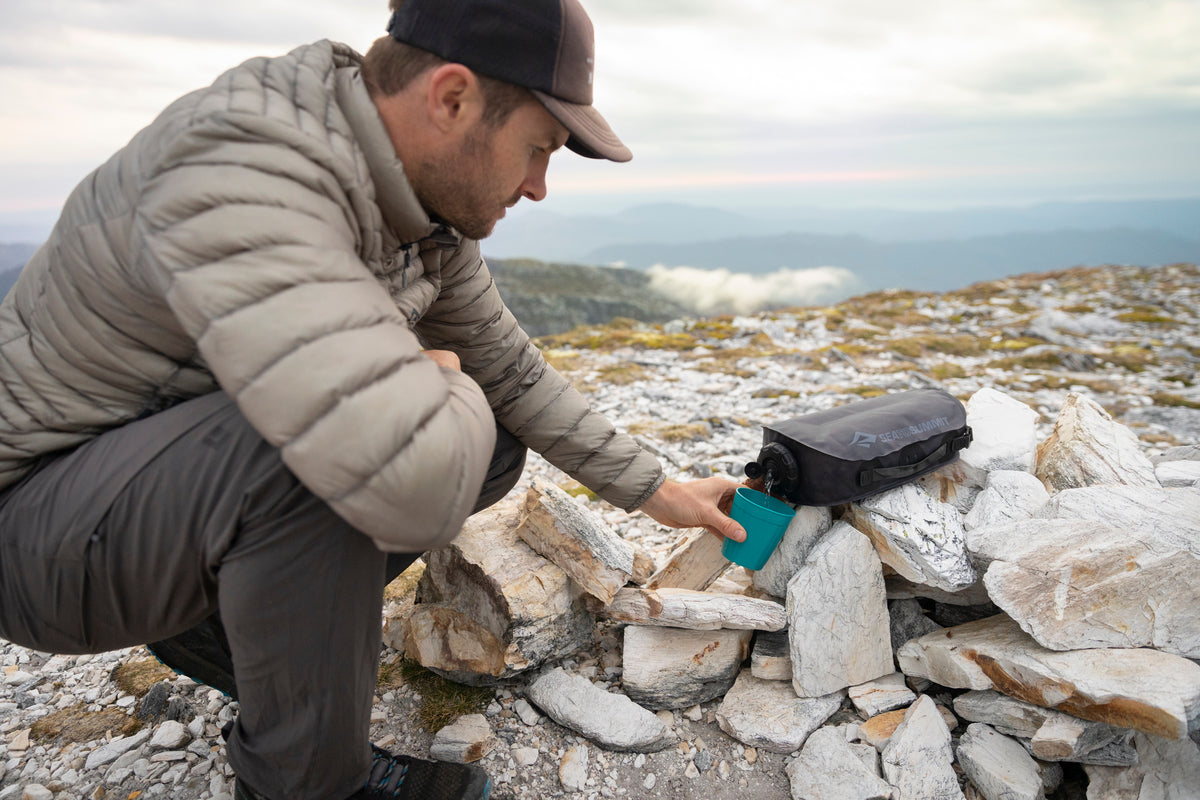 Drink, shower, refill, purify, cook—water is an essential part of every hiking and camping trip.
Lightweight, compact gear means it's easier to explore further than ever before, but this simple fact remains the same—you can only go as far as your water supply will take you.
This rings especially true in our home country of Australia, where the arid environment means dehydration can claim you in just hours.
With this in mind, we wanted to rethink the way we hauled water and used it at camp. Surely, all our hydration, washing and water stowage gear could be replaced with a one-and-done solution? Something that could handle large volumes of water for places where water sources are few and far between, and then be drained and packed away with ease.
THE SOLUTION TO BETTER WATER STORAGE
What we came up with was the Watercell—a rugged, light and completely packable soft-cell that covers all your water storage, hydration and washing needs outdoors.
These durable and space-efficient 3D cells maximize internal capacity yet have a relatively small footprint. They can easily be stacked and lashed together in the back of a 4WD or stowed in a kayak or backpack hydration sleeve. We've even strapped one onto a motorbike and taken it for a burn around India.
We designed two distinct Watercells to suit two different objectives—our fully-loaded Watercell X replaces water bladders, jerry cans and outdoor showers. Its adjustable webbing strap system makes it easy to hang and lash and it's also compatible with most water filters and hydration hoses. Our Watercell ST is a minimalist water stowage solution—a streamlined storage bladder that's perfect for fast-and-light adventures. Both feature an easy-fill wide mouth screw-top opening.
| | | | | |
| --- | --- | --- | --- | --- |
| | 4L | 6L | 10L | 20L |
| WATERCELL ST | 4.4Oz / 125G | 5.3OZ / 150G | 6.7OZ / 190G | |
| WATERCELL X | 6OZ / 170G | 6.9OZ / 195G | 8.6OZ / 245G | 11.8OZ / 335G |
Nothing out there was exactly what we wanted for long adventures in the Outback. We were more than familiar with bags that didn't drain, dispense or clean easily—or required awkward handling to fill and dry. And most water storage solutions we'd experienced weren't big enough to carry adequate water for long-haul trips or big groups—and then pack away flat when empty.
Water storage bags have typically been made with two pieces of material that are welded together to create a sack. With only two planes, the cap is then placed onto the front flat side of the vessel. To fill it up, you have to pull the two sides apart to create a void for the water to fill. It's awkward. It's annoying. And there's never enough to hold on to—especially if you're trying to fill a large volume bag.
The placement of the opening usually means you can only fill it 2/3 full. It's wasted real estate—something that really grinds our gears.
Draining and cleaning this shape is tricky too. You can't just hang and dry it, as water tends to get trapped between the two walls, leading to bacteria build-up. You can try getting some paper towel in there but it never reaches every corner. In the end, it's just easier to pop it in the freezer after each use to kill the bacteria that thrive in that residual water.
TAKING WATER STORAGE TO A NEW DIMENSION
The soft but structured 3D cell is more like filling up a bottle than an envelope. The rounded box shape meant we could place the lid on the highest/lowest point, meaning you can effortlessly fill it to the brim—even from lakes or streams—and drain every drop just as easily. Minimalist yet strong handles and adjustable webbing (Watercell X) makes handling easy and the wide mouth opening allows better access for cleaning and drying.
The Watercell X is made from our most burly 400D Nylon with a BPA and PVC-free TPU lining, and the Watercell ST from strong and pliable TPU that is also BPA and PVC-free. The high-quality TPU used in both was chosen for its extremely low residual taste. Both models have an internal baffle that allows them to carry large amounts of water without compromising the shape and strength of the cell.
THE ONE-AND-DONE WATER SYSTEM
The Watercell X is our most versatile and durable Watercell—with enough functionality to take care of all your washing and hydration needs on the trail and at camp.
It's our multi-function cap that's at the heart of this versatility. Designed for easy one-handed flow control, the low-profile cap dispenses water as fast or slow as you need it. Open it up to fill your cup or constrict the flow to wash your hands with minimal wastage.
A small shower attachment and adjustable webbing system makes outdoor showers a welcome perk at the end of a long day. And a universal thread makes the cap compatible with most water filters, purifiers and hydration hoses.
NO-FUSS, STREAMLINED WATER STORAGE
The Watercell ST is our minimalist water storage solution, with the all-important ergonomics but fewer frills than the Watercell X—making it the lighter of the two.
The universal thread and wide mouth opening makes it compatible with some water filters—and uses the standard 63mm cap found on most 1.0 Liter water bottles and pump filters.
Both cells have been designed for almost any stowage configuration. Stack them, lash them, store them upright or on their side—even on your kayak. You don't need a special pocket to carry them. Their flexible construction allows them to fit into any nook and cranny to maximize your available space.
AVAILABLE WITH WATERCELL X OR FOR INDIVIDUAL PURCHASE
A feat of mechanical engineering, this low-profile multi-function cap is minimalist in profile, easy to operate and incorporates a range of uses.
A watertight silicone button at the center of the lid can be flipped open to dispense water, then twist the cap left or right to control the stream of water like a traditional tap. You can even lock it for safe stowage. The Watercell X can dispense water when laying on its side or hanging, making it easy to hydrate under any circumstances.
When you hit the trail with your Watercell X, transform it into a water bladder with almost any hydration hose. If you need to refill from a nearby stream or lake, simply attach a water filter to kill any bacteria. The piece de resistance, however, happens back at camp, where you can attach a mini shower rose (included with Watercell X) and wash off after a full day of adventure—a luxury that most lightweight adventurers are forced to forgo.
We like to joke that the 3D shape is not only named for the third plane we added to the design of our water storage system but for the three years we spent designing and refining it. There's a reason most water bladders are created using two cuts of material—it's bloody hard to do anything else.
Dozens and dozens of prototypes later and months of field testing, and the result is unleashed.
The Watercell's aesthetically useful shape lends itself to easy filling—and a welded-on finger-grip handle gives you the perfect way to hold the Watercell while you fill it. The multiple lash points and end-mounted fill port makes it easy to hang up and drain, and the flat, three-dimensional shape means you can dispense water easily. It also means you can stack them!
The 3D cell shape is also structurally strong, which allows it to carry large volumes of water. The welded internal baffle bolsters the strength of the cell, as does the burly 400D material with TPU lining in the Watercell X and the abrasion resistant semi-translucent TPU in the Watercell ST.
Like much of our gear, our new Watercells are deceptively simple—a water storage solution done well (with a bucketload of versatility and overengineered ergonomics). We spent years designing and refining a single design concept but we knew that if we got it right, it would be a gamechanger for outback expeditions. Now that we've pored over every detail of our Watercells, all your water needs in the outdoors are covered—simply fill, carry, store, hang, drain and pack away flat.