Ultralight tents aren't made for tall people - Until Now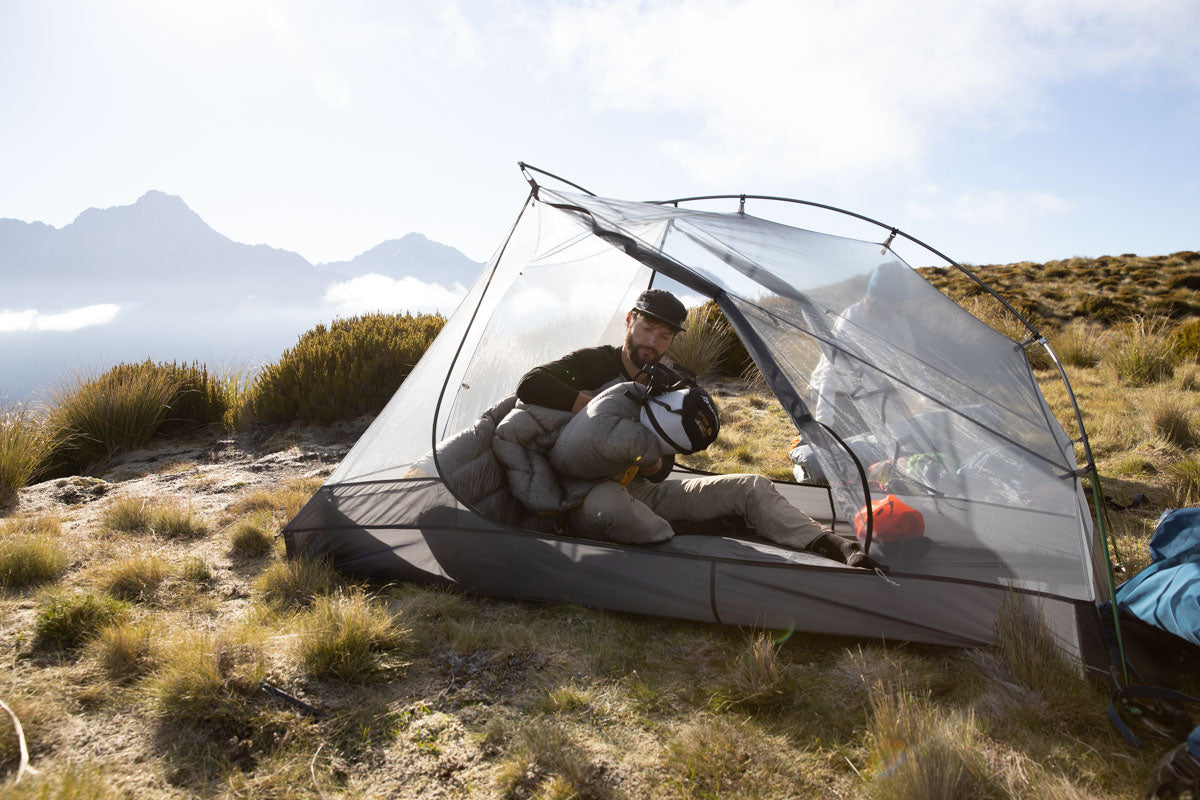 The world isn't built for us tall people. We don't fit into airplane seats, small cars or under door lintels—and we have to be part-time contortionists to fit into ultralight tents.
When you're a tall camper in a lightweight world, you're used to just making do with whatever gear is available—no matter how small. At least there's hope now for modern ultralight tents.
CAMPING GEAR ISN'T MADE FOR TALL PEOPLE
Once, my dad—who, somewhat suspiciously, is not tall like me—lent the lanky 16-year-old version of me, a bunch of gear for my first night snow camping in the Victorian Alps. That night, as I unrolled the sleeping mat in my ultralight tent, I discovered it only came to part way down my shins. When I slipped into the sleeping bag, it only came to the top of my chest. That was the start of a cold, uncomfortable night—with legs bent up trying to try fit on the mat while burrowing down as far as possible into the sleeping bag. Needless to say, it was the worst sleep of my life, at least until I ruined my (sleeping) life by having children.
My leather hiking boots are roughly the size and weight of canoes. My cross-country ski boots, on the other hand, are like a pair of heavy-bottomed barges.
It's not just that most outdoor gear is too small. When you're tall, your camping gear weighs more—your extra length mat, your extra-long sleeping bag, your XL clothes, extra food (to power our extra-large brains) and the most monstrous item of them all, your hiking boots—because I'm yet to meet a tall person with the tiny mincers of a ballerina.
My leather hiking boots are roughly the size and weight of canoes. My cross-country ski boots, on the other hand, are like a pair of heavy-bottomed barges. I've done multidisciplinary trips in Tasmania where we had to walk or raft into a climbing area, and the sheer weight of footwear can be ridiculous. We're talking bushwalking boots, camp shoes, river sandals, climbing shoes—not to mention my Birkenstocks for drinking soy macchiatos in Hobart—and my running shoes for keeping the rig trim.
It's not just the shoe-weight you have to manage—try fitting all that extra-large gear into one bag. Inevitably, I ended up wearing the boots on the plane and leaving the Birkenstocks behind.
I've spent countless nights sleeping diagonally in an ultralight tent so that I don't push against the sides and get wet from condensation.
TALL PEOPLE + ULTRALIGHT TENTS RARELY MIX
Don't even get me started on titchy, tiny tents. I've spent countless nights sleeping diagonally in an ultralight tent so that I don't push against the sides and get wet from condensation. And if you have to make room for a tent buddy, you'll be spending most of your time in a permanent crouch—which is fine if you're training to be a combat-ready ninja, and less fine if you're a bushwalker that's already exhausted from carrying a massive backpack full of extra massive gear all day. Plus, many so-called two person backpacking tents are so narrow that you can't actually sit up without hitting the sides. But who doesn't love the feeling of sleeping in a coffin?
ULTRALIGHT TENTS MADE FOR TALL PEOPLE
Enter Sea to Summit's first line of ultralight tents to save our permanently-hunched backs. The new range includes two ultralight tent designs in different sizes—the ultralightweight Alto and the more fully-featured (but still ultralightweight) and spacious Telos. Both tents are designed to provide far more usable space for us tall folk and thicker modern sleeping mats (which can be up to ten centimeters thick these days).
TENSION RIDGE TECHNOLOGY IN ULTRALIGHT TENTS
To achieve this extra height and usable space, Sea to Summit partnered with Jake Lah from DAC, an expert of modern tent architecture and the world's premier tent-pole manufacturer, to create their Tension Ridge technology—a horizontal tent pole that sits across the top of the tent and rises up like a wing (rather than bending down like most traditional ultralight tent designs). Tall story short, this means you can achieve much greater height for a relatively small footprint.
There's an old joke: how do you make a tall person look more awkward? You can't. Particularly when you watch them try to enter a tent.
There's an old joke: how do you make a tall person look more awkward? You can't. Particularly when you watch them try to enter a tent.
The Tension Ridge design allows Sea to Summit's tent doors to be significantly higher than its competitors. It also means that the sides of the tent are much more vertical, meaning you're less likely to touch the tent's inner and let condensation through. The doors of the Alto and Telos tents have six to eight centimeters extra head height compared to the rest— something you'll appreciate at the end of a long day of backpacking. No more being mistaken for a confused grizzly bear when you try and enter your ultralight tent.
If you've spent a lot of time in hiking and backpacking tents, you'll know that many have sides that angle quite steeply, making it impossible to not touch the sides. If you're tall, you pretty much need to buy your sleeping bag with a water-resistant foot, because it will inevitably be jammed against the end of the tent—and no one likes getting trench foot on a camping trip.
Apart from a more usable internal space, the Tension Ridge allows the air vents to be at the highest part of the tent, which is important—as heat always rises.
Many tents have vents that are made ineffective by being placed too low. Having the vent in the top of the tent allows the hot air to flow right out. You can even adjust the vent from inside the tent to, saving you the trouble of putting your boots back on—and getting wet in a downpour.
The combination of high apex vents and low baseline vents on opposing faces of the tents means these tents can catch air and cross ventilate whichever direction the breeze is blowing. Airflow bonus: if your tent partner generates a lot of hot air (often a problem with hiking food), you may really appreciate the improved ventilation.
CUSTOMIzABLE TENT SET-UPS
Bigger ultralight tents, though pretty life changing for us tall people, is not enough nowadays—everything has to be customizable. Both Sea to Summit tents can be adapted to suit your particular needs, including a three-season mesh or three-season-plus full-fabric inner. The mesh inner is lighter and ideal for warmer camping conditions, while the full fabric inner is warmer and more weather-proof for colder, wetter camping trips.
You can also use the Sea to Summit tents in partial modes—just the inner tent for warm tropical nights when all you want is insect protection or only the outer fly with the footprint if your trip just needs a super-light shelter for an incidental shower or two. This means you only carry as much of the tent as you need for the conditions you anticipate.
SPACIOUS + ULTRALIGHTWEIGHT
The Telos is the more fully-featured and spacious of the two ultralight tent designs and comes in two sizes: two-person and three-person. It has a three-hub single pole that runs the length of the tent with Y-shaped ends, with the Tension Ridge pole perpendicular to this pole. This means the tent is freestanding (it doesn't require any pegs to support itself).
Depending on the combination of inner and fly, the two-person Telos tent (internal dimensions: 134cm x 109cm x 215cm; 53in x 43in x 84in) only weighs between 1613g and 1699g, with the minimum trail weight (inner, fly and poles) being a couple of hundred grams lighter.
The three-person Telos tent (internal dimensions: 181cm x 147cm x 230cm; 71in x 59in x 90in) weighs between 2116g and 2203g fully-packed, with the minimum trail weight coming in at just under two kilos. When you split the Telos between two or three people, it's a super lightweight tent, which offsets the extra weight of all the aforementioned extra-large gear.
Whatever the weather, the Telos is super adaptable to a wide range of conditions and uses. When it's wet, you can remove the inner first, leaving the fly as a protective shell from the rain. If you want to do some romantic stargazing or let in a breeze when it's hot, the fly cleverly rolls back—and can easily be pulled back down from inside the tent if it starts to rain.
The Telos also has a Hangout Mode, where the fly can be pitched and then lifted at the front on walking poles (or an extra pole set that you can buy as an accessory) and be used as sun or rain shelter that fits chairs underneath it—perfect for quitters who refuse to walk another step on this godforsaken trail!
The Alto tent is lighter and comes in two sizes: one-person and two-person. It has a two-hub Y-shaped pole that runs down the middle of the tent, with the Tension Ridge pole running perpendicular to this main pole. It's semi-freestanding in that it requires a minimum of two pegs to be pitched. Depending on the combination of inner and fly that you purchase, the one-person Alto (internal dimensions: 65cm head x 60cm foot x 107cm x 215cm; 26in foot x 24in head x 42in x 84in) weighs between 1067g and 1131g fully packed—although the minimum trail weight (fly, inner and poles only) is under a kilo for all versions.
Depending on the combination of inner and fly, the two-person Alto (internal dimensions: 134cm x 97cm x 215cm; 53in x 38in x 84in) weighs between 1317g and 1398g fully-packed, with the minimum trail weight a bit under 200g lighter. For those looking to shave off all-important grams to offset their size 13 boots, the Alto is perfect—and doesn't compromise on space.
Similar to the Telos, on the Alto you can pull back the fly to spend a night stargazing. And if you've bought the optional extra footprint, you can take down the inner first in wet weather, leaving the fly up to protect you from the rain.
FULLY LOADED ULTRALIGHT TENTS WITH PLENTY OF DESIGN FEATURES
Both the Alto and the Telos are packed full of small but important design features that make erecting and using the tent easy. These include: one-handed fly clips; easy to adjust peg out points; lightweight yet strong tri-point tent pegs with multiple cord notches for secure anchoring; knot-free guylines; plus a modular storage system that Sea to Summit calls the Fairshare, which means the tent can easily be split in three and stowed in your pack or shared between hiking partners (although my experience as a tall person is that the sharing of loads is rarely fair).
Finally, one of the tent stuff sacks is made from light-diffusing materials, which you can put your headtorch into and attach to the roof of the tent to provide ambient light—or use as an emergency lightsaber, probably. Sea to Summit has dubbed this clever system the Lightbar. And the other two stuff sacks attach inside the tent corners to serve as extra accessible storage buckets to keep clutter off the floor. This also means you'll find your stuff sacks when you're packing up—smart.
Both tents come with a range of optional extras: extra pegs and guylines, a handy gear loft for those who have always dreamed of a two-story tent, custom length ultra-lightweight poles for supporting Hang out Mode, and footprints to protect and extend the life of the floor of the tents—and the Bigfoot version also protects gear stashed in the roomy vestibules from wet and muddy ground. If you shop in the big-and-tall section, you'll want to invest in one…
While being a tall person in a lightweight world comes with its challenges, at least I'm not seven-foot-tall like my brother-in-law. Not only does he not fit in most ultralight tents, he spends most of his time saying 'Yes, I am really tall,' 'No, I don't play basketball' and 'The weather up here is fine…' It's enough to make you want to head out into the remote wilderness.