Munro Bagging: A Great Way Of "Escaping From Our Modern Sanitized World"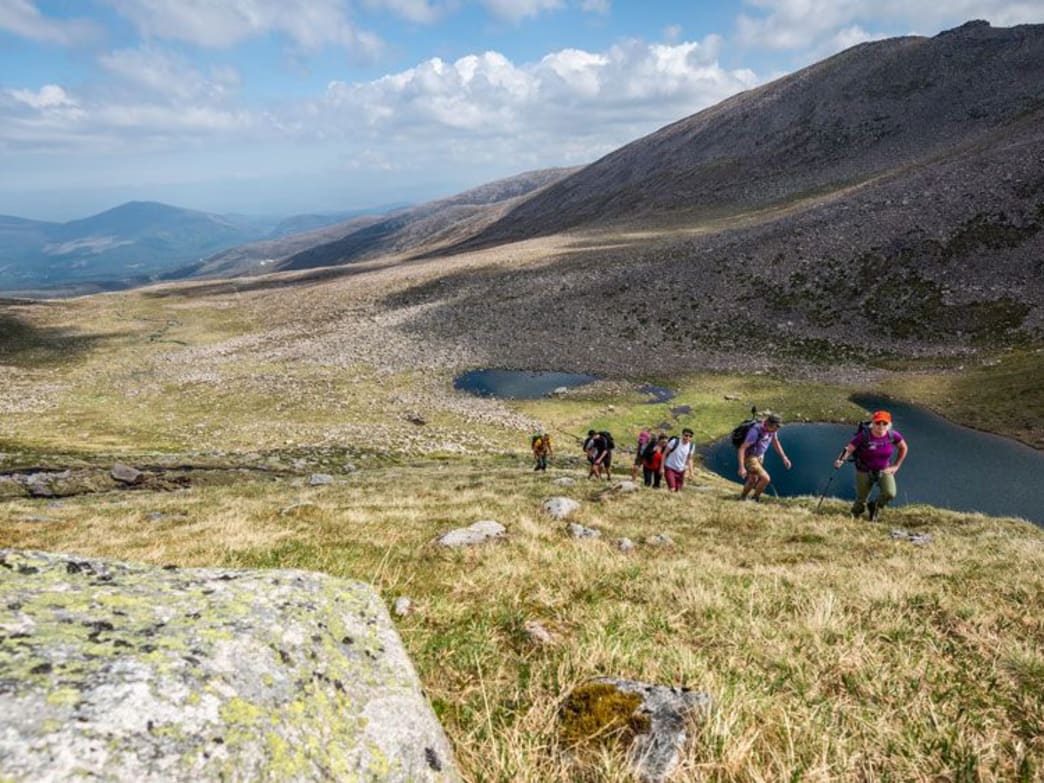 Want a tough but rewarding challenge? Then no look further than the wilds of Scotland.
Whether you live in a city or the countryside, it's unlikely you think of Great Britain's landscape as truly remote, rugged and dangerous. But that's probably because you've never been properly introduced, or have forgotten about, the Scottish Highlands, and that area's mountains in particular. The peaks over 3,000ft (914m) are called Munros after Sir Hugh Munro who catalogued and published a list of them in 1891. Ten years later, someone (not Munro, sadly) had climbed them all, setting a lofty goal taken up by an ever increasing number of people to "bag" them all.
It's no easy feat – there are currently 282 on the list (there have been a few substitutions and additions over time due to more accurate measuring) – and a fair few require ropes and the requisite technical skill to reach the summit. But there are plenty of more accessible ones, in the words of Mountaineering Scotland's Heather Morning who was helping Merrell promote its MQM Flex shoes, "roly poly grassy Munros" which still offer an experience the likes of which you'll struggle to find elsewhere in Britain.
"It's a really special place to be," says Morning, "getting away from civilisation into remote wilderness areas, the beautiful views, the fresh air. There's no doubt some of the best days of my life have been spent with good friends sharing those mountain experiences – the sense of fulfilment when you get to the top of the mountain after working hard for that over several hours.
"We live in a very sanitised world where people want immediate rewards for a minimum amount of effort put in and I don't think anything is more of a contrast to that. You're in an environment where you have to make your own decisions and those decisions might have very real consequences."
Ah yes, consequences. Bagging Munros, even the wee-est one, is no walk in the park, so we asked Morning for advice on tackling Munros for the first time to help you have an adventure on these shores. Hot tip: September's a good time to aim for when planning your first expedition.
Do A Bit Of Hill Walking First
Sure, you may have some impressive numbers in the weight room or a parkrun PB you're proud of, but Munros require a different kind of exertion. "On an average Munro day you'll probably be out for six to eight hours," says Morning. "It's not like going for a half-hour gym session – it's a more sustained level of effort at a lower heart rate.
"You need to have a progressive approach so it's a good idea to build it up gradually. Do some lower, easier hills first, before you start heading up something that's more physically and technically demanding."
Learn How To Read A Map
It's not advisable to rely on the map app on your phone. Trust us when we say you don't see people on a mountainside turning this way and that trying to move the direction of the blue dot on the screen.
In part, being able to navigate your way around is essential because of how the UK marks trails, or to be more precise, doesn't. "We've very much developed a culture in the UK of only ever having signposts at the road's heads – and not necessarily that either," explains Morning. "But once you're on the hill you're on your own, making your own decisions with regards to which way to go." Although we should say that you won't necessarily be blazing a trail. "Most Munros will have a pretty well-worn track because it's such a popular activity and some of the paths are constructed to mitigate against erosion." Morning recommends following the recommended route in the WalkHighlands guide if you're just starting out.
The other part of learning to navigate is somewhat more serious. "Twenty-five percent of fatalities here in the hills are the direct result of a navigation error," cautions Morning. "We often advise people to do a one-day navigation course before they start heading into the bigger hills so they've got a heads-up on how to find their way about, particularly if the weather turns bad." You'll find courses and plenty more essential information on Mountaineering Scotland's Safety and Skills section of its website.
Check The Weather Forecast
Morning tipped us off to the Mountain Weather Information Service, which gives specific weather for the Munro tops.
Pack Well
"There's a comprehensive kit list on our website," says Morning. "It varies from winter to summer, but some basics for summer would be a pair of walking boots , clothing that dries easily, so not cotton clothing, a set of waterproofs, fleece layers, hat and gloves even if we're in a heat wave, and obviously a rucksack to put that in. Then also food and drink, and a map and compass – and knowing how to actually use that map and compass to be able to navigate safely."
Plan To Go During The "Shoulder Seasons"
In the summer months you will have to contend with midges. "They're just annoying wee beasties that bite you, particularly if it's still and damp," explains Morning. "But if you're moving then you're usually faster than they are."
And if you're new to mountaineering it's obviously advisable to avoid the colder months. "In winter, obviously, there's snow on the ground so you need some technical skills and equipment like an ice axe and crampons, and know what to do with them."
Morning, then recommends bagging in "May and September when it's a bit cooler and you're not going to have a midge factor to contend with."
Expect Ticks
Morning explained that ticks are an increasing problem in the Highlands. "They're sheep or deer ticks – little bugs on vegetation that latch on and start sucking your blood. They can transmit a really serious disease called Lyme disease. It's worth people being aware that they exist and know how to check themselves. I have several a week latched on to me that I pull off." The good ol' NHS has a guide to Lyme disease, including how to safely remove a tick.
Written by Jonathan Shannon for Coach and legally licensed through the Matcha publisher network. Please direct all licensing questions to legal@getmatcha.com.