Campfire Cooking in Kentucky: 5 Iconic Dishes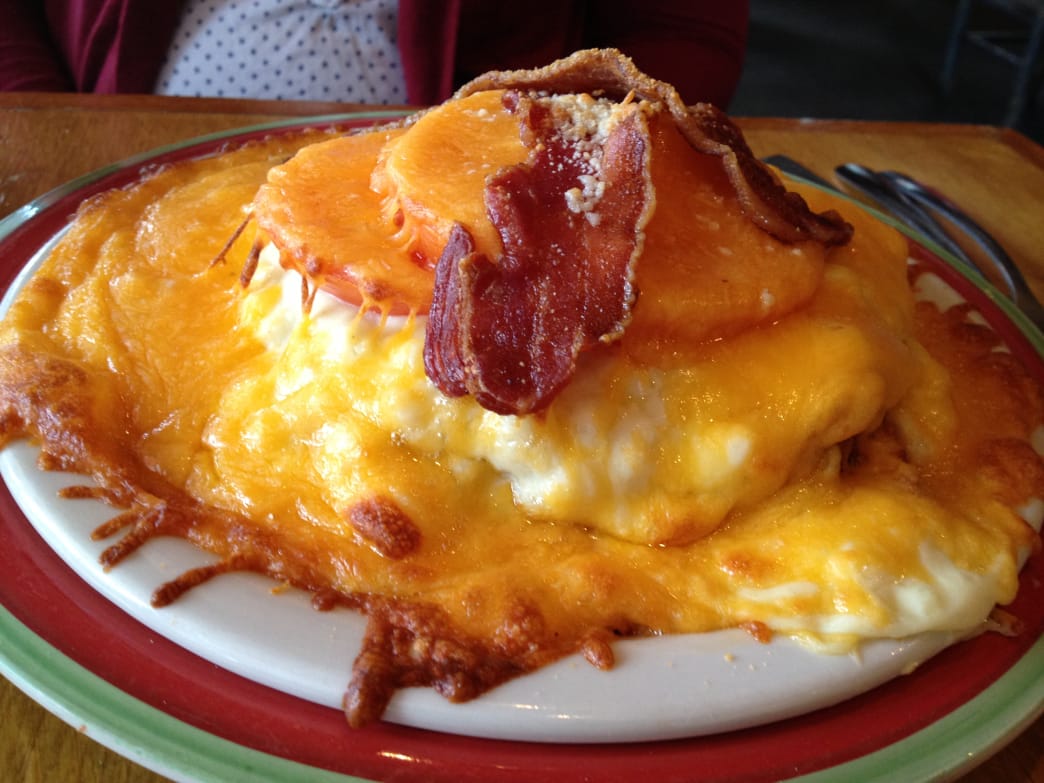 From The Hot Brown to Burgoo, Kentucky is known for many mouth-watering dishes. While the state's culinary delights are typically served at home or in restaurants, they're also great choices for campsite cooking. After a long day exploring the outdoors and burning calories, people crave these types of meals that stick to your ribs.
The next time you go camping, forego the hotdogs and other typical fare and whip up one of Kentucky's iconic creations. We've highlighted a few of our favorites, which you can cook using a campfire or camping stove. Keep in mind that most of these recipes include perishable items, so they're primarily for car camping, where you have access to a cooler, rather than backpacking.
1. The Hot Brown
Nothing says Kentucky, or especially Louisville, like the Hot Brown, an open-faced sandwich with mornay sauce and turkey, bacon and tomato on Texas toast. It's a yummy option that you can replicate in camp.
The challenge with this recipe is making the mornay sauce, which you'll need to make in a pan with milk, cheese, butter, flour and spices. If you like, you can make it in advance and pack it with you, then warm it up in a pan of water.
To make the mornay sauce, melt 1 ½ tablespoons of butter in a saucepan, and then slowly whisk in 1 ½ tablespoons of flour until you form a roux (basically, a thick paste.) Then, cook the roux for 2 minutes over medium-low heat, stirring it frequently.
Next, whisk in 1 ½ cups of heavy cream and cook the roux over medium heat until the cream begins to simmer. (This should take 2 to 3 minutes.) When the sauce begins to simmer, remove it from the heat and slowly whisk in a quarter cup of Pecorino-Romano cheese until the sauce is smooth. Then, add a pinch of nutmeg, plus salt and pepper to taste.
Using a skillet, brown the Texas toast, and then, place slices of turkey and tomato on the toast. Pour mornay sauce over the sandwich and sprinkle on additional cheese. Next, put slices of bacon the sandwich and sprinkle on paprika and parsley.
Recipe source: Brown Hotel
2. Burgoo
The best thing about burgoo is that it's basically whatever you want it to be. It's a stew that you're meant to cook outdoors with whatever meat and ingredients you have available. If you're a hunter, you can add whatever you've recently bagged, such as venison and turkey.
Typically, burgoo includes at least three different meats, plus beans, corn, potatoes and some kind of tomato. Whatever your meat, the stew will be a delight for the senses.
To get specific on what to include, check out the burgoo made by Tim Farmer of "Kentucky Afield." He uses venison and other meats that he's pre-cooked. Using a campfire, he begins by boiling about 2 quarts of water in a large cast-iron pot. He then adds black beans, onions, peppers, potatoes, meat, canned tomatoes, corn, carrots, banana peppers, green beans and red currant jelly for sweetness. He suggests adding okra and mushrooms, if you have them. Or in Western Kentucky, you can add mutton for an authentic taste. Farmer also adds Creole seasoning, cinnamon, cumin and white pepper.
3. Fried Fish
Kentucky's numerous lakes and rivers are chock full of fish. Whether you haul in catfish, trout, bass, or even bluegill, you can always clean and eat them fresh from the water. (Here are good instructions on cleaning fish).
You can pack the fish in a foil pouch or wrap it in leaves with spices and lemon, and then cook it over a campfire (about 5 minutes per side). Another option is to put a grill over a campfire, or use a camp stove, and cook the fish in a frying pan. After you clean the fish, pour vegetable oil into the pan, let it get well-heated, and then place the fish into the pan. Be sure to turn the fish frequently to prevent it from burning, and you can serve the fish when it turns brown.
Another great option is to fry the fish. After you clean the fish, use a campfire or stove to heat vegetable oil in a deep skillet. In a bowl, mix flour with spices such as cumin, cayenne, onion powder or garlic powder, paprika or whatever you like. Then, coat the fish with flour and then dredge it through a mixture of milk and eggs. When the oil is hot, place the fish in the skillet. You'll see the fish bubble significantly when you first put it in. When the bubbling starts to decrease and the fish floats to the top of the oil, it's ready to serve. Use caution when using hot oil near fire—make sure your pan is level and secure.
If you're frying the fish, consider making french fries, too. Or cook a baked potato right in the coals—poke holes in the potato, smear it with butter, double-wrap it with foil and put it right in the hot coals. It will be ready in about an hour.
4. Louisville Chili
Never to be confused with that weird, sweet Cincinnati chili, Louisville chili is spicy, savory, and served with spaghetti. You can either serve it over spaghetti or just dump the spaghetti in the chili, like mama used to make.
We like our chili a little thinner than our Texas friends, more like a thick soup. But, you can adapt it to your own tastes. You can even serve it over those fire-cooked hot dogs with shredded cheese for amazing chili dogs. (Yes, you can include the spaghetti. It's how we do it in Kentucky.)
For this you'll need a big pot. For simplicity, you can cook the spaghetti at home and pack it with you, or you can boil it in a pot alongside the chili. Another method is to pack the spices together and avoid bringing lots of little bottles with you.
Here's a chili recipe from the daughter of a Louisville native. You'll need tomato puree, a pound of ground beef, red kidney beans, minced garlic, diced onion, McCormick Cuban seasoning, cumin, chili powder, sugar, salt and pepper.
Brown the beef with the onions and garlic, and then add kidney beans and tomato puree then spices. If your chili is too thick, you can add water or tomato juice to loosen it up. Add the spaghetti at the end, and serve it with shredded cheddar, guacamole and sour cream.
5. Cornbread
Folks in Kentucky eat their chili with cornbread, because it soaks up the juices of chili or burgoo as heaven intended.
Cornbread, luckily, can be cooked beautifully over a campfire in a cast iron skillet. Begin by melting Crisco or bacon drippings in the cast iron skillet. Then, in a large bowl, mix 1 cup of cornmeal, 1 cup of flour, ¼ cup of sugar, and 1 tablespoon of baking powder. In a different bowl, beat together one egg, 1 cup of milk and 4 tablespoons of melted butter.
Then, mix the dry and wet ingredients, and spread this mixture into the the cast iron skillet.
You should cook the cornbread over a low campfire until bubbles appear on the top of the batter. Then, use a metal spatula to flip the cornbread and continue cooking. Finally, check to see if the corn bread has finished cooking by inserting and remove a toothpick. If it comes out clean, the cornbread is ready.
Another wonderful thing about cornbread is that you can add so many different ingredients to change the taste, such as corn, cheese or jalapenos. But, don't underestimate the joy of plain cornbread smeared with butter. It's near-perfect as it is.
Recipe source: 50campfires.com
Written by Lisa Hornung for RootsRated in partnership with Kentucky Tourism and legally licensed through the Matcha publisher network. Please direct all licensing questions to legal@getmatcha.com.