Best Gifts for the Bikepacker in Your Life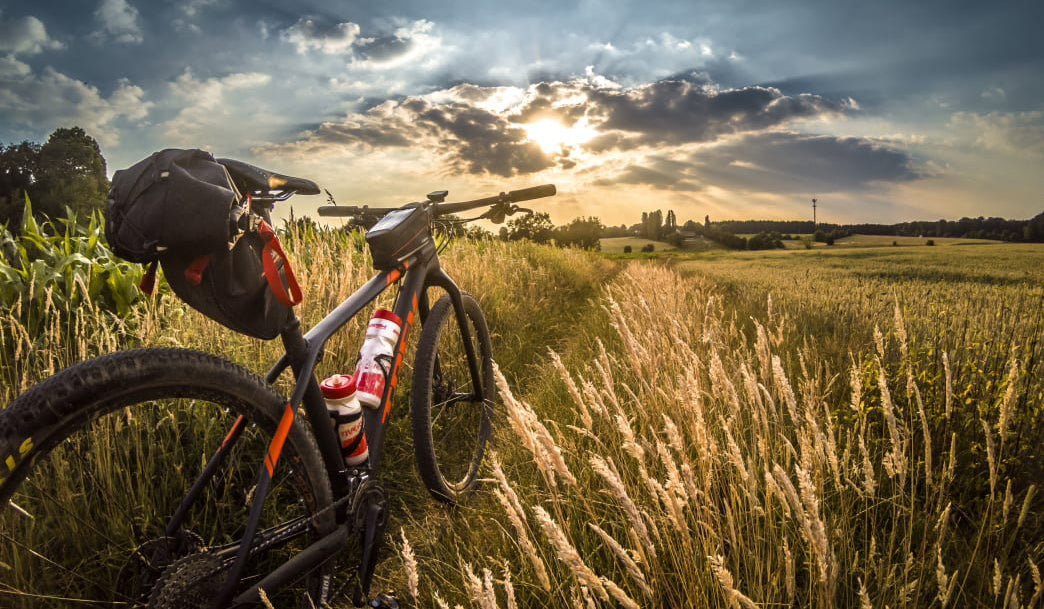 Take the get-after-it thrill of off-road cycling (i.e., mountain biking or gravel grinding) and add in the challenge of ultra-light camping, and you have bikepacking, one of the fastest-growing segments of the adventure industry. No surprise why: These multi-day rides offer an excellent way for cyclists to take their riding to another level, while putting their planning-and-packing chops to the test. Indeed, on bikepacking trips, gear needs to be on its A-game as much as the rider: Any piece of clothing, equipment, or tool that gets strapped to the bike (or carried) must be a hardworking multitasker that hits the mark for performance, durability, and, of course, weight. Choose the right gear, and you'll remember your trip for all the right reasons; choose the wrong kind, and, well, it could be unforgettable in the worst ways possible.
That's where Sea to Summit's award-winning gear comes in. Consistently top-rated by jet-setting pros, weekend warriors, and amateurs alike, its award-winning line of high-quality products, from sleeping bags to camping cutlery, is designed to enhance any two-wheeled adventure, whether it's a basic overnighter or week-long backcountry trip. To get things rolling, here's a rundown of eight awesome gifts for the bikepacker in your life.
1. Shelter
Every camper's first priority is shelter. And if the weather looks good, going minimalist is a bonus. The Escapist Tarp packs down to the size of a water bottle, weighing in at only 10.5 ounces and at 8x6 feet (10x10 for the large), and it's roomy enough for two people, or one person and their wheels. Starting at $199.95.
2. Sleeping Pad
Earning top awards from National Geographic Adventure and Gear Institute, the rockstar Ultralight Air Mat is all but guaranteed to have any bikepacker roll up their old sleeping pad for good. Rather than relying on layers and layers of foam that add both weight and volume, Sea to Summit's technology features hundreds of small chambers that support and conform to the sleeper. The result is an incredibly light pad that compromises nothing on comfort or weight. Starting at $99.95.
3. Dry Sacks
An often-overlooked secret to stress-free travel, whether it's across the county on two wheels or across the ocean in a plane, is organization. And not only do the award-winning Ultra-Sil Dry Sacks offer a great way to keep gear organized (and, of course, dry), they're versatile and feather-light. They go the distance on any kind of adventure, and you can never have too many of them, so stock up for the bikepacker in your life (and yourself, while you're at it). Starting at $12.95.
4. Dry Compression Sacks
A hardworking cousin of the stuff sack, the eVent Compression Dry Sack is super helpful for corralling bulky items like extra clothes and sleeping bags. When space is at a premium (and when is it ever not on a bikepacking trip?), the sack's four compression straps make it a literal cinch to get gear down to a packable size. It comes in five different sizes, all made with waterproof fabric, since a soggy sleeping bag isn't exactly conducive to a good night's rest after a hard day on the trail. Starting at $29.95.
5. Pots and Dinnerware
Sea to Summit has pushed the boundaries of lightweight backpacking gear, and nowhere is that more obvious than in their X-Pots and Dinnerware—a serious upgrade to the bulky pots and pans cluttering far too many camping gear bins in garages. Among the most innovative and exciting improvements to lightweight outdoor gear since synthetic clothing, this dynamite duo of products makes campsite cooking a pleasure. X-Pots feature an aluminum base with foldable, food-grade silicon sides to make ultra-light cookware that packs down to an easily packable disc, while dinnerware options include lightweight, foldable plates, cups, and other essentials. The X-Set 33 pot and kettle combo ($89.95), as well as the X-Set 21 ($69.95), a plate, bowl, and cup set that folds down and nests into itself, are excellent additions to any gear list. Single dinnerware pieces starting at $6.95.
6. Ultralight Pillow
When space and weight are at a premium, pillows often get left at home, and bikepackers are often known to make do with a bunched-up jacket or a half-stuffed pack. But Sea to Summit's glorious Aeros Ultralight Pillow removes all excuses to not bring a pillow. At just 2.5 ounces, this feather-light beauty packs down ridiculously small, and—big bonus!—it also locks onto Sea to Summit sleeping pads, eliminating that annoying shifting during the night (and any ensuing neck kinks). Get ready for some seriously sweet dreams. Starting at $39.95.
7. Cutlery
Sayonara, old-school sporks and cheap, disposable plastic: Sea to Summit's Titanium Cutlery Set will have hungry adventurers digging into their grub with gusto. This hardworking trio of fork, knife, and spoon—all made with durable titanium that cyclists love so much—comes clipped to a mini-carabiner, eliminating any irritating search for utensils when you're famished from the trail and just ready to eat already. Oh, and the whole set weighs less than an energy gel. $34.95.
Written by Shaine Smith for Matcha in partnership with Sea to Summit.