Backpacking Tents Can be Roomy and Comfortable: Meet Tension Ridge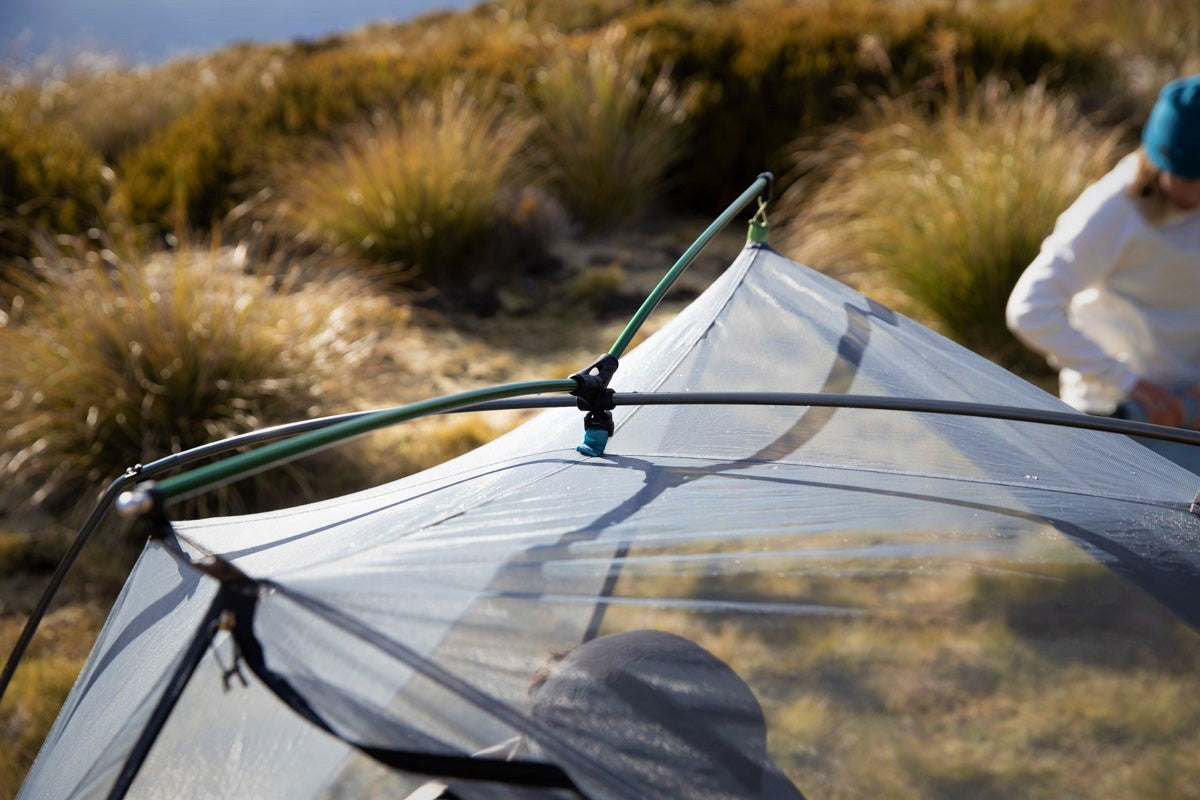 Do backpacking tents really have to be claustrophobic to be ultralightweight? Well, not anymore.
We love ultralight backpacking tents. They help us travel further with the trail at our feet and a pack on our back.
What we don't love is that, as backpacking tents get lighter, they're getting smaller and smaller. Nobody goes camping to feel cooped up.
We had a big list of everything we wanted to achieve with our new Alto and Telos tents —and right at the top of the list was to create more usable space and better ventilation.
The innovation that would help us achieve this was the Tension Ridge.
In collaboration with Jake Lah, the genius behind DAC tent poles and the creator of some of the most revolutionary tent architecture out there, we designed our Tension Ridge tents-truly spacious, ultralight weight backpacking tents with next-level ventilation.
It was a true partnership—which is unique these days: said our Head Designer and Owner, Roland Tyson. "Jake had lots of design ideas that he had been waiting to share with the right design company—he hasn't done that with anyone else. Once we convinced him that we cared as much about good design as he did, it all took off from there."

UNCRAMPING YOUR CAMPING STYLE
To create lighter hiking tents, most designers cut down on usable space. The head height across the width of the tent is usually the first to get the chop.
When you sit up, stretch, access your gear or just try to move around in one of those tents, things get cramped, and fast. Especially if you're sharing a two person backpacking tent with a buddy. And believe us, drawing a line down the middle of the tent won·t fix the problem.
TENSION RIDGE RAISES THE BAR FOR ULTRALIGHTWEIGHT BACKPACKING TENTS
For our Alto and Telos tents, we've done the complete opposite. Where most tent brow poles angle down, the Tension Ridge is a revolutionary antenna-like structure that angles up—raising the ceiling height without increasing the footprint.
The Tension Ridge gives you room to move, get changed and stretch—even if you're tall. With more space from floor to ceiling, sharing a tent is a much better experience too. No more elbows to the face in the middle of the night!
With more vertical height, we were also able to make the tent doors taller. As well as making it easier for you to get in and out of the tent, the taller and wider tent doors give you better views outside.
Higher ceilings also mean our ultralightweight tents don't have those aggressively tapered walls all over. This gives you more room for modern, thicker sleeping mats and pillows. Because you shouldn't have to sacrifice comfort for lightweight design.
More near-vertical walls also mean you don't run the risk of squashing your face and feet into the wall and introducing your tent to its worst enemy: condensation.
VENTILATION AND AIRFLOW IN ULTRALIGHT BACKPACKING TENTS
Speaking of condensation: When condensation forms in your tent, things get stuffy or damp pretty quickly. To stop condensation from forming, you have to keep the air moving—and that means good ventilation. So why don't you always find the vents at the highest part of the tent when hot, moist air rises?
The Tension Ridge allowed us to create a ventilation system that's never been done before, even though it seems like the most obvious thing to do: we put the vents at the highest point so warm air doesn't get trapped up there.
THE TENSION RIDGE: OUR HERO INNOVATION
When you see a design problem, you can either choose to live with it or innovate and solve the problem. After many nights feeling like the tent walls were closing in on us, we chose to innovate so we could bring you ultralight tents that give you plenty of room to breathe: The Altos and the Telos.