Adding comfort & convenience to International Travel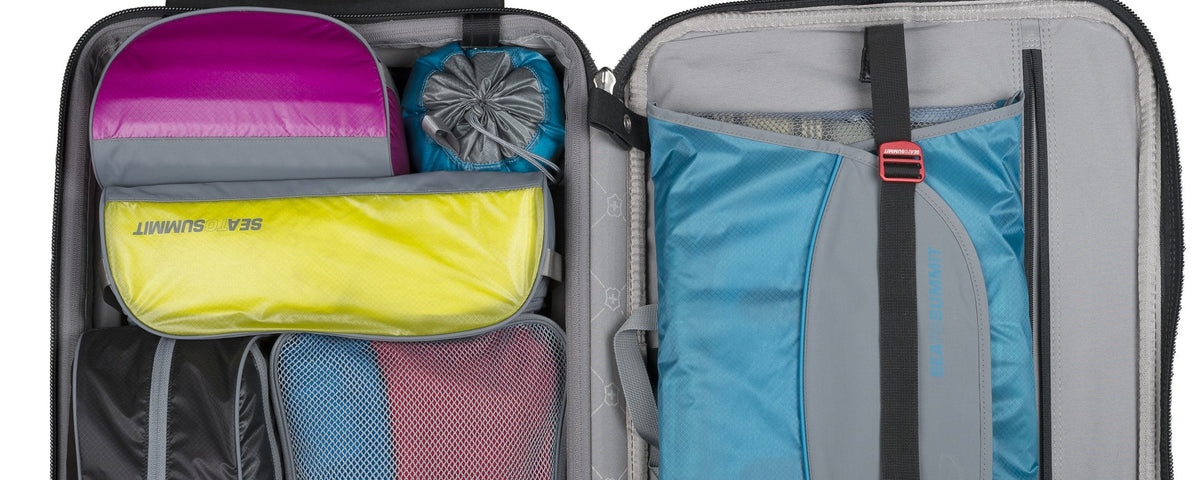 It has long been said that travel broadens the mind – but in recent years, it's become increasingly true that travel can stress the mind prior to any broadening which might occur at the end of the journey. Steadily decreasing amounts of legroom and reduced amenities on airplanes plus the irritation of airport security can bring out the worst in people.
Sea to Summit cannot, sadly, make the lines at security any shorter or the amount of legroom between seats any longer. What we can do is to make your passage through the airport – from check-in to the gate – simpler and smoother. And once you're on the airplane, we can make your life a little more comfortable.

Here's how:

Before you head to the airport, bring order to your travel bag using Travelling Light modular packing solutions. Once your clothes and shoes are packed in Garment Mesh Bags, Shirt Folders, Packing Cells and Shoe Bags, they will slide into your case or duffle easily and emerge looking great at the other end. Personal Care products go into Toiletry Bags and See Pouches; electronics and other small/fragile items go into Padded Pouches and Mini Stuff Sacks.
So – your bag is now extremely well organized, yet barely any heavier. Time to head for the check-in counter. Sort your printed itineraries, tickets and other paperwork into a Document Pouch, and put your local/foreign currency, your passport and your boarding pass in a Neck Wallet. Getting through security and boarding the airplane is hugely easier with your ID and your boarding pass conveniently in reach (and the Neck Wallet disappears out of sight under your jacket or sweater when needed).
Once on the airplane, two more products are about to come to your aid: the Travelling Light Eye Shades, and the Aeros Traveller Inflatable Pillow.
Catch a movie, read a little of the paperback / eReader you brought with you, then get yourself ready to sleep your way into the next time zone. Pull the Aeros Traveller Pillow from its impossibly-small stuff sack, inflate it to the appropriate degree of firmness and slide your neck into its soft, cozy horseshoe-shape. Avoid the envious stares of your fellow passengers who either didn't bring a pillow or whose conventional travel pillows now look absurdly clunky.

Now slip on your Travelling Light eyeshades (which are even nicer than the ones issued to the First Class passengers some rows ahead of you) – they will block out the light from the video screens of the people around you who can't sleep.
The final step in the process of in-flight comfort is yet to come. The cabin you're in will almost inevitably have a number of crying children (or even adults who aren't using indoor voices). This is the moment when you realize that the Travelling Light Eyeshades come with a pair of earplugs. Pop them in and – voila – you're now in your own private world of comfort.