5 Waterfall Hikes Around San Francisco Perfect for Winter Exploration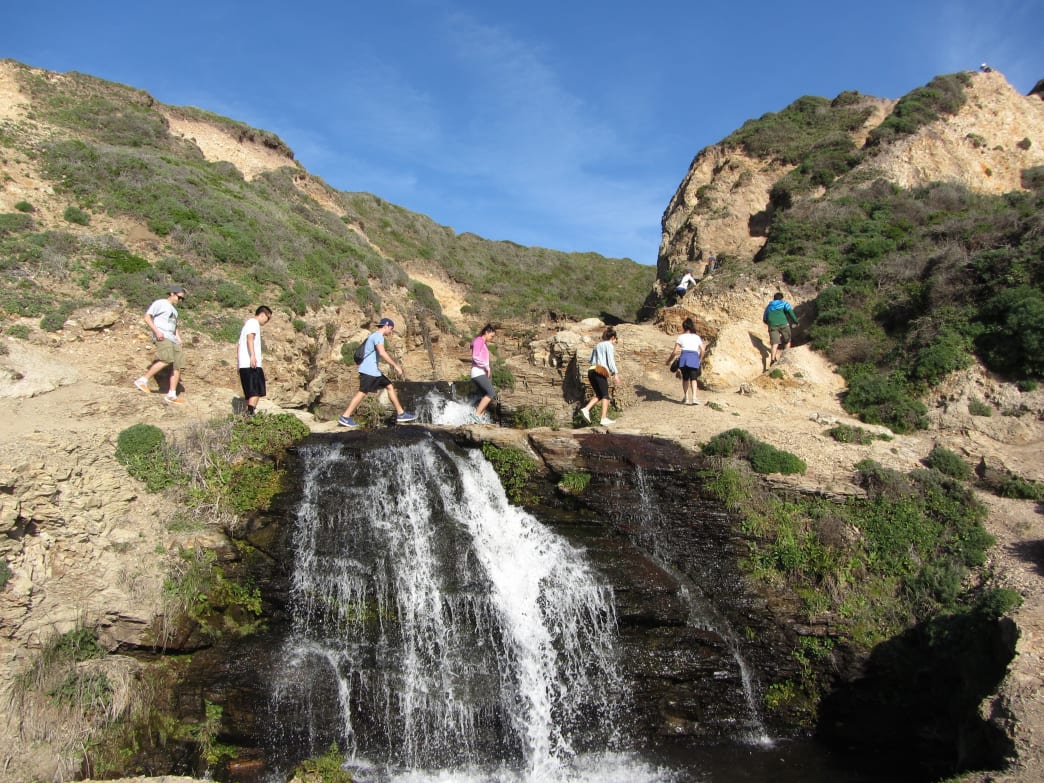 Though the chilly winter weather may have trapped you inside during recent weeks, take advantage of crisp, clear days and hit the trails to reap the benefits of the rain. Back-to-back years of drought conditions have dried out both seasonal streams and larger waterways around the Bay Area, but heavy rainfall brought by El Niño promises to revive scenic waterfalls on these classic trails.
Local weather patterns typically come with a brief dry spell in early January, so now is the time to head out and take advantage of some spectacular waterfall hikes around San Francisco. In addition, waterfall hikes are a perfect (and scenic) way to kick off New Year's resolutions to get in better shape and spend more time in the outdoors in 2016. Here, five perfect picks to inspire your winter hiking adventures.
1. Cataract Falls
Cataract Falls on the north slope of Mt. Tam is Bay Area classic—don't miss it after a few rainstorms bring the Falls to life. From the trailhead at Alpine Lake, climb steeply along Cataract Creek through towering redwoods, mossy oak trees, and lush ferns towards Laurel Dell. No less than seven falls of varying heights line the woodsy trail, subtle yet striking amidst lush forest.
On this trail, you will never be out of earshot of tumbling water. The round-trip hike to Laurel Dell—showcasing all of Cataract Creek's cascades—is only 3.2 miles, but the warren of trails on Mt. Tam provide ample opportunities for longer loops.
2. Alamere Falls
Equally classic and another local favorite, Alamere Falls is one of those jaw-dropping, "only in California" type of places. Just over an hour north of the city in Point Reyes National Seashore , Alamere Falls tumbles over sandstone cliffs onto the beach and flows into the Pacific Ocean. From the Palomarin Trailhead, Alamere Falls is about 8.5 miles round trip.
The scenic Coast Trail brings you to the bluff overlooking the Falls. For a view of the falls from below, follow the Coast Trail to Wildcat Camp and then walk along the beach until you reach base of Alamere Falls, where you can fully appreciate the unique perspective of cascading water tumbling onto the sand as waves crash onto the shore.
3. Berry Creek, Silver Falls, and Golden Falls
Hidden in the heart of some of the Bay Area's oldest redwood groves, Berry Creek, Silver Falls, and Golden Falls are some of the region's most stunning cascades. This series of falls is made all the more striking with heavy water flow brought by a good rain. Following the Skyline-to-the-Sea Trail from the trailhead in Big Basin Redwoods State Park, and you will first reach Berry Creek Falls, a stunning 65-foot cataract tumbling into a mossy pool, overlooked by a viewing platform. Beyond Berry Creek Falls, Silver Falls and Golden Falls—the latter named for the tint of the underlying rock—are just a few miles up the trail. Make this hike a loop through the forest by connecting with the Sunset Trail for a scenic adventure of more than 12 miles.
4. Webb Creek
While the cascades along this trail may lack height, they make up for it in frequency. Dropping (or climbing, depending on your approach) over 1,000 feet in two miles, the entire Steep Ravine Trail following Webb Creek can feel like a gently tumbling waterfall after a few inches of rain. Redwoods and giant Douglass Fir trees line this popular trail through a narrow valley. Footbridges cross Webb Creek half a dozen times, and can be slippery, so save this trail for after the storms pass. At one point, the stream narrows between two boulders and the trail descends a 10-foot ladder section, with the water rushing over the boulders alongside as you clamber up or down the ladder.
Like Cataract Falls, this woodsy trail alongside crystal pools and small cascades is a classic winter waterfall hike. Connect with the Matt Davis Trail for a 7.9-mile loop.
5. Cascade Falls
Hidden just behind the town of Fairfax, Cascade Falls is nestled serenely into a rocky grotto in a lush canyon. To reach the falls, follow San Anselmo Creek for just under a mile, cross a small footbridge, and continue to follow the tumbling water. A short walk farther, and you will reach the base of the 18-foot falls, tumbling cheerily over a rocky face into a small pool lined with ample places to perch and watch the water.
This short hike makes for a great family walk, or an ideal solo venture for a few moments of solitude. To extend your hike, return to the fire road and follow a 1.7-mile trail up the wooded ridge to Upper Cascade Falls, a two-tiered cascade with a swimming hole.
Written by Charlotte Dohrn for RootsRated and legally licensed through the Matcha publisher network. Please direct all licensing questions to legal@getmatcha.com.