3 Magical Winter Waterfall Hikes near Seattle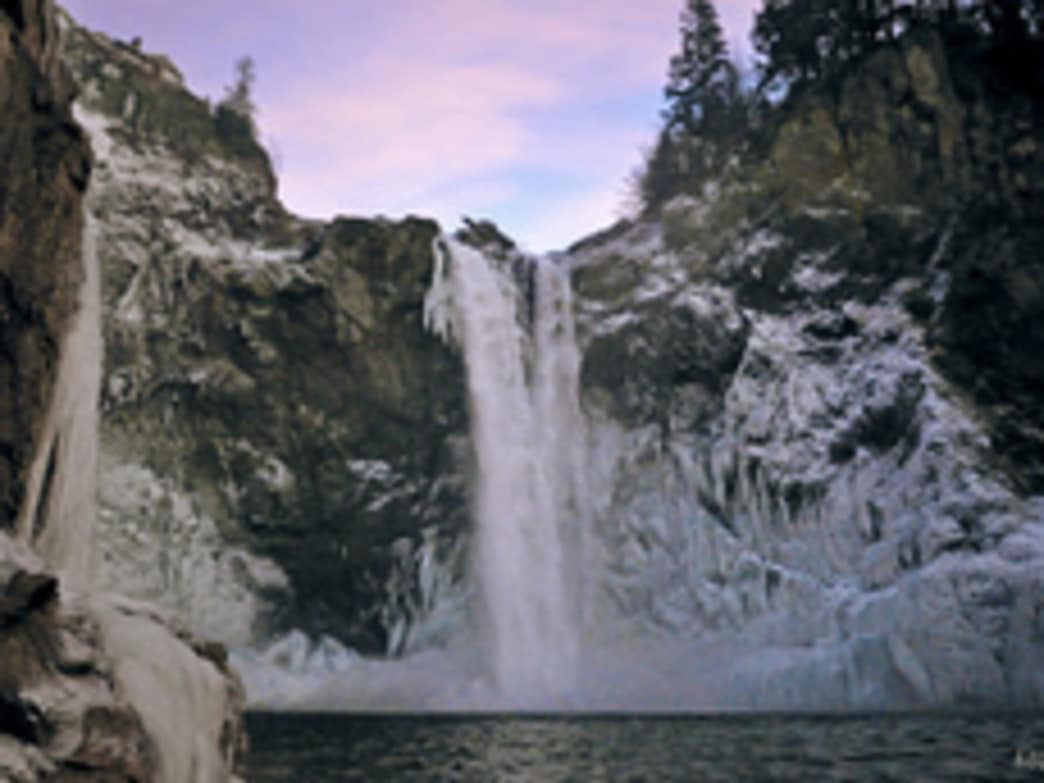 What could be more beautiful on a cold winter's day than sparkly frozen waterfalls amidst towering evergreens? Pack a Thermos of hot chocolate or eggnog and some holiday cookies, and head outside to check out these spectacular sights. We can't guarantee that all the falls will be frozen over every day this winter—that's up to Mother Nature. But there's a good chance they will be, making for invigorating hikes and maybe even the perfect backdrop for this year's Christmas card.
Here are three gorgeous waterfall hikes located around the south fork of the Snoqualmie River that are quick and easy to get to, family and dog friendly, and perfect for a winter's day hike.
1. Twin Falls
These 150-foot waterfalls are only a mile from the Twin Falls Trailhead—when it gets cold enough, the falls turn into a majestic ice sculpture. After the first waterfall views of the lower falls, keep going to the second overlook to see the upper falls. You'll see a huge ancient Douglas fir tree and get to cross a wooden walkway and bridge that the kids will love.
Note: There have recently been closures in the area, some at the beginning of the trail and others beyond the waterfalls. But those shouldn't affect your viewing of the falls. If the trailhead at exit 34 is closed, there is another one at exit 38: the Homestead Valley Trailhead. A recreation pass is required.
2. Denny Creek
Follow Denny Creek Trail through an old growth forest, and about half-mile in, you'll find a large bridge that crosses the creek. Keep going, passing under the viaduct WSDOT built for avalanches, until you enter the Alpine Lakes Wilderness.
Soon you'll get to the popular waterslide rocks at Denny Creek. It's just over a mile in, so the whole hike is a short two-mile hike out and back. In warmer weather, you might want to keep going to Keekwulee Falls or even farther to Snowshoe Falls, so put that on your summer hiking list to look forward to in the new year. A recreation pass is required at the Denny Creek Trailhead.
3. Franklin Falls
Franklin Falls offers a super easy, beautiful hike not far from Denny Creek. Consisting of three waterfall tiers that drop 135 feet, Franklin Falls is located between two viaducts that allow safe passage on I-90 throughout the winter without avalanche issues. What you see from the base is the 70-foot drop from the third tier.
Icicle formations on the rocks around the falls about a half-mile from the trailhead offer a dramatic immediate payoff. The route is a great one for kids, but hold their hands as the trail narrows toward the falls, as it will be slick with water and ice. A recreation pass is required.
Written by Leah DeAngelis for RootsRated and legally licensed through the Matcha publisher network. Please direct all licensing questions to legal@getmatcha.com.