3 Camping Recipes with an Appalachian Twist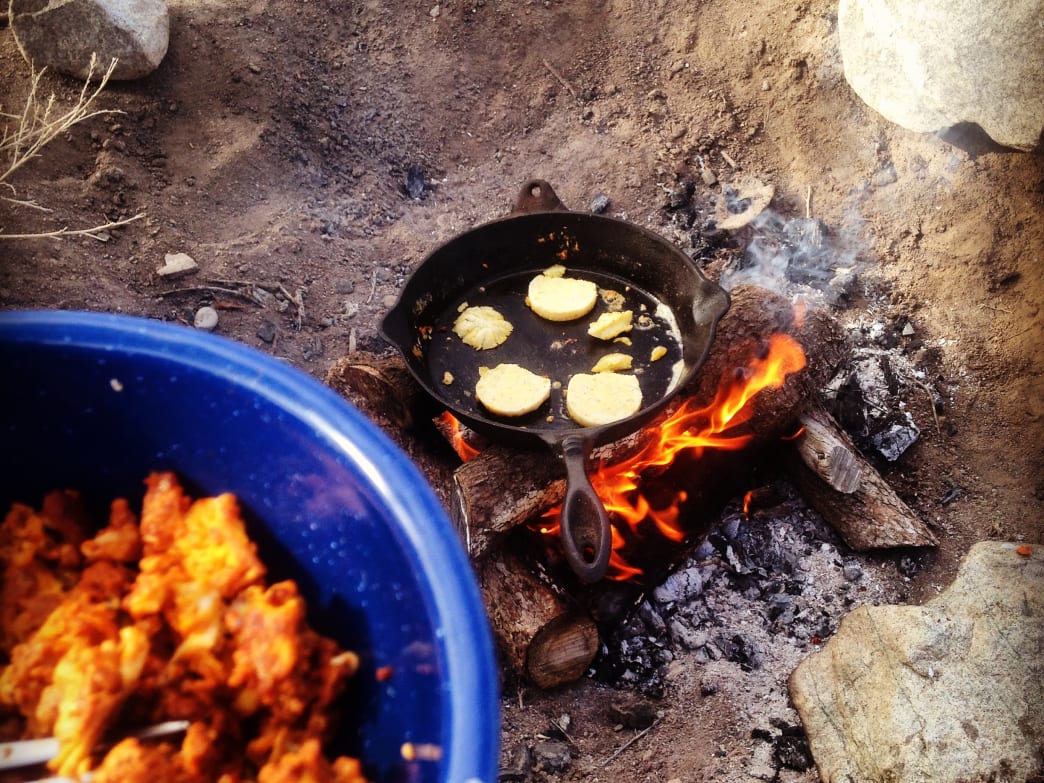 The following article is a paid collaboration with Wild, Wonderful West Virginia.
Want to upgrade your campsite cooking? Give it a hearty country touch with some age-old mountain advice.
Here are some traditional recipes to craft a forest feast, even without all the bells and whistles of your kitchen. Keep in mind:
For a fresh taste, forage for some wild ingredients.

Cast-iron cookware is best for an authentic taste, and most of these recipes can be cooked with a single deep-dish cast iron skillet. But be sure to pack a potholder, because cast iron retains heat.

Bring a water filter to cut down on weight and bulk if you will have a water source.

If you're camping in the backwoods, where fire rings won't have cooking grills, build your fire "log-cabin" style so you can sit your cookware flatly over the flame, or use river rocks to prop your pan near the fire (and be prepared to turn it regularly.)
1. Buckwheat Pancakes with Wild Berries
Buckwheat pancakes are beloved savory-sweet breakfast treats, and they're even gluten-free.
The nutrient-rich flour has deep origins in West Virginia. The Preston County Buckwheat Festival goes back as far as 1938, using flour that's ground and bagged by the historical Stanton Mill. You can buy fresh-milled buckwheat flour year-round, so grab yourself a bag before you head into the woods.
On your way to camp, keep an eye out for berries during the late summer through early fall. You can pluck blueberries, blackberries, elderberries and raspberries all around West Virginia, and they are delicious in pancakes.
If you're an adventurous eater, take an extra step to sauté the berries in ½ cup sugar and ½ cup water to create a berry syrup, Otherwise, maple syrup is a local, delicious, easily-portable topping that complements any pancake recipe.
1 cup buckwheat flour

1 teaspoon baking powder

2 large eggs or egg substitute

1 cup milk or filtered water

1 tablespoon oil, plus more for pan

½ cup wild berries if in season

Syrup
Mix flour and baking powder in bowl or pot. Add eggs, liquid and oil, and beat until just mixed. Fold in berries. Heat pan over fire and add small amount of oil. Pour about 2 tablespoons of batter onto pan and let fry until bubbles form on top, then flip and cook for another minute. Repeat process until batter is gone. Garnish with maple or berry syrup and serve warm.
2. Creamy Polenta (or Grits) with Cherry Tomatoes and Wild Greens
The nutrient-rich soil of West Virginia is perfect for wild edibles of all kinds, most notably mushrooms, ramps, watercress and dandelions. Make sure you know which mushrooms are safe if you're foraging for fungi. You can identify several of the more distinct mushrooms with a well-illustrated field guide.
Pair your forest finds up with this traditional basic Appalachian polenta recipe (also called "grits"). You can add to or expand upon this simple meal for a warm hearty meal any time of day.
5 cups filtered water

1 vegetable bouillon cube or 1 teaspoon salt

1 cup medium-ground cornmeal

1 stick (6 tablespoons) butter

½ cup cherry tomatoes

Wild greens (as much as you wish!)
Bring 4 cups water to a boil in a Dutch oven. Add bouillon and stir until dissolved. Slowly add ground cornmeal, stirring continuously as mixture thickens. Move to edge of fire and cook for roughly an hour (hot coals are fine, but make sure the fire doesn't totally die down while you're focusing your attention on the polenta— you may need to add another log or 2), stirring every 10 minutes or so. Add additional cup of water as necessary to keep polenta soft and porridge-like. Add 5 tablespoons butter and stir until melted.
Meanwhile, move pan to fire and melt one tablespoon butter. Sauté tomatoes until they soften and skin begins to prune. Add in wild greens and simmer until they turn bright green. Remove from heat.
Spoon polenta into serving bowls and top with vegetables.
3. Dutch Oven Apple Pie
Grimes Golden and Golden Delicious are two varieties of apple that originated in West Virginia, but you can find several other varieties throughout the state. There are even orchards where you can pick your own bushels— and what better way to celebrate the apple-baking season than with an apple pie baked over an open flame on a cool autumn evening?
Here is a recipe for a campfire Dutch oven apple pie. It's easier if you make the crust at home before heading out.
Crust:
3 cups unbleached all-purpose flour

1 teaspoon salt

2 teaspoons granulated sugar

1 cup cold unsalted butter, cut into small pieces

½ cup or more ice water
Combine the flour, salt and sugar in a bowl. Mix well. Cut the butter into the dry ingredients until the mixture resembles coarse breadcrumbs. Sprinkle ½ cup ice water over the mixture and combine with fingertips just until the dough holds together. If too crumbly, add ice water 1 tablespoon at a time. Cut mixture in half and roll each half onto a sheet of waxed paper dusted with flour. Form each into a ball, press into a thick flat disk, and refrigerate for 15 minutes. Remove from fridge, roll out on parchment paper, and store the individual pie crusts for transportation.
Filling:
¾ cup sugar

¼ cup firmly packed light brown sugar

½ cup flour

¾ teaspoon salt

1 teaspoon ground sugar
Combine these ingredients at home and store in jar or ziplock bag for easier transport.
10 cups sliced apples

¼ cup lemon juice

Optional: 4 tablespoons butter, cut into pieces, 1 egg beaten with 2 tablespoons whipping cream
Toss fruit and lemon juice in bowl. Add dry mixture and toss until evenly coated. Place one of the pie crusts in Dutch oven. For easy cleanup, leave parchment paper on outside of dough. Otherwise, thoroughly grease inside of pan. Pour fruit into pie crust and cover with second crust. Slice steam holes on top and crimp dough edges together.
Optional: top with butter and brush with egg glaze. Place lid on oven, place oven into fire and place as many hot coals on top as will fit (about a dozen). Let bake for about 45 minutes, until golden brown. Remove from heat, allow to set, and enjoy.
Discover more Appalachian recipes and mountain flavor .
Written by Carolyne Whelan for RootsRated in partnership with West Virginia and legally licensed through the Matcha publisher network. Please direct all licensing questions to legal@getmatcha.com.