Highlights

BEST USE: Backpacking & Camping

DISHWASHER SAFE? No

WEIGHT: 1.4 oz | 40g

MATERIAL(S): Titanium
Shipping & Returns

Free standard delivery in Australia for orders over $49.99*.

For all other orders under $49.99, we charge a flat fee of $10.00 for standard delivery in Australia.  We do not ship to an address outside of Australia.  

The standard delivery time is 10 Business Days depending on your location.  For more details, check out our Shipping Policy.

If you are not entirely satisfied with your order, you may be entitled to a refund of the purchase price of the Product. For more details, please check out our Refund Policy.
Find Locally

Titanium Spoon, Fork & Knife Set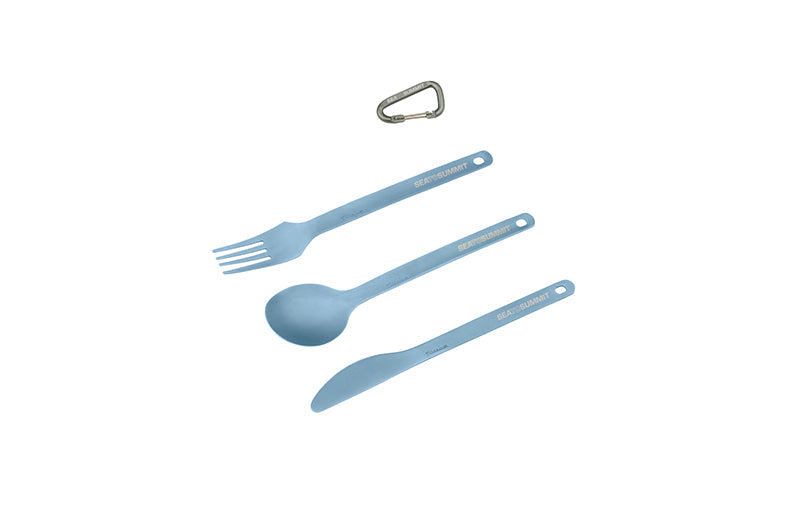 Description
The Titanium Spoon, Fork and Knife Set is lightweight, compact and exceptionally strong"and won't bend or break if awkwardly placed in the bottom of your pack.

Titanium remains a premium material for camp cutlery. It provides exceptional durability, it's food safe, has a very high resistance to corrosion and will last longer than an alloy equivalent.

It also includes a mini carabiner to hold all the pieces together.
Features
Includes: Knife, fork and spoon
Ultralight and extremely strong titanium utensil
Conforms to FDA food safety standards
Utensils made from 100% titanium
Smooth anodised finish
Comes with a mini carabiner
Frequently Asked questions
Be sterilized with bleach?

Yes. Bleach will not damage the anodized surface of the Alpha cutlery. Please use bleach in moderation in the backcountry – it kills 'good' bacteria as well as harmful bacteria.

Note – Sea to Summit also sells a range of titanium cutlery. Please see the Titanium Cutlery pages.
Be used with non-stick frying pan / pot finishes?

No. The hard edges of the cutlery will damage either a PTFE (Teflon) or a ceramic coating. Nylon cooking utensils are preferable for this application.
Be washed in a dishwasher?

No. The caustic cleanser used in dishwashers will damage the anodized finish of Alpha cutlery.