Highlights

INCLUDES: 2 DeltaLight Bowls & Insulated Mugs + 2 Delta Cutlery Sets

DISHWASHER SAFE? Yes

WEIGHT: 14.4 oz | 408 g

MATERIAL(S): Mugs & Bowls: BPA Free Food Grade Glass Reinforced Polypropylene / Sleeve: Neoprene / Lids: Food Grade Silicone
Shipping & Returns

Free standard delivery in Australia for orders over $49.99*.

For all other orders under $49.99, we charge a flat fee of $10.00 for standard delivery in Australia.  We do not ship to an address outside of Australia.  

The standard delivery time is 10 Business Days depending on your location.  For more details, check out our Shipping Policy.

If you are not entirely satisfied with your order, you may be entitled to a refund of the purchase price of the Product. For more details, please check out our Refund Policy.
Find Locally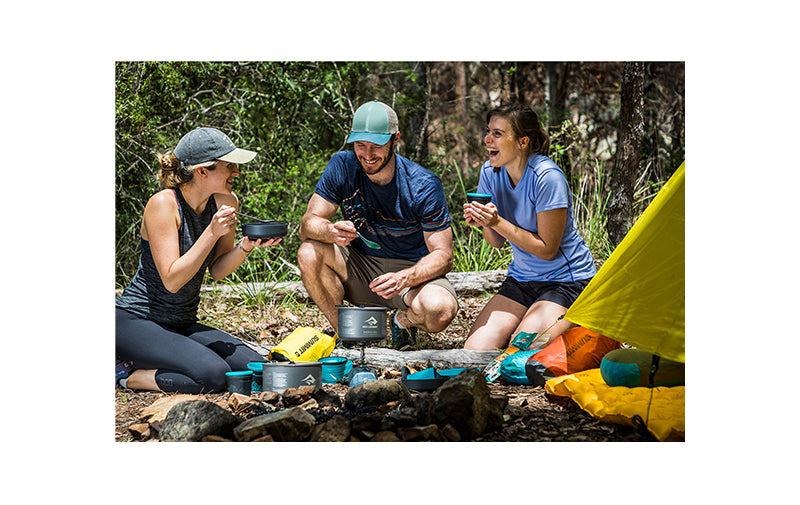 Description
A lightweight and compact dinnerware set for two consisting of our Delta Light Bowls, Insulated Mugs and Delta Cutlery Sets in pacific blue and grey, packs into its own lightweight storage pouch and conveniently nests inside our 2.7L Alpha and Sigma Pots.

Made with BPA-free, glass-reinforced polypropylene, our Delta Light bowls, Insulated Mugs and Cutlery Sets are durable, lightweight, easy-care, microwave and dishwasher safe.


Technical Features
BPA FREE
BPA FREE
These products are all Bisphenol-a (BPA) free, which means you can have peace of mind while eating and drinking from these products.
Tech specs
Best Use

Backpacking, Camping, Overlanding, Scouts

Material(s)

BPA free and glass reinforced polypropylene

Special

Dishwasher & Microwave Safe, nests inside our Alpha and Sigma Pot 2.7L
Frequently Asked questions
Be washed in a dishwasher?

Yes. It is dishwasher safe.
Come with a sharp knife?

Yes, the serrated side of the Delta Knife is sharp enough to chop veggies, cheese and salami, plus the blade is wide enough to spread peanut butter.
Come in a version with a sealable lid?

No, it doesn't. If you are looking for tableware which can be sealed, check out the X-Seal & Go line.
Break or crack easily?

No. The glass-reinforced polypropylene is much stronger than many of the plastics used in commonly-available camp tableware.
Suitable for use with boiling water?

Yes - the melting point of the PP material is above that of boiling water