Navigating the Many Faces of Costa Rica: Tropical Adventure at a "Pura Vida" Pace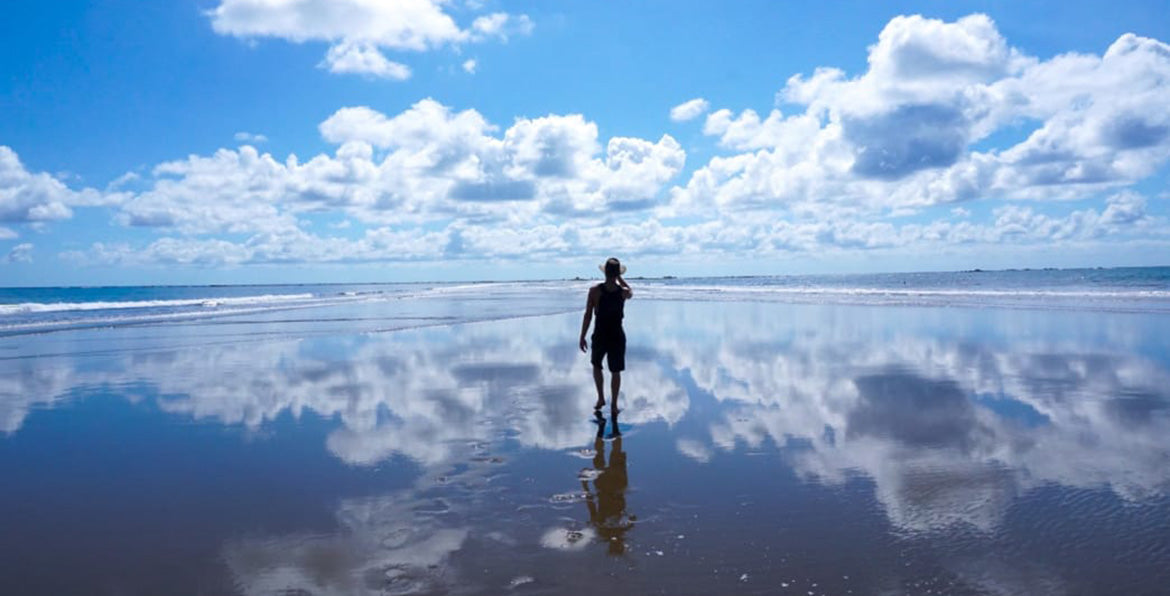 Costa Rica is a country with many personalities. Retired snowbirds come to escape winter and find solace in the warmth of swinging hammocks, while wild beach parties catcall out to college students on break. With everything from luxurious infinity pools to machete-wielding coconut dealers, Costa Rica drips green with ecological wonder and has something for everyone.
For would-be travelers looking to balance cliff jumps with cozy beach coves, here are a few spots where explorers can take adventure into their own hands while still following the "Pura Vida" pace.
Monteverde, Costa Rica
Fly into San Jose, the country's capital, and head northwest toward Monteverde. Thin, dirt roads carved into the Cordillera de Tilarán mountains climb past open farmlands and deliver travelers through a curtain of fog. With an elevation of 4,600 feet, Monteverde's Cloud Forest Reserve is every eco-tourists dream come true.
This mecca of biodiversity is known for its floral richness, yet it's also ripe with heart-pounding adventure.
Various trail loops lead hikers through the jungle and over shaky suspension bridges that sway above the treetops. The Tarzan Swing includes 90 feet of rappelling before a headfirst dive into the clouds. And for those ready to take flight, multiple zip lines offer the chance to strap in and glide through the greenery.
The wind doesn't sleep in Monteverde, and come nightfall, the sounds of the rainforest come alive. Book the Kinkajou Night Walk for a spooky jaunt under the stars and search for elusive sloths and sleeping toucans.
The village of Santa Elena plays hosts to the nearly 250,000 tourists that visit the Cloud Forest each year and provides the basic survival needs for any adventurer: craft beer, locally sourced coffee, and cheap hostels.
Getting There: Book a shuttle from the airport for around $50 per person. This rate may sound steep, but so are the roads to get there, so it's best to have a professional on the 140 kilometers going up.
Stay: Book a room at Backpackers and eat at Taco Taco before heading into the Cloud Forest. And if the death-defying shuttle drivers in town don't wake you up, any of the town's espresso shops will.
La Fortuna/Arenal
Lush with waterfalls, magma-heated hot springs, and hikes to volcano craters, La Fortuna has enough forces of nature to keep most travelers busy.
Four hours north of Monteverde, the agricultural town of La Fortuna is home to the famous Arenal Volcano. However, it's the less-traveled trek to Cerro Chato Volcano that's one of Costa Rica's most strenuous hikes. Arrive at the highest point of Cerro Chato (3,740 feet), and take the haphazard path down to the crater lake. The green lagoon waiting below makes it all worthwhile.
The area is also home to the Tabacon Hot Springs, one of the most sought-after natural hot springs in Central America.
But for those unwilling to shell out the $25 day pass required, Rio Chollín Hot Springs is the place to be. Head there after a long day of hiking the volcanoes and soak in the jungle's jacuzzi while sharing wine and stories with other travelers on a budget.
Much like Monteverde, La Fortuna is a small village heavily reliant on tourism. But don't expect to find street hustlers or pushy vendors lining these paseos. The town is filled with laid-back locals and travelers chasing waterfalls, not hangovers.
Getting There: Take the shortcut around the mountains and get on a Jeep-Boat-Jeep river taxi through Lake Arenal. It saves time and money, plus: what's cooler than arriving at the base of a volcano by riverboat?
Stay: La Choza Inn has plenty of travelers to compare notes with, and bunks go for around $10 per night. Private rooms start at $50 per night.
Quepos/ Manuel Antonio
Compared to Monteverde and La Fortuna, where English speakers are more common than Pina Coladas, the town of Quepos is a raw reminder that Costa Rica isn't just a more exotic Southern California. While most travelers opt for lodging near the popular Manuel Antonio, the authentic feel of Quepos is an adventure in itself.
Quepos is a ten-minute bus ride (300 Colons, or about 60 Cents) to Manuel Antonio National Park. The park has a $16 entry fee and should be on every Costa Rican travel itinerary. Our advice is to skip the tour guides and head toward the park's beach where it's impossible not to cross paths with exciting wildlife. And don't be surprised when howler monkeys drop out of the trees to pose for selfies.
There is a public beach around the corner from the park. It doesn't offer the same pristine privacy, but the warm ocean water and $1 coconuts make it another great spot to spend an afternoon.
Stay: Rent the "Birds Nest" at Villas Jacquelina and wake up with to the rainforests serenade and an orchestra of wild birds.
Getting There: It's a 3 hour drive from San Jose or 4.5 hours from La Fortuna. Both public buses and private shuttles are easily booked and accessed.
Uvita
Located on the Osa Peninsula, Uvita is a place where jungle backdrops and howler monkeys rule the empty beaches. Crocodiles, snakes, and jaguars outnumber tourists—and because of this—the region is notorious for turning travelers into expats.
Surf schools and yoga retreats have found a strong niche in the off-the-grid community, and Uvita is the perfect landing spot for those looking to embrace the "Pura Vida" lifestyle for the long term.
Visit Marino Ballena National Park at low-tide and walk the peninsula via The Whale's Tail.
Stay: The Flutterby House is a hostel that rents surfboards and serves cold beer to travelers from around the word. For yoga and relaxation, take the road up to Selva Armonia for zen-like views of the peninsula and rainforest meditation.
Whether it's warm beaches or whitewater rafting, the many faces of Costa Rica offer adventure seekers and active-minded travelers a truly one-of-a-kind tropical paradise worthy of any bucket list.
Written by Corey McComb for RootsRated.