5 Stunning Sunset Hikes in Alabama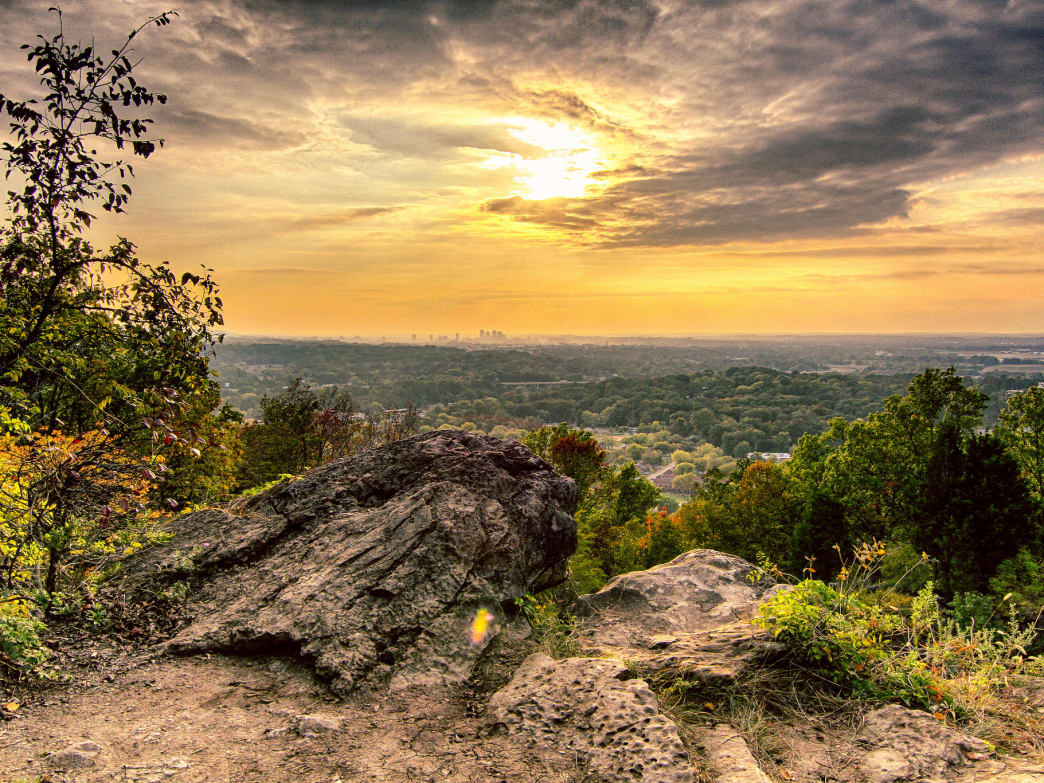 There are few more serene, calming pleasures in life than enjoying a peaceful sunset on a clear evening: watching that great orange ball dip below the horizon, illuminating the sky in brilliant hues of red, orange, yellow, pink, and all the colors in between. And Mother Nature's show is even more spectacular if you've put in a little effort before soaking it in, whether it's a steep hike up a summit or a leisurely stroll down a beach.
Fortunately, Alabama is lucky to host more than a few of those spots in the great outdoors that afford visitors stunning views. Whether you're looking for an easy walk on the Gulf Coast or a challenging trek in the Alabama wilderness, here are five of our favorite sunset hikes around Alabama—you'll certainly find something suited to your experience level.
A quick heads-up before you head out: Take caution when hiking during the sunset hours. Prepare for low-light conditions with flashlights, headlamps, and other essentials like a compass (which you should bring on any hike). The hikes listed here are all well-maintained and popular, yet hikers should always arrive prepared and navigate cautiously when visiting after dark—even when the hike is little more than a walk on the beach.
1. Ruffner Mountain Nature Preserve, Birmingham
Ruffner Mountain Nature Preserve is popular with Birmingham residents for many reasons. It's accessible enough for a quick after-work hike; its 14 miles of interconnected trails give hikers and trail runners plenty of recreational opportunities; and the mountain's abandoned mines recall an era of forgotten history.
The sunsets, though, are among the best around Birmingham. Ruffner Mountain offers numerous west-facing viewpoints for watching the sunset beyond the downtown skyline; a recommended favorite is the quick (yet moderately challenging) Overlook Trail. At less than a half-mile, the trail ends at a viewpoint above a quarry, where hikers can enjoy panoramic views of the sunset. The trail's popularity and distance make it a safe bet for quickly returning to the car—even after dark.
2. Dauphin Island
It's almost impossible to talk about Alabama's best sunset hikes without mentioning Dauphin Island , which bills itself as the "Sunset Capital of Alabama."
Three miles south of Mobile Bay, Dauphin Island is the southernmost point in Alabama. The 14-mile-long island (population: 1,300) has become a popular, albeit low-key, tourist destination in recent years, thanks in part to its white, sandy beaches and numerous walking trails.
Hikers won't have to go far—or work hard—for a breathtaking sunset. The island offers miles of mostly flat walking and cycling trails, with unobstructed viewpoints aplenty in East End Park, Magnolia Park, West End Beach, and Dauphin Island Public Beach.
3. Vulcan Trail, Birmingham
The paved Vulcan Trail contains all the ingredients for an idyllic sunset hike. It gains less than 200 feet, so hikers won't be too out of breath to enjoy the views; the path follows the ridge of Red Mountain, giving visitors a glimpse of the region's natural beauty; and the short length (a mile each way) means that it's a relatively easy jaunt to return to the trailhead after dark.
Trees line the vast majority of the Vulcan Trail, but the occasional viewpoint promises wide-open views of downtown Birmingham, nearby mountain ridges, and more. If you have time beforehand, head to nearby Vulcan Park to learn about the region's rich mining history and enjoy other panoramic vistas.
4. McDill Point, Oxford
Ambitious hikers, this one's for you: McDill Point offers an overnight trek near Cheaha State Park , so you can extend that sunset hike into a longer adventure. Hikers making the effort will be rewarded with gorgeous sunsets behind the tree line, not to mention starry night skies above.
Hikers start the 3.2-mile hike on the Pinhoti Trail, pass through the Cheaha Wilderness in the Talladega National Forest , take the McDill Point spur trail, and eventually arrive at their destination: a series of boulder cliffs at McDill Point. (Note: This area is protected from the wind and is an ideal spot to set up camp.)
A quick scramble up the boulders takes hikers to a west-facing outcrop with views of the surrounding forest and the wide-open night sky as the sun dips—quite a memorable way to end the day.
5. Gulf State Park, Gulf Shores
The Gulf Coast hosts dozens of viewpoints, parks, and trails for enjoying the sunset, but one that's especially awesome is Gulf State Park . The picturesque park hosts two miles of white, sandy beaches and a fishing pier that extends more than 1,500 feet into the Gulf—both of which offer plenty of room and unfettered views as the sun descends behind the horizon.
Hikers and cyclists looking for added adventure can hit up the park's 15-mile Hugh S. Branyon Backcountry Trail system . Gulf State Park's seven, well-graded paths take hikers through a lush maritime forest, windswept sand dunes, and inland lakes. Along the way, hikers might spot a bobcat, white-tailed deer, or sunbathing alligator.
Written by Matt Wastradowski for RootsRated in partnership with BCBS of AL and legally licensed through the Matcha publisher network. Please direct all licensing questions to legal@getmatcha.com.