12 Must-Have Hunting and Fishing Apps for Your Smartphone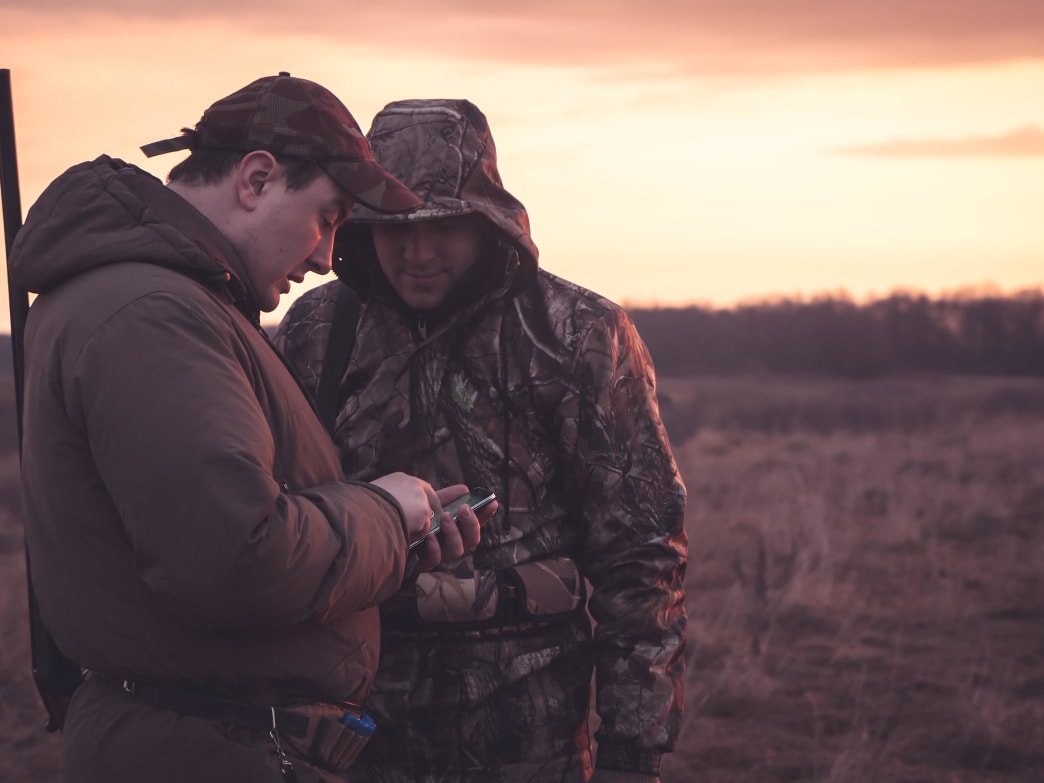 From finding friends to hunt and fish with to GPS navigation, these apps have you covered
I was deep in a piece of public land, scouting for deer before the season when I came across what looked like a whitetail highway—tracks, scat, rubs, and trails. Any novice hunter would have known this was the place to be on opening day. Problem was that I wouldn't be able to find it in the dark. So I pulled out my smartphone, marked my location with onX Hunt, and recorded my hike out. On opening morning, I followed the trail to the spot I saved on the app, and later that day, I shot a nice buck.
Until then, I wasn't convinced that apps could improve my hunting and fishing trips, and I still understand the skepticism—especially if you've hunted your whole life without the help of an app. But, whether you're for or against using technology in the outdoors, our smartphones are revolutionizing how we see the woods and water. They can help locate pinch points for whitetails, spot an oyster-bar that may hold redfish from an aerial photo, or just help us find our way home after dark. If you aren't using these apps already, here are 12 must-have apps for every sportsman and woman.
onX Hunt
OnX may be the most used hunting app on the market, and its popularity only continues to grow. This GPS-oriented app is especially helpful for the DIY public-land hunter. It is similar to a traditional GPS, but onX goes beyond just tracking your location. For $29.99 per year, hunters select one state and receive access to features such as layers, property boundaries, points of interest, custom waypoints, and more. Dropping pins, marking rubs, and recording trails are just some of the helpful benefits onX provides. The most useful aspect of the app is its ability to locate property boundaries with the onX landowner database. This makes it easy to find public land opportunities and to know whose land you're on at all times. This will help you avoid trespassing—and learn which landowners you might ask for permission. As a public land hunter myself, this app has come in handy countless times. And don't worry about cell service, because the offline feature allows you to save maps and access them in the backcountry.
The Weather Channel App
This app may not be one that immediately comes to mind when discussing hunting and fishing apps, but it's arguably the most important. Knowing the forecast leading up to a hunting or fishing trip can make or break your experience. The Weather Channel app should be the first download for any hunter or angler. Wind direction, temperature, sunrise, and extended forecast are all vital pieces of information. I've been using it for years and always check it right before a trip. It's free, easy to use, and may just prevent you from going out in dangerous conditions.
HuntStand
Although helpful for other types of hunting, HuntStand really shines in the deer woods. Mapping food plots, categorizing stands, and recording harvests are just some unique benefits. One of the best features is the task management agenda. Whitetail hunters can plan out their pre-season goals and keep up with maintenance when the season gets going. Other features include map customization, markers, lines, shapes, map layers, and weather. For hunters looking to keep tabs on their land all year, record deer activity, and pattern a big buck, HuntStand is an easy choice. Free, user-friendly, and versatile, this app will help even the most experienced whitetail deer hunters.
Google Earth
Even though Google Earth isn't specifically designed for hunting and fishing, this app can be extremely useful. It's an affordable alternative for sportsmen and women who just want to look at areas without extra mapping features. I downloaded Google Earth onto my computer and like to use a bigger screen when diving into aerial photos of possible stand locations. Its high level of detail is just the ticket for finding that hidden creek, new duck hole, or secret launch.
Switching between Google Earth and Google Maps is another great feature that is extremely helpful for planning a trip. This allows users to get driving directions to the locations they are interested in. Most hunting-and-fishing-specific apps don't offer this feature, and it is very useful when trying to find spots for the first time, well off the beaten path.
SAS Survival Guide
The most important part of every hunting and fishing trip is to stay safe and return home, and easily-accessible survival information comes in handy. For $5.99 the SAS Survival Guide App has tips for any situation you may find yourself in while on the water or in the woods. This app is based on John "Lofty" Wiseman's survival guide book. It has all of his tips and pointers, plus more features like videos, sun compass, morse code, survival checklist, and photos of knots, animal tracks, snakes, and plants. Accompanied by a first aid section, this survival app can get you out of trouble in the backcountry.
Fishbrain
Have you ever wished there was a social media platform just for fishing? Fishbrain is a free app made for anglers. Users can check in on locations to see what people are catching and what lures to throw. Most importantly, it's a place for anglers to network, share their catches, and learn from each other. Post your latest catch and your favorite bait. Fishbrain is a great platform to discover new locations, species, and styles. You might even meet your next fishing partner.
ProAngler
For any die-hard saltwater fisherman, ProAngler is worth the investment. Some benefits include a fish species guide, angling techniques, state and federal regulations, fishing reports, weather, tides, bait shops, boat launches, fishing guides, and more. The weekly "What's Biting" feature allows anglers to get the latest report for their location and help them dial in spots, species, and tackle. This is the must-have app for the saltwater angler.
Navionics
Navigating your fishing spots safely without getting lost leads to more fish in the boat. With Navionics, anglers and boaters get nautical charts, sonar charts, and detailed map overlays. Think of it as Google Maps for the water—It helps the boater navigate an area and get safely to spots they have never been before. The community-edit feature also allows for fellow boaters to comment and give input on their local waters. Having local knowledge of a new waterway will be beneficial and increase your time throwing lures instead of spending it behind the wheel.
ScoutLook
For hunters looking to have all of their information in one place, ScoutLook is the way to go. It is a free hunting/weather app that also has a built-in GPS map. Hunters have access to detailed weather forecasts that include temperature, wind direction, moon phase, and map overlays. Its GPS feature also allows hunters to identify property lines and landowner information. Users are able to mark their favorite spots, trails, scrapes, rubs, and much more. ScoutLook may be the best free hunting app on the market.
Fish Rules
Fish Rules is an app every angler should have. This helpful tool takes fishing regulations and displays them in an understandable format. The app gives detailed regulations for specific species including seasons, minimum size, daily limit, and vessel limit. Fish Rules uses the angler's phone location and calendar to display the correct regulations. This free app saves anglers time, confusion, and potential fines. With Fish Rules, there's no excuse to not know the local regs.
Powderhook
Being a new hunter can be intimidating, especially when you have nobody to help you. Powderhook looks to improve this experience by providing mentors for novice sportsmen and women. Based on your location, users can find local mentors who are willing to donate their skills and knowledge to help you. Each mentor has a description of what they are experienced in and how they can help. Download the app, find an experienced hunter, and start connecting right away. Already an expert? Join to become a mentor and help ensure the future of hunting.
Fishidy
Beginner anglers will want to check out Fishidy to help them find spots, learn technique, and network with other fishermen. They market themselves as a map-based social network. The app provides maps for both freshwater and saltwater locations where anglers can see depths and contours along with a social network where anglers can connect with each other, share ideas, and fish together. While it's not exactly the Powderhook of fishing, it does give beginners an opportunity to learn and gain knowledge from other anglers—which is crucial for the survival of our sport.
Written by Ryan Chelius for Field & Stream and legally licensed through the Matcha publisher network. Please direct all licensing questions to legal@getmatcha.com.